Daily Stormer down: White supremacist site loses domain in wake of Charlottesville violence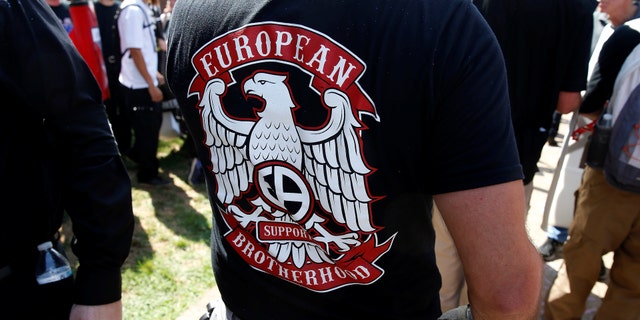 The Daily Stormer website is offline after domain providers GoDaddy and Google expelled the white supremacist site.
Visitors to the Daily Stormer site are now greeted with a message explaining that the site is experiencing an outage. "It'll be a minute," it adds.
The message directs people to Daily Stormer's channel on Discord, a voice and text app designed for gamers.
GODADDY EXPELS WHITE SUPREMACIST SITE DAILY STORMER AFTER ARTICLE ON CHARLOTTESVILLE VICTIM
Although it did not mention Daily Stormer specifically, Discord tweeted Monday that it had shut down the altright.com server and a number of accounts associated with the events in Charlottesville. "We will continue to take action against white supremacy, Nazi ideology, and all forms of hate," it said.
Daily Stormer also directed people to its Internet Relay Chat (IRC) network. However, Metro reports that Daily Stormer has also been kicked off that network, citing messages on Daily Stormer forums.
Motherboard reported Monday that users of the Daily Stormer website are moving to a dark web version of the site.
TWITTER USERS IDENTIFY WHITE SUPREMACISTS AT CHARLOTTESVILLE PROTESTS
The dark web, or darknet, refers to private networks built from connections between trusted peers using unconventional protocols. Dark web is just one part of what is known as deep web – a vast network that is not indexed by search engines such as Google and Bing.
Domain provider GoDaddy booted Daily Stormer Monday after an online post disparaging Heather Heyer, who was killed during protests in Charlottesville Saturday.
Heyer was killed when police say a man plowed his car into a group of demonstrators protesting a white nationalist rally. James Alex Fields Jr. has been charged with second-degree murder, as well as three counts of malicious wrongdoing and one count of failing to stop at an accident that resulted in a death.
TECH EXECS CONDEMN CHARLOTTESVILLE VIOLENCE AS TRUMP DENOUNCES KKK, WHITE SUPREMACISTS
Daily Stormer registered its domain with Google Domains Monday, but was promptly expelled by the tech giant. "We are cancelling Daily Stormer's registration with Google Domains for violating our terms of service," explained Google, in a statement emailed to Fox News on Monday afternoon.
The Associated Press contributed to this article.
Follow James Rogers on Twitter @jamesjrogers