Cool tech converts dirt bikes for Jason Bourne-like snow supremacy
Timbersled tech transforms motorcycles into special operations snow bikes for winter warfare and mountain combat – and it is now available to civilians to tear it up on the slopes too.
Polaris' Timbersled is a novel system that adapts dirt bikes into the ultimate snow bikes capable of tackling steep mountain inclines and ultra-deep snow with ease.
These are snow bikes fit for Jason Bourne-like snow supremacy.
In less than an hour, you can install the Timbersled system on your favorite dirt bike or motocross and head off the trails deep into backcountry. As a Timbersled snow bike, it has a ski up front and a track in the rear.
6 TOP JAMES BOND-INSPIRED TACTICAL GIFTS
A Timbersled modified bike will excel not just on hard-pack and trails, but also deep snow in the most remote terrains.
Timbersleds for winter warfare
For military special operations, the potential is wide-ranging for winter warfare.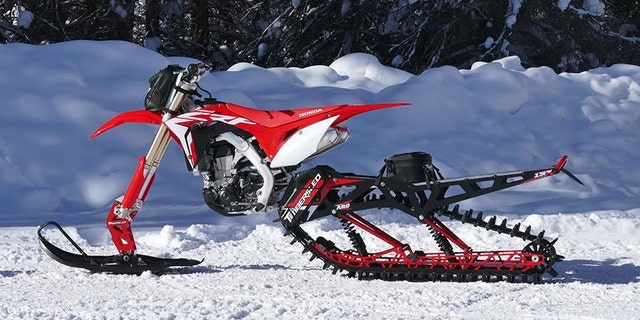 Timbersleds mean that all the same advantages bikes can provide in other terrains can now be leveraged in snow-covered environments.
They could be used for anything from surveillance, reconnaissance and discreetly gathering intelligence. They could also be harnessed by teams jumping into enemy terrain who use the Timbersleds to race towards a target and launch an unexpected attack.
MAKING MUNITIONS SAFE: HOW CAN WE STOP AMERICAN BULLETS, BOMBS AND MISSILES FROM KILLING US TROOPS?
The flexibility they provide is a key advantage. For example, Timbersleds could mean units are not limited to roads and therefore can take entirely unanticipated routes through tough mountainous and winter wooded terrain.
This is an exciting technology for special operations, but it is also available to civilians now too. Check out Timbersleds in action in Iceland.
PODCAST: MASTER HOW TO ESCAPE HOSTAGE TAKINGS AND KIDNAPPINGS WITH THIS SPECIAL FORCES EXPERT
So how does it work?
The Timbersled systems include a front ski and a rear track system. These replace the bike tires.
The kits are motorcycle specific and the installation is very straightforward. Within less than an hour some Timbersleds can be installed.  Others take under three hours.
FUTURISTIC BIONIC ARMS NOW AVAILABLE FOR THE NATION'S BRAVEST
Timbersleds are compatible with a wide range of dirt bikes and motocross from the past 25 years.
There are four new Timbersled options for 2018: they are all designed to be tough and robust, while incorporating different special advantages. You can see the Timbersled in action – dirt versus snow – here.
Mission requires anything and everything
For a winter warfare mission that may require anything and everything, the Timbersled ARO 120 could be a great choice. Whether powder or steep side hill, the converted dirt bike will have no problem.
Designed as an all-rounder, it will also feel and perform like your dirt bike does - but with snow.
WILL COMBAT VEHICLES USE URINE FOR FUEL?
The design has accelerated the track speed and delivers more power to the snow. Increased traction and improved climbing capability are two other advantages. For the rider, it will be easier to steer and to lean.
The new ski design, tri-keel shape and new skags have a direct impact on performance too. This further enhances grip and handling.
On hard pack, lean angles will be better.  In deep snow, there's better control.
The ski-to-track ration on this Timbersled is one-to-one. The ski establishes the line and the track follows it, resulting in great carving and side-hilling.
SLIME OF 300-MILLION-YEAR-OLD CREATURE MAY BE USED FOR BODY ARMOR
This new design is lighter – by about 11 pounds – so this also makes the bike more agile and helps to reduce rider fatigue.
To get the bike up on top of the snow faster with better lift, the design incorporates a raised drive shift.
Available for $5,499.
PODCAST: FIND OUT HOW FAITH HELPED THIS NAVY SEAL TO NEVER SURRENDER
Mission involves deep snow and steep mountain inclines
When a mission requires tackling terrain with extreme steep inclines and ultra-deep snow, then the Timbersled ARO 137 is a good fit.
AUSA 2017: 4 AMAZING LAND VEHICLES AT THIS YEAR'S SHOW
This Timbersled will also give riders top acceleration, traction and flotation. The convex track design means it is easier to lean and steer. It has increased track speed and more power to the snow. All of which can be very handy on a winter warfare mission.
For civilians, this can mean fun times tearing it up even deeper off the trail in backcountry.
Like the 120, it is eleven pounds lighter than previous designs, so it is more agile, has better handing and will reduce fatigue. And its rear suspension is designed to mimic the feel and performance of a dirt bike.
Also similar to the 120, it has the new tri keel shaped ski and skags delivering better grip, more precise handling, better lean angles on hard pack and more control on deep snow.
Available for $6,199.
Mission travels rapidly through wooded terrain
Got a mountain mission where you need to rapidly travel through densely wooded and tricky terrain? Precision handling will be crucial and the RAW could be a good option.
AUSA 2017: THIS MILITARY ATV CAN 'THINK' AND DRIVE ITSELF
The ST 120 RAW incorporates a non-pivoting front suspension arm. This design enables extra precise handling. The Timbersled Convex 2.5 track is designed to deliver maximum deep powder traction.
This Timbersled also has that new tri keel shape and new skags. The RAW therefore also provides great angles on hard pack and more control in deep snow.
It also has a stylish aluminum side panel that enhances the snow bike's robustness and reduces the weight.
Available for $3,499.
Mission – family fun
The ST 90 Ripper takes military grade tech and makes it accessible for families to enjoy. It is a great option for fun for all ages at the price point that is easiest on the pocket.
The Ripper kit includes a bogey wheel rail and the Ripper Ski is based on the Polaris Snowmobile Gripper Ski with a deeper upper and lower keel. This ensures it is compatible with hard-packed and loose snow while the Timbersled provides a low ride height and easy handling.
The Ripper fits Yamaha, Kawasaki and Honda 110cc bikes and can be installed in under an hour.
Available for $1,999.