Canon EOS 70D camera is speedy and responsive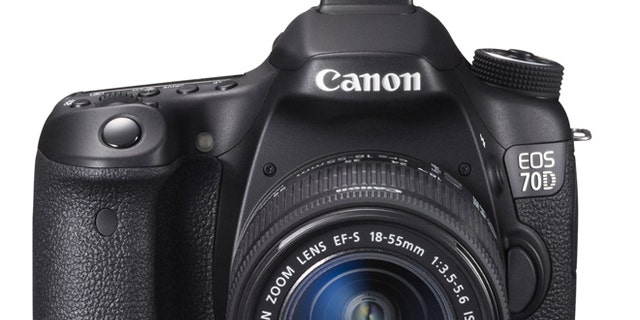 You expect an SLR to autofocus perfectly when you're shooting photos, but most haven't been able to autofocus as well with video. Canon says the new EOS 70D, $1,350, can, thanks to the Dual Pixel CMOS AF system, which autofocuses smoothly and accurately for both photos and videos. And this camera boasts a wealth of other features, both internal and external.

I recently had a chance to spend time shooting with the Canon EOS 70D with the 18-55mm lens. Here are my impressions.
Shooting photos
The camera swiftly focused on subjects without hesitation. The LCD was very responsive, too: When I alternated touching subjects near and then far from the camera, the camera found the correct focusing point very quickly.
As with many SLRs, there's a dizzying array of shooting options. You can change from single-shot mode to a high-speed or low-speed burst mode. In the high-speed setting, you can fire off 7 frames per second, and the burst lasts for scores of shots. In addition, you can select a silent single- or continuous-shooting mode (which was noisier than I expected).
Find the right camera for you with our buying guide and Ratings for digital cameras.
Flash shots and video
The EOS 70D has a versatile, easy-to-use pop-up flash. Its hot shoe lets you use offset and diffuse the light with an external strobe.
When I shot video, the camera responded quickly to dramatic changes in light. For example, when I moved from a dim indoor setting to the bright and sunny outdoors, the camera quickly and accurately switched exposure settings.

The EOS 70D also worked very well in low-light situations, such as a capturing a birthday cake with candles. And the camera easily changed focus when a subject moved quickly toward or away from the camera.
Body design and controls
Canon strikes an excellent balance between the features found in menu settings (accessible via the touch-screen LCD) and the camera's physical knobs, dials, and buttons. This give you options: For instance, you can change ISO settings or the exposure compensation in several different ways.
Unlike some entry-level SLRs, the EOS 70D includes two display panels: a swiveling 3-inch, live-view, touch-screen LCD, and a top-panel display, which displays data such as exposure settings, flash modes, battery life, and more.
One feature you'll want to use often is the Q button, in the middle of the camera back. It lets you access a variety of shooting functions by touching the LCD screen without having to drill down into the menu system.
In-camera settings and features
The EOS 70D has a variety of in-camera settings that boost creativity. One robust scene mode is HDR Backlight Control, which fires off three shots at three different exposures (dark, light, and midrange) and combines them in-camera to capture details in the highlights and shadow areas. This setting worked quite well when I used it.
The camera lacks a panorama mode, but does have filters and Instagram-like effects, although I found these to be mediocre and not very versatile.
Given all those features, it can be confusing to figure out which settings to use. So Canon included feature guides, and you can press the Info button for more tips. Still, there's no dedicated help section in the camera.
The EOS 70D includes built-in Wi-Fi, which allows you to quickly transfer and backup photos and video to your computer and other devices. In addition, according to the specs sheet, the camera will be able to capture more than 850 photos per change (when you're not using the live-view LCD) or 1 hour 20 minutes of video.
Bottom line
The Canon EOS 70D is a very full-featured—and, at $1,350, pricey—SLR that will take you some time to learn how to use. With its variety of controls and features, the EOS 70D is a great travel camera, though you might find it a bit heavy and bulky.
If you want a less expensive Canon that includes many of the same features, consider the Canon EOS Rebel T5i, $850.
—Terry Sullivan
Copyright © 2005-2013 Consumers Union of U.S., Inc. No reproduction, in whole or in part, without written permission. Consumer Reports has no relationship with any advertisers on this site.