Bulletproof lifejacket could save lives at sea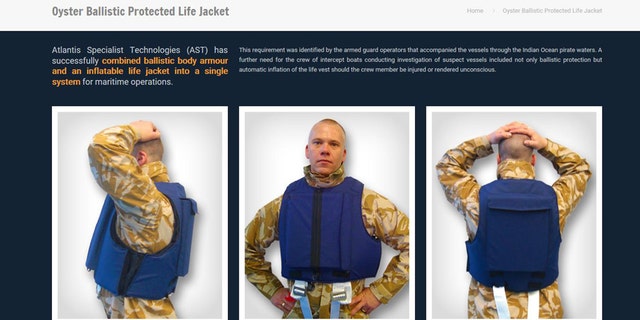 A bulletproof lifejacket could be the latest military technology to save lives at sea.
If you're out at sea and run into pirates or other unfriendly weapon-wielding folk, the Oyster Ballistic Protected Life Jacket (BPLJ) could come in very handy.
Related: CTruk taps THOR for new military workboats
Oyster BPLJ, which was on show at the recent Defence and Security Equipment International (DSEI) event in London was developed by Atlantis Specialist Technologies and manufactured by Zero Industries.
Within two seconds from hitting water, the vest inflates itself. If a warrior is injured or unconscious and ends up in the water, the Oyster will automatically inflate and continue to keep the person afloat and protected from bullets. There is also a toggle to manually activate inflation.
Related: BAE Systems touts 3D battlefield vision technology
The vest is designed to provide all round protection, including the shoulder and torso side areas. There are front and rear ballistic plates that work with the vest. The company says it meets NIJ Level IIIA protection standards. The level of protection can be tailored with different plates to suit the needs of each customer.
Oyster BPLJ is designed to be comfortable to wear and easy to put on.
To recover personnel from the sea in an easy way, the vest has a grab handle that can be used. A retaining straps system allows pistol holsters, magazine and radio pouches to be added.
Ballet dancer turned defense specialist Allison Barrie has traveled around the world covering the military, terrorism, weapons advancements and life on the front line. You can reach her at wargames@foxnews.com or follow her on Twitter @Allison_Barrie.