Bloodstains to bullet holes: mapping the virtual crime scene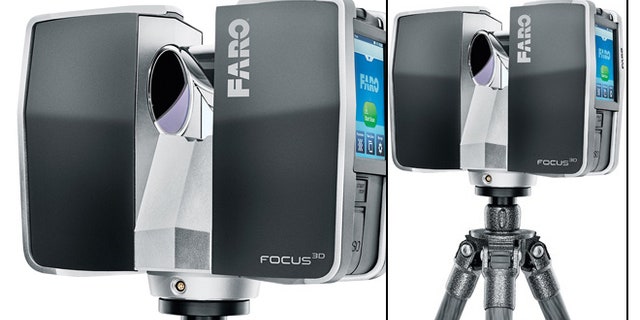 What if you could capture every detail of a crime scene in 3D, from bloodstains to bullet holes, by merely placing a black box in the center of the scene? What if that box could build a virtual 3D version of the crime scene that law enforcement or a juror could "walk through" as though they were actually there?
FARO's Laser Scanner Focus 3D does all that and more.
Small and lightweight at 12 pounds, FARO's scanner looks like a small black box that sits on a standard photographer's tripod. With it, police can completely capture a crime scene in 360 degrees in under 10 minutes -- reducing the time it takes to document an incident by up to 80 percent.
Within three minutes, the scanner captures about 12 million points and 85 photographs; it can map a whopping 28 million points in about six minutes.
Using traditional methods, documenting and measuring a crime scene can consume more police hours than mountains of paperwork. Depending on the crime scene's size and complexity, it can take anywhere from a few hours to several days or more.
SceneVision-3D software, integrated into the laser scanner, captures, measures, reconstructs, analyzes and displays the scene. It works both inside and outside and operates at long distances up to 390 feet.
It can create hyper-realistic 3D models of crime scenes with high-resolution, close-up 3D views, and insets of key details like bloodstains, weapons, wounds, bullet holes, documents and footprints.
Law enforcement personnel can interact with the images from their computers to examine the scene like measuring between any two points. By clicking the point of a murder victim's body and clicking the murder weapon, for example, the tech will automatically measure the distance of the weapon from the body.
The system automatically captures all such measurements to identify critical information like bullet and blood trajectories. It will even automatically produce bloodstain pattern analysis and demarcate the trajectories in the 3D models.
Such technology allows not just law enforcement but jurors to virtually step into a crime scene without actually being at the site.
Beyond crime scenes and accident sites investigation and reconstruction, the technology could also be used to create 3D building floor plans for emergency preparedness and training.