'BioShock' diving back to Rapture in new chapter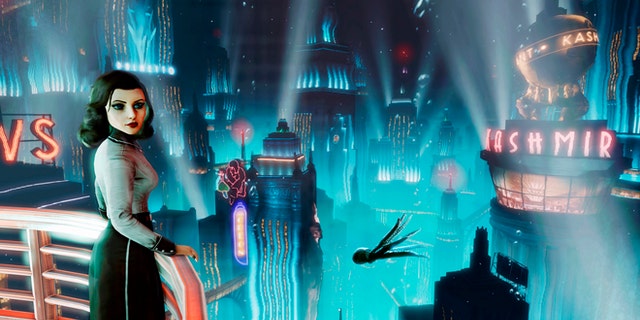 NEWYou can now listen to Fox News articles!
"BioShock" is returning to the sea.
An upcoming downloadable chapter of the popular video game "BioShock Infinite" will be set in the underwater metropolis Rapture, Irrational Games creative director Ken Levine said Monday.
The fantastical setting served as the moody locale for the original "BioShock" shoot-'em-up game in 2007.
The follow-up "BioShock Infinite" was released earlier this year and traded the 1960 dystopia of Rapture for the idealistic 1912 floating city of Columbia.
"Infinite" was the top selling game in March, according to NPD Group.
The two-part, story-driven chapter will be titled "Burial at Sea" and feature "Infinite" protagonists Booker DeWitt and Elizabeth mysteriously meeting in the submerged city in 1958 before its demise, Levine said.
"I just had this vision of Elizabeth dressed in that period looking like Veronica Lake or Rita Hayworth," Levine said. "I just said, I want to see that image. I want to see Elizabeth in Rapture."
Levine hinted that the downloadable adventure would marry the two worlds, explaining how the characters don't remember each other and how the all-important vigor powers made their way from Rapture to Columbia and became drinkable. He also noted that this version of Rapture would be livelier than the one glimpsed in "BioShock" and 2010's "BioShock 2."
"We didn't have the opportunity in the first game to have civilians in Rapture," said Levine. "It just didn't exist because everyone was dead. It's been interesting to find the tone."
The second part of "Burial at Sea" will allow players to portray Elizabeth, the mysterious young woman who manipulates space and time in "Infinite." Originally, Elizabeth was intended to remain as a companion to Booker.
"We thought that how part one of `Burial at Sea' ends naturally gives Elizabeth something that was important for her to do," said Levine.
Despite the franchise's upcoming return trip to Rapture, the first chapter of downloadable content for "Infinite" will be planted firmly on Columbia. It's called "Clash in the Clouds" and is a fighting-focused mode set for release this week for PC, Xbox 360 and PlayStation 3 that takes place in four previously unseen areas of Columbia. "Burial at Sea" is expected later this year.