AUSA: New tanks, stealth Chevy trucks, flying radios and more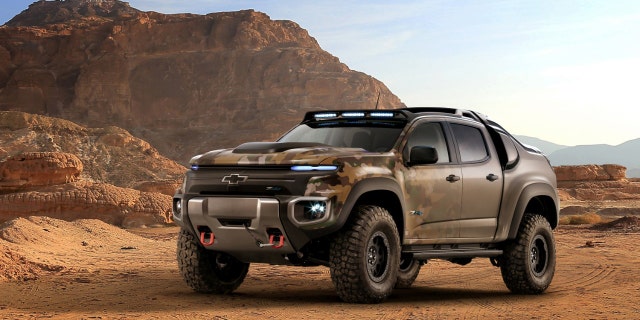 The U.S. Army converged on Washington D.C. for the Association of the United States Army (AUSA) Annual Meeting at the Washington Convention Center that kicked off Monday.
More than 25,000 people from around the world have attended the event in recent years.
Every year there is an important series of briefings and meetings and the event is an invaluable opportunity for Army folks to connect and catch up. But there is also a mammoth exhibition floor where companies from all over the world pitch up to showcase their latest and greatest tech for land combat. And it is always a hotly contested terrain where the companies compete for the time and interest of Army leadership and decision-makers.
Alongside the U.S., representatives hailing from the armies of more than 70 countries walked and window-shopped during the three-day event. Everything from tanks, light tactical vehicles and helicopters through to body armor, grenade launchers and new machine guns was on offer.
There were a number of big reveals, including a new tank, a modified Chevy truck designed for special operations and a flying radio.
The Griffin
General Dynamics unveiled its new concept for a new army light tank that weighs in at about 28 tons. The demonstrator dominated in that tank sort of way and was one of the big reveals.
Dubbed the Griffin, the medium-weight tracked vehicle demonstrator combines elements of the M1A1/M1A2 Abrams with the company's Ajax Scout Specialist Vehicle. Elements from the Abrams include the main battle tank turret and 120 mm cannon – although this version of the turret is designed to be lighter. From the Ajax, the Griffin incorporates the AJAX chassis and power pack.
It was shown kitted out with the 120 mm XM360 gun. If the program progresses, other features like explosive reactive armor could be incorporated.
This new light tank has potential to provide a solution for rapid deployment and mobility with significant firepower and protection.
Chevy Electric Trucks for Special Operations?
Also unveiled this week at AUSA, the Chevrolet Colorado ZH2 made by General Motors. The ZH2 is the result of collaboration between the Army's Tank Automotive Research Development and Engineering Center (TARDEC) and General Motors.
The ZH2 is a modified version of the Chevy Colorado. The challenge was to take a civilian truck and make it meet military standards and requirements. Within one year, the team was able to produce a demonstrator.
So how has it been adapted? The ZH2 has been modified for enhanced off-road performance. New features include improved suspension and bigger tires. It can also be used as a power source providing up to 50 kilowatts of power.
Here's the thing – the truck has also been adapted to be electric and powered by a hydrogen fuel cell that offers a quieter ride.
Why make those modifications? The idea is that should blend in and look like just a regular truck while offering capabilities such as quiet approach that U.S. Special Operations could use to their advantage.
As part of this effort, the ZH2 is designed to also run cooler in temperature than typical trucks you'd see driving around town. Theoretically, this could help defeat detection by thermals in a remote approach on a target, but in an urban setting it could have the opposite effect by flagging the vehicle as running at an irregular temperature.
It's not every day that you see a Chevy truck running on hydrogen so the vehicle was drawing crowds at AUSA.
Flying Radio
Harris Corp makes the lightweight, rugged Rifleman radio for the US Army. The Rifleman is also known as the AN/PRC-154 for unclassified communication, or for secret and below, the AN/PRC-154A. The radio can transmit simultaneous video, voice and data.
They've taken this very popular radio and made it fly by adapting a small quadcopter.
Cue the Harris RF-330E-CM Embedded Modular Radio (EMR is essentially a flying radio system). For the system to work, Harris needed to make its radio capabilities ultra-compact and lightweight while still delivering top performance. The tech delivers a range of waveforms in one small form factor. It can provide both voice and data links. The frequency range is from 225 MHz up to 2.5 GHz. The technology is compatible with currently fielded Department of Defense assets.
Harris developed their flying radio with platoons and teams in mind - the tech weighs about three pounds and is designed to fit easily into a backpack.
Why? This flying radio could deliver secure communication with greater range and flexibility while lightening the load for troops by reducing the burden of radio carrying.