Army sets sights on new sniper rifle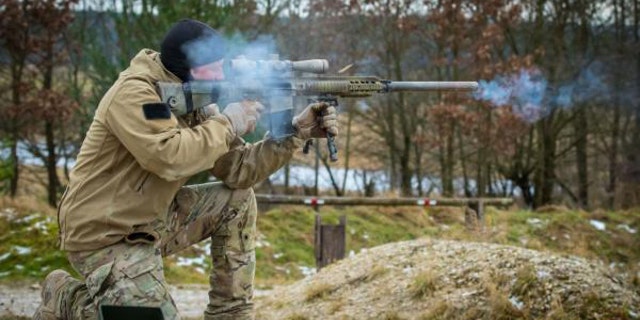 When you combine the skill of U.S. soldiers with this new mighty sniper rifle, it means very bad news for those foolish enough to take on the United States.
Army squads' designated marksmen have been using the M110A1 7.62mm semi-automatic sniper rifle — but threats have evolved and U.S. soldiers deserve the best rifle for the job.
Enemy body armor is one of these evolving challenges. Russian-made advanced armor increasingly protects U.S. adversaries. In war zones, U.S. boots on the ground have had to contend with terrorist group ISIS protected by armor — and by ever stronger armor.
U.S. soldiers need a sniper rifle that they can always rely on to penetrate these types of strong armor and stop the threat.
Once the Army announced that it was on the hunt for an upgrade, there was an intense competition to become the new sniper rifle.
US ARMY TANKS GET FUTURISTIC SHIELDS TO DESTROY INCOMING THREATS
In 2016, the Army selected Heckler & Koch's 7.62mm rifle based on their G28, with specific modifications tailored to meet the military's requirements.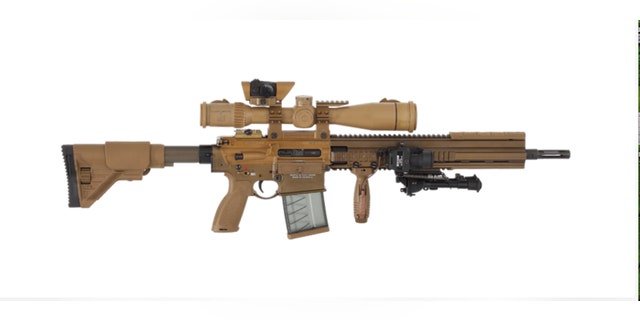 And it is this compact semi-automatic sniper system that will be the new Squad Designated Marksman Rifle. (SDMR)
Recently, the Army confirmed that this new, powerful sniper rifle should be in soldiers' hands this year.
What's the change?
The modified HK G28 will replace the Army's current SDMR, the M110 SASS 7.62 compact sniper rifle. The last significant change was in 2010 when the Army aimed to standardize sniper rifles in use and introduced the M110 to replace models like the M14 (modified Remington 700).
For starters, this will be a harder-hitting rifle than the rifle it replaces. The goal is to provide infantry soldiers with an upgraded, deadly capability.
US SOLDIERS SET TO RECEIVE NEW SPECIAL OPERATIONS-STYLE NIGHT VISION GOGGLES
As well as providing better penetration of enemy forces' armor, it is expected to be lighter, shorter, easier to carry and more ergonomic to use.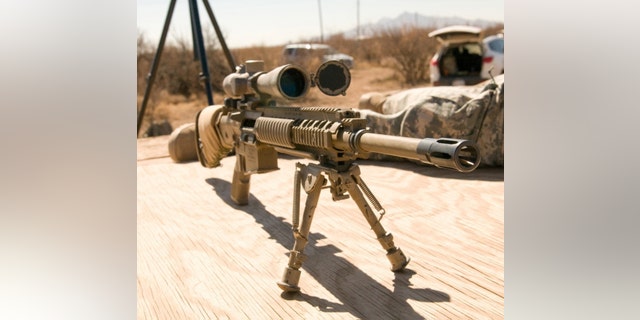 PODCAST: CONCEALED CARRY AND MARKSMANSHIP MASTER CLASS w/ DELTA FORCE, MARINE RECON AND SPECIAL FORCES LEGEND MIKE PANNONE
G28 clues
The new Army sniper rifle continues to be shrouded in mystery. Even when the Army announced it chose Heckler & Koch for the new weapon, the company kept quiet. No details emerged immediately from the Army either.
Eventually, it was confirmed that the SDMR would be a modified version of the G28 to meet the Army's requirements … but the details of the new sniper rifle remain the subject of much speculation and curiosity.
While the details have yet to be confirmed on how the rifle will be modified, we can look at the G28 to get an idea of what soldiers might expect.
Familiar with the civilian semi-automatic competition rifle MR308? The G28 is Heckler & Koch's military version.
SPECIAL OPERATIONS DOGS SET FOR NEW ADVANCED TACTICAL GEAR
One of the military upgrades to the civilian rifle is the G28's green and brown camouflage looks. The German Army has been using the G28.
Designed to meet the needs of designated marksmen tackling current threats, the G28 fires the same 7.62mm ammunition as the M110. It remains to be revealed whether the cutting-edge hard-hitting ammo underway by the geniuses at Fort Benning, and elsewhere, will be integrated.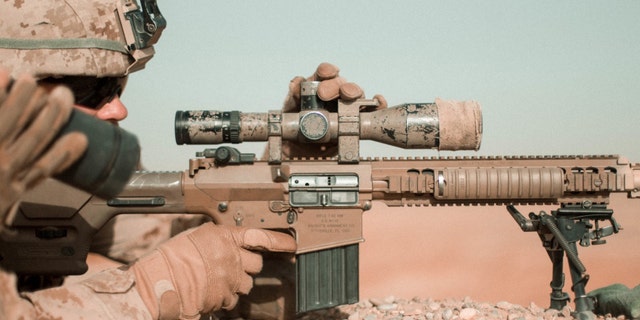 Size
The Army was looking for accuracy and reliability in a more compact package. According to Heckler & Koch's announcement, it looks like the modified G28 will give soldiers a shorter and lighter rifle than the M110.
The M110 weighs about 2.5 pounds more than the G28 — so this new modified U.S. Army G28 could potentially be even lighter than 12.7 pounds.
How much shorter will the new gas-powered sniper rifle be? The G28 is 38 inches long, so that is about 2.5 inches smaller than the M110.
A few G28 features
In terms of accessories, the G28 rifle incorporates the new Stanag 4694 NATO accessory rails and mounts and backward compatibility with MIL­STD­1913 rail. The G28 has a telescopic stock with an adjustable cheek rest.
HOW DEADLY DRONE SWARMS WILL HELP US TROOPS ON THE FRONTLINE
Suppressor needed for the job? This rifle has a "toolless" gas regulator.
In terms of safety, Heckler & Koch has incorporated safety/cocking in every hammer position.
PODCAST: TEXAN HELLRAISER TURNED MASTERFUL MARINE CORPS COMBAT SHOOTER REVEALS MINDBLOWING WAR STORIES
Mission adaptation
To adapt for mission requirements, the G28 has a conversion kit.
For example, if a lighter version is needed for a patrol or assault rifle purposes, then the approximately 1.4- pounds lighter patrol variant can be used. There is also an "Over the Beach" capability available.
Leveraging thermal and starlight imaging, the G28 is designed for fighting at night as well.
AMAZING NEW MILITARY HELICOPTERS TO LOOK OUT FOR IN 2018
For close quarters threats, the modified G28 should deliver enhanced accuracy and performance while being easier to use.
Accuracy
The G28 is designed to provide accuracy of 1.5 MOA.
What's the maximum effective range? The company indicates high first round hit probability up to about 2,600 feet.
Escalating threat of enemy body armor
Body armor made by some overseas companies can be bought by terrorists for less than $300 – and some types can stop US Army M110 rifle rounds and other weapons like the M4s firing 5.56mm rounds.
Some Russian-made body armor models worn by ISIS will resist multiple hits of 5.56 and 7.62 rounds.
THE MOST EXCITING MILITARY VEHICLES OF 2017
One smart proposal was to take a currently available sniper system and adapt it so it can use remarkable new munitions created at places like Fort Benning. These munitions have the potential to penetrate any of these super tough armor plates.
Two new weapons to penetrate enemy body armor
$44.5 million worth of new upgraded sniper rifles – possibly as many as 3,643 – will soon be in soldiers hands' this year if plans continue on track.
In addition to the new sniper rifle, there may also be a new replacement for the M249 squad automatic weapon that fires 5.56m rounds.