Are you done with that cooking oil? Toyota needs it for its diesel-powered off-road racer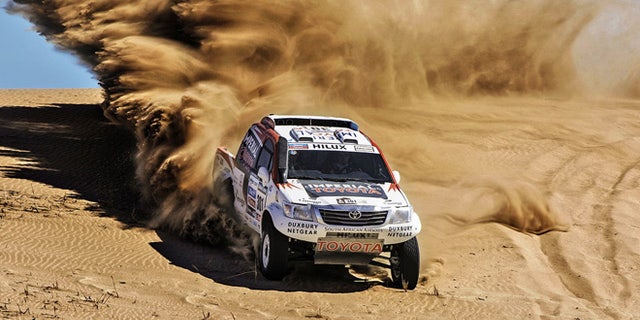 People need to stop putting strange things in Toyota fuel tanks.
First there were the Antarctic exploration Hilux pickups that ran on jet fuel, now a team wants to contest the Dakar Rally with a Toyota fueled by used cooking oil.
Biodiesel hasn't caught on with the mainstream, but The Japan Times reports that Toyota subsidiary Toyota Auto Body Co. will use the fuel for the world's toughest motorsport event.
The green racer will be a modified Land Cruiser 200. This big SUV (and its Lexus LX 570 twin) isn't the most athletic vehicle around, but it should be ideally suited to the rigors of the Dakar and will emit 60 percent less carbon dioxide than a regular diesel, Toyota says.
Held in South America since 2009 due to political unrest in its namesake African locale, the rally will start in Rosario, Argentina January 5 and finish in Valparaiso, Chile on January 18. Drivers will cover 13 stages and a total distance of 5,200 miles.
In addition to the Land Cruiser team, Toyota will also sponsor the South African Imperial SA Dakar Team, which will contest the race in two Hilux pickups. Other entries will include souped-up Chevrolet pickups, Ford Rangers, and the defending-champion MINI ALL4 Racers, which are based on the Countryman mini-crossover.
Anyone who's watched Top Gear knows that Toyota trucks are basically indestructible, but surviving the Dakar while running on green biodiesel will be a neat trick and could show that racing doesn't have to be environmentally irresponsible.