Apple's iPhone 'X' might cost as much as a MacBook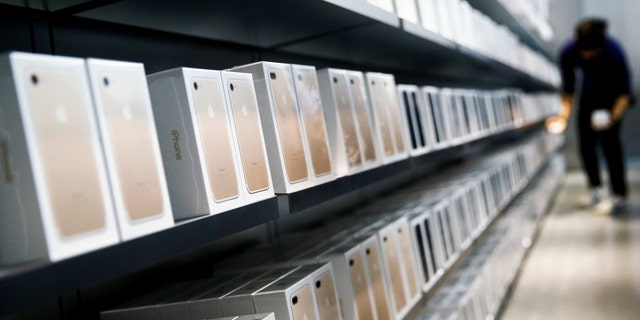 Apple's radical new iPhone may come with a $1,000 price tag.
Or an even bigger price tag. Apple's 2017 premium iPhone – which some Wall Street analysts are calling the "iPhone X" with "X" designating the 10th anniversary of the iPhone – could be priced at over $1,000.
That argument was made this week by Fast Company. In fact, that case – as Fast Company points out – isn't very hard to make, considering the top-of-the-line iPhone 7 Plus today, with 256GB of storage, has a retail price of $969.
WHAT TO EXPECT WITH APPLE'S 2017 iPHONE 'X'
But the $1,000-plus price would cement, if accurate, an upward trend in Apple iPhone pricing. If, for example, the priciest 2017 iPhone falls somewhere in the $1,000 to $1,200 range, that would put it squarely in MacBook Air territory. Apple's popular MacBook line starts at $999.
"The OLED display will definitely be very expensive," Daniel Matte, an analyst with market researcher Canalys, told Fox News in an email. Matte is referring to the centerpiece of the rumored premium iPhone, an organic light-emitting diode (OLED) display. That display technology would allow Apple to offer a curved display, analogous to Samsung's Galaxy S7 Edge.
"The limited quantities available will definitely require some models to stick with LCDs," he added, meaning that not all new 2017 iPhones will be priced in the stratosphere. New iPhones with more conventional LCDs (liquid crystal displays – which Apple uses now) are also expected to be available and be cheaper than the premium iPhone.
APPLE WILL START BUILDING IPHONES IN INDIA THIS SPRING, REPORT SAYS
"Apple will probably continue with the current LCD models and introduce one or two new premium flagship iPhones with OLED displays," Raymond Soneira, president of DisplayMate Technologies, told Fox News last week.
But because it's so early – with the 2017 premium iPhone not due until summer at the earliest and more likely in the fall – it's possible that Apple doesn't even know what the exact price will be yet.
A source familiar with activity in the "supply chain" of manufacturers, which build components for the iPhone, tells Fox News that Apple is likely testing early prototype versions of future iPhones at the moment. And that Apple is moving quickly to secure as many OLED displays as possible.
APPLE WATCH SALES SPIKED OVER THE HOLIDAY: SMARTWATCHES ARE HERE TO STAY
Pricing aside, the iPhone X – rumored to have a 5.8-inch display compared to the current 7 Plus' 5.5-incher – should be a stunner.
"With a curved screen OLED, the iPhone display will almost certainly be bezel and border free to the outside edges, and fill all or almost all of the entire front view edge-to-edge, with rumors predicting that the home button, fingerprint sensor, ambient light and proximity sensors will be incorporated within the display," DisplayMate's Soneira said.
All new iPhone models are also slated to come with wireless charging, according to reports.
Apple did not respond to a request for comment on this story.