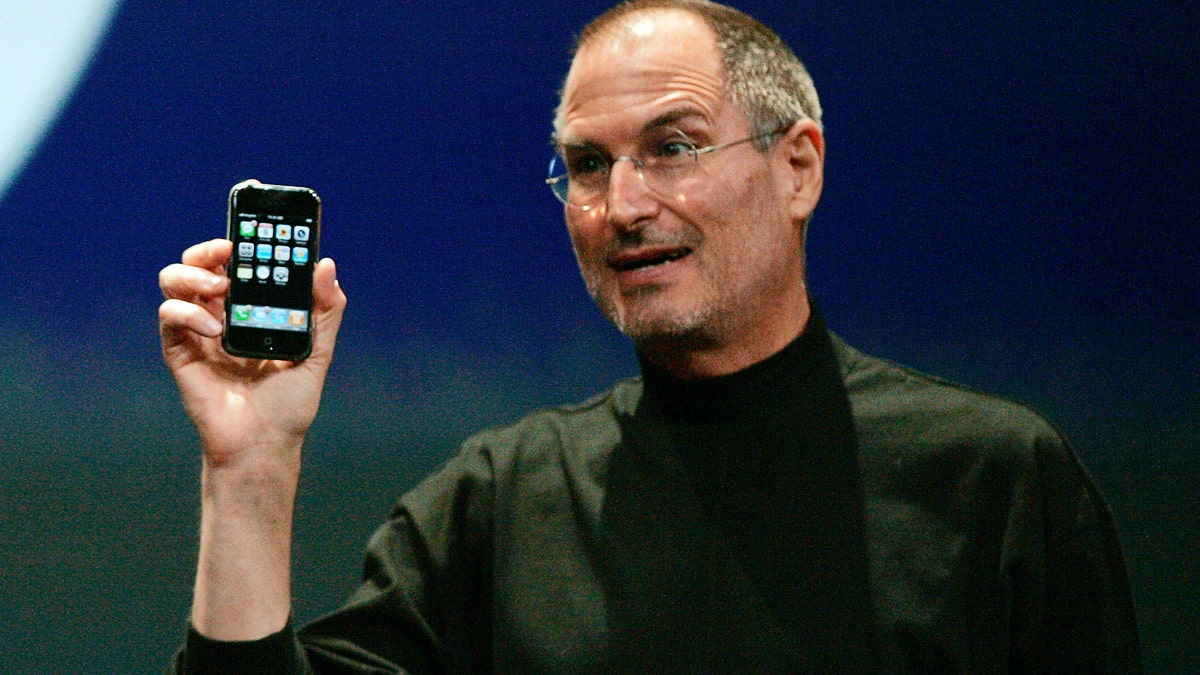 It is 10 years to the day since Steve Jobs unveiled the iPhone, an iconic device that has completely transformed the consumer technology landscape.
Jobs first revealed the smartphone on stage at the Macworld conference on Jan. 9, 2007. The then-Apple CEO described the iPhone as "three things – a widescreen iPod with touch controls, a revolutionary mobile phone and a breakthrough Internet communications device."
"These are not three separate devices – these are one device and we are calling it iPhone," Jobs added. "Today, Apple is going to reinvent the phone."
APPLE UNVEILS NEW IPHONES: THE IPHONE 7 AND 7 PLUS
Apple has sold more than a billion iPhones since Jobs took to the stage at Macworld in San Francisco. In a blog post Sunday the tech giant noted that the iPhone has inspired other products such as the iPad and Apple Watch, as well as millions of apps.
The iPhone has had a massive impact on many aspects of consumer technology, according to Jackdaw Research analyst Jan Dawson. "Smartphones are easily the most ubiquitous consumer technology item out there, and the iPhone really pioneered the modern conception of the smartphone," he explained, via email. "But smartphones are also at the core of all kinds of other things, from wearables to apps to services like Uber and AirBnb. So much of what we use in our daily lives today has smartphones at the center, and it was the iPhone that kicked off the mainstreaming of the smartphone."
Apple unveiled its latest iPhones – the iPhone 7 and iPhone 7 Plus, in September, and speculation is mounting about the eagerly-anticipated iPhone 8, which is expected to launch later this year.
APPLE'S COMING ATTRACTIONS IN 2017: RADICAL NEW IPHONE, RESIZED IPAD?
Rumored iPhone 8 features include an Organic Light-Emitting Diode (OLED) display that could offer greater power efficiency and image quality than Apple's current Liquid Crystal Display LCD technology. The iPhone 8 may also have an edge-to-edge display and an embedded virtual home button, according to media reports.
"iPhone is an essential part of our customers' lives, and today more than ever it is redefining the way we communicate, entertain, work and live," said Apple CEO Tim Cook, in the company's blog post. "iPhone set the standard for mobile computing in its first decade and we are just getting started. The best is yet to come."
Apple, however, saw iPhone sales decline in its 2016 fiscal year, the first such fall since the device was introduced in 2007.
MACBOOK PRO SAVES MAN'S LIFE IN FT. LAUDERDALE SHOOTING
The Cupertino, Calif.-based firm faces stiff competition in the smartphone space. While arch-rival Samsung suffered a setback with its Galaxy Note7 snafu, great things are expected from the South Korean firm's Galaxy S8, which is expected to make its debut in mid-April.
Dawson told FoxNews.com that a major challenge facing the iPhone is that smartphones have reached a saturation point in major mature markets and among wealthier customers in emerging markets. "There are still some people left who will buy a premium smartphone like the iPhone, but in order to grow the iPhone business, it has to win share from Android unless something changes dramatically in the pricing and positioning of the phone," he explained, via email. "The other challenge is that the iPhone is now so mature as a product that you no longer have the same drive to replace it every two years – a two, three or even four year old iPhone can still function just fine, and so the push to buy a new one every year or two isn't as strong as in the past."
With so many iPhones already in use around the world and the device reaching an important milestone, Apple clearly needs to make a big splash with iPhone 8.
WORST PRODUCT LAUNCHES IN PICTURES
"Apple needs to continue innovating and releasing new technologies and features that are unique to new iPhones in order to convince people to upgrade the phones they have," wrote Dawson.
Follow James Rogers on Twitter @jamesjrogers