Apple WWDC: Apple unveils Memoji, new privacy features and more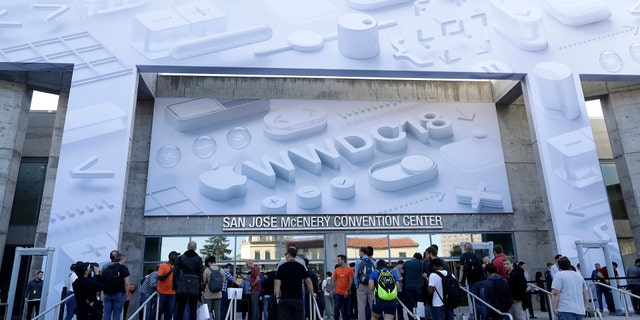 NEWYou can now listen to Fox News articles!
During a keynote at its annual Worldwide Developer Conference (WWDC), Apple took the wraps off several new products, including updates to its various operating systems.

Developers came from 77 countries, CEO Tim Cook said, while adding that there are over 20 million Apple developers around the world. "That's more than ever before," he explained.
Cook noted there are over 500 million weekly visitors to the App Store, with developers set to surpass $100 billion in earnings, which Cook said will happen later this week.
IPHONE BATTERY DEAD AGAIN? 7 SURPRISING WAYS YOU'RE DRAINING POWER
"Apple changing the world and making it a better place is what it's all about for us," Cook said. "We aim to put the customer at the center of everything we do."
iOS 12
Apple's Senior Vice President of Software Engineering Craig Federighi introduced the new version of iOS, iOS 12, which will include new features such as updated augmented reality.
Demonstrating the technology, Apple had Lego on stage showing off one of its creator sets. The set comes to life when viewed with an iOS device (an iPad was used for the demo), and can be turned into a video game, adding characters with missions.
Apple worked with Pixar to create a new file format for AR, known as USDZ, that lets you place 3-D objects into the real-world in a faster and smoother way. The company also unveiled a new AR-focused app, Measure, which measures real-world objects such as a suitcase. In the camera app, you can tap a feature that automatically measures the object as well.
Federighi also introduced ARKit 2, Apple's AR platform, which it calls "the world's largest AR platform by far." As part of ARKIt 2, Apple added new features including improved face tracking, realistic rendering, 3-D object detection and shared experiences.
More than half of Apple's customers upgraded to iOS 11 in seven weeks; Federighi added that 81 percent of the devices that run iOS run iOS 11. For comparison purposes, just 6 percent of all Android devices run the latest version of Android.
iOS 12 will be available on the same range of devices as iOS 11, ranging from those built in 2013 to present. That's a change from previous years when the newest version of iOS would only be available on the previous few years worth of devices.
Photos also got an update, with search suggestions, improved photo recognition, indexing by time and place and a new For You tab, including photos you took on a certain day, the ability to add a new photo effect on a picture and the ability to share photos with people you might want to share them with. This feature is based off Apple's photo recognition technology, using end-to-end encryption and machine learning technology.
Though Siri receives over 10 billion requests per month, it's received criticism for falling behind the competition. Apple is trying to change that by letting more apps use Siri via a new feature called "ShortKits," which lets you have quick actions initiated by Siri. Users can also create their own short cuts using a new Shortcuts app, which lets users do things like automatically order a coffee or let someone know they are running late for a meeting.
Several of Apple's home-grown apps got updates, including Apple News and Apple Books, the new version of iBooks.
Apple News updates include a new "Browse" tab and a new sidebar on the iPad. The Stocks app, which got a redesign, will now have news integration. The Stocks app is also coming to iPad to take advantage of the bigger screen.
Formerly known as iBooks, the new Apple Books app will be redesigned and get a new "reading now" feature that shows where you last left off. CarPlay also got an update to include third-party navigation apps.
As part of iOS 12, Do Not Disturb mode will include a new "Do not disturb during bedtime" that hides your notifications, which can be tapped in the morning and turned back on. There's also a new feature that groups notifications from the sender, such as from iMessage, Twitter or a Calender notification.
As part of iOS 12, Apple introduced a new Screen Time feature, that shows you how much you use your phone, what apps you are spending the most time on and detailed reports to understand how you are spending your time. Users can also set time limits for apps and when time is up, they are notified.
Parents can also set limits, using "Allowances" to allow their children to have certain amounts of time on their devices.
Animoji got an update as well, letting users stick their tongues out and new versions, including Ghost, Koala, Tiger and T. rex. Users can also create their own emoji using a new feature known as Memoji, which lets users design an emoji how they want.
FaceTime will also now let you FaceTime multiple people, up to 32 people at once.
APPLE REVEALS NEW PRIVACY CONTROLS FOR IPHONE AND MAC USERS
Apple Watch
The Apple Watch got updates, including a new operating system, watchOS 5, and new watch faces and bands.
As part of watchOS 5, users can challenge their friends to a 7-day workout competitiion, Apple Vice President of Technology Kevin Lynch noted. Lynch said that users will get notifications of their progress as well as their standings in the competition.
People who use the Watch for exercise will see new features such as automatic workout detection and runners will see new features such as track rolling mile pace, pace alerts and the amount of steps per minute they run.
A new feature known as Walkie-Talkie will allow Apple Watch users shoot tiny voice memos to each other, thanks to LTE connectivity and Wi-Fi.
Siri on Apple Watch received updates, such as the ability to get heart rate, sports scores or maps data, thanks to predictive learning. Third-party apps are also coming to the Siri watchface, Lynch said. "Just raise your wrist and tap – it's that easy," Lynch said.
As part of watchOS 5, users can also view web content if they tap a link and listen to podcasts on their Apple Watch, after Apple Music streaming became available on Apple Watch Series 3.
Apple also unveiled a new watchface and Apple Watch band for Pride month, available later today.
APPLE'S TIM COOK ATTACKS TRUMP OVER TARIFFS, TRADE IN NEW INTERVIEW
Apple TV
Apple has struggled to make its Apple TV set-top box as important as the iPhone, iPad or even the Apple Watch, but the company is not standing still, announcing several new updates for the Apple TV 4K box.The
Apple TV 4K, which costs $179 and was introduced in 2017, will get Dolby Atmos sound, effectively bringing immersive movie theater-like sound to the set-top box.
Apple now has more than 100 video channels available on Apple TV. Apple has partnered with cable providers such as Canal+ in France, Salt in Switzerland and Charter Spectrum in the U.S. to be the set-top box for these homes.
New screensavers were added to Apple TV, including views from the International Space Station.
APPLE LOOKS TO EXPAND ADVERTISING BUSINESS WITH NEW NETWORK OF APPS
Mac
Appearing back on stage, Apple's Cook said the Mac was the first computer to put "the customer at the center of the experience," a motto that remains today as the new version of macOS takes a "huge leap forward."
The new macOS, known as Mojave, will have a feature known as Dark mode, which not only turns the menu or dock dark, but apps as well. The feature makes "photographic content pop off the screen," Federighi said, after being re-introduced by Cook.
Though Federighi was adamant that Apple will not merge iOS and macOS, he gave a sneak peak of a "multi-year project" that will bring some iOS apps to the Mac over time. Federighi said Phase 1 of this project would be Apple testing some of its own apps, including ones they've already announced, including Apple News, Stocks, Voice Memos and Home. Next year, developers will be able to bring iOS apps to the Mac, Federighi added.
The Mac App Store is also being redesigned as part of macOS Mojave, getting a new user interface.
In macOS Mojave, users can take a quick look at their documents and even mark up PDFs using a new feature known as Quicklook. Screenshots, a popular way to share content, are now able to be marked up.
Continuity, a feature that syncs Apple devices together, is getting an upgrade known as Continuity Camera. Users can take a picture on their iPhone and it's automatically updated to a document on their Mac.
MAN PAYS $930 FOR APPLE 'IPHONES,' BUT GETS A SURPRISE WHEN HE OPENS THE BOXES
Privacy updates are also coming to macOS Mojave, including new privacy settings for users' microphones, cameras and Safari data, after having already done so previously for contacts, photos, calendars and reminders.
Safari also got an update, going after like buttons and comment field cookies on websites making it harder for user's devices to be identified, a shot across the bow at what Apple called "data companies" (i.e. Facebook and Google), topical in light Facebook's recent Cambridge Analytica data scandal.
Follow Chris Ciaccia on Twitter @Chris_Ciaccia