Apple sends out invites for Oct. 23 iPad mini event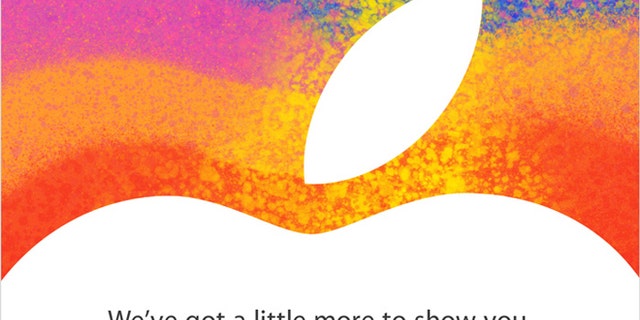 The iPad's kid brother is just around the corner.
After months of rumor, Apple on Tuesday sent out invitations for an Oct. 23 event at which the tech company is widely expected to unveil a smaller version of the iPad dubbed the 'iPad Mini.'
The invitation, with a colorful rendering of the Apple logo, teases something smaller than the standard model: "We've got a little more to show you," it reads.
Rumors have swirled about the existence of the smaller product for months. According to a recent Wall Street Journal story, the smaller tablet will have a 7.85-inch liquid-crystal display with a lower resolution than the latest iPad, which was released in March.
The screen on the current iPad measures 9.7 inches diagonally, a size that hasn't changed since the first model was released in 2010.
South Korea's LG Display Co. and Taiwan's AU Optronics Corp. began mass production of the LCD screens for the new device last month, people familiar with Apple's plans told the Journal.
Apple sold 17 million iPads in the April-June period alone, and more than 84 million since its debut in 2010. The company aims to capitalize on that growth with the smaller version, one likely carrying a somewhat smaller price tag.
The new "iPad Mini" is expected to help Apple fend off cheaper tablets with smaller screens, notably the new Kindle Fire. An entry-level iPad 3 (or "the new iPad," as Apple insists on calling it) with 16GB of storage space and lacking a 3G wireless connection sells for $499. Models rapidly run as high as $829.
The Kindle Fire is half the price of Apple's cheapest iPad -- the older iPad 2, which starts at $399. It also has a smaller screen, lacks a camera and only connects to the Internet over Wi-Fi.
What would you pay for an iPad mini?
The Associated Press contributed to this report.