Apple fits NFC tech and improved iBeacon kit at its stores ahead of iPhone 6 launch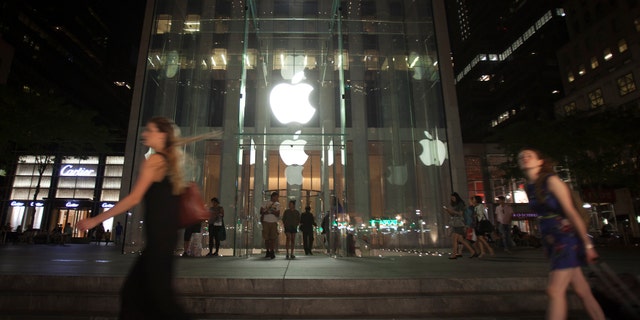 With Apple just hours away from launching the latest iteration of its iPhone – and possibly its much-anticipated smartwatch, too – the company is this week kitting out its stores with new NFC readers as well as upgraded iBeacon technology, 9to5Mac reported Sunday.
Rumors and leaks over the last few months have all but confirmed that the new iPhone, of which two sizes are expected to launch, will for the first time incorporate NFC technology, allowing owners to make purchases simply by tapping their device on compatible in-store readers located at cash desks.
While many Android handsets have long offered NFC functionality, Apple has until now shunned the technology. With the launch of the iPhone 6, however, that looks set to change.
Related: Apple eyes mobile payments with wallet app for iPhone 6
The company is also reported to be installing the latest transmitter technology from Gimbal to improve the effectiveness and accuracy of its iBeacon technology, which it rolled out at its stores at the end of last year.
If an iPhone owner gives permission, iBeacon connects with their handset when they enter an Apple store, allowing the tech company to track their precise whereabouts within the premises. This enables Apple to learn how visitors move around the store and which sections get the most traffic.
The company can also push information such as offers and relevant news to handsets, depending on the person's location within the store. So if they happen to be taking a look at iPhone cases, for example, the iBeacon technology could push a special case-related offer to the shopper's phone in an effort to tempt them into making a purchase.
Related: Don't wait for Tuesday – 10 things we already know about the iPhone 6
The same NFC and iBeacon technology is also being rolled out at Disney stores, the report said.
The move by Apple to fit its stores with NFC readers and upgraded iBeacon kit fits with the expectation that the Cupertino company is about to make a serious push into mobile payments with this week's launch of the iPhone 6 and iOS 8, the latest version of its mobile operating system.
Multiple reports in recent weeks suggest Apple has inked deals with a number of financial services firms, as well as retailers such as Nordstrom and Walgreens.
Digital Trends will be bringing you all the updates from Apple's big announcement Tuesday, so be sure to check back to find out all you need to know about its new offerings, including the lowdown on its expected mobile payments system.