Apple Aims for iPad 3 Launch in 2012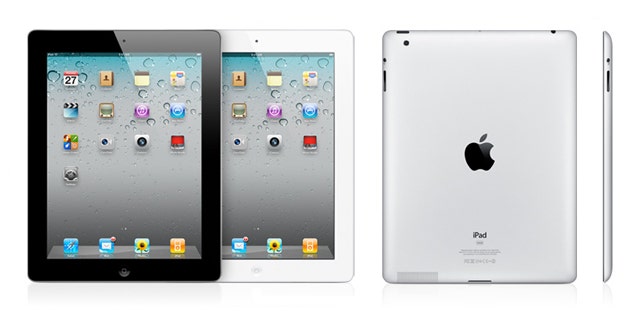 NEWYou can now listen to Fox News articles!
TAIPEI – Apple is working with component suppliers and its assembler in Asia to begin trial production of its next generation iPad in October, DJ Newswires reported Friday, citing people familiar with the situation.
The Cupertino, Calif., company has ordered key components such as display panels and chips for a new iPad it is aiming to launch in early 2012, said the people.
The next generation iPad is expected to feature a high resolution display -- 2048 by 1536 compared with 1024 by 768 in the iPad 2 -- and Apple's suppliers have already shipped small quantities of components for the sampling of the iPad 3. Suppliers said Apple has placed orders for a 9.7-inch (24.6-cm) screen device.
One component supplier to Apple said the company has already placed orders for parts for about 1.5 million iPad 3s in the fourth quarter.
"Suppliers will ramp up production and try to improve the yield rate for the new iPad in the fourth quarter before its official launch in early 2012," said a person at the supplier.
Apple, like many other big personal-computer and consumer-electronics brands, does not actually make most of its products. It hires manufacturing specialists -- mainly companies from Taiwan that have extensive operations in China -- to assemble its gadgets based on Apple's designs.
They use parts from other outside suppliers, many of which also are from Taiwan and elsewhere in Asia. The arrangement frees Apple and its fellow vendors from running complicated, labor-intensive production lines, while the ability of Taiwanese companies to slash manufacturing costs helps cut product prices over time.
Taiwan's Hon Hai Precision Industry Co. assembles the iPad. A company spokesman declined to comment.
Apple reported blowout earnings for its fiscal third quarter ended June 25 in part due to the popularity of its iPad. The company sold 9.3 million units in the quarter, nearly triple what it sold a year earlier. Together with the robust sales of the iPhone smartphone and other electronics devices, Apple's net profit for the period more than doubled to $7.31 billion from $3.25 billion a year earlier.
Still, the next-generation iPad would be coming at a time when there is more competition in the market.
Companies from Samsung Electronics Co., Motorola Mobility Holdings Inc., ZTE Corp. and Toshiba Corp. have launched similar devices using Google Inc.'s Android software. Apple is also embroiled in several lawsuits spanning various countries with Samsung Electronics over alleged patent infringement.