Anti-virus pioneer John McAfee: I'm innocent of murder in Belize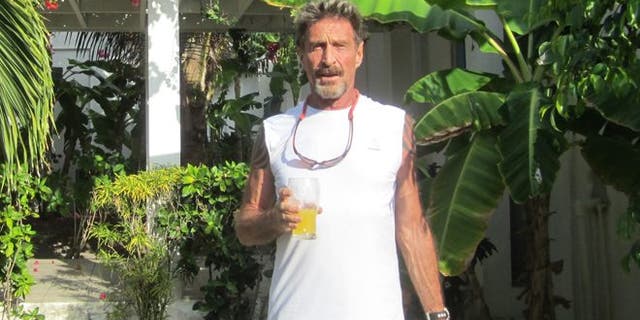 NEWYou can now listen to Fox News articles!
When a former tech mega-mogul is wanted for questioning in a murder, where does he turn?
Internet security pioneer John McAfee, the multi-millionaire founder of the anti-virus firm that bears his name, is wanted by police in Belize investigating the murder of American expatriate Gregory Faull. Rather than turning to the American embassy, McAfee gave a bizarre interview to tech Bible Wired, saying he buried himself beneath sand and cardboard boxes to hide out from the police.
"They will kill me if they find me," McAfee told Wired reporter Joshua Davis.
According to a police report, American expatriate Gregory Faull, a builder from Florida, was shot Saturday night in the Central American country where McAfee has lived the last several years. Police in Belize say Faull's body was discovered at his house Sunday morning by 39-year-old Belizean housekeeper Laura Tun. He was lying face up in a pool of blood, the report said, with a gunshot wound to the head.
'I thought maybe they were coming for me. They mistook him for me.'
McAfee told Wired he hid out while the cops combed the property, burying himself in sand with a cardboard box over his head to breathe. He knew nothing about the death, he claimed.
"Nothing — other than I heard he had been shot." Indeed, McAfee told Wired he thought Faull had been murdered by accident. "I thought maybe they were coming for me. They mistook him for me. They got the wrong house," he said.
The next big thing: Smartphones with HDTV resolution
"He's dead. They killed him. It spooked me out."
Eric Heyden, a spokesman for the U.S. embassy in Belize, told FoxNews.com he was aware of reports that McAfee was being sought for questioning. But it appears McAfee hasn't reached out for help.
"I can confirm that embassy consular and security staff are in touch with local authorities," Heyden said. "If required and if he so requests, Mr. McAfee will have available to him all consular services normally accorded an American citizen."
"Because of privacy considerations we cannot discuss Mr. McAfee's whereabouts or his involvement in the investigation."
Faull's body is in the Karl Heusner Memorial Hospital morgue; the results of an autopsy are expected by 3:30 p.m. ET Tuesday, a pathologist with the hospital told FoxNews.com.
McAfee's life has turned in recent years from cybersecurity to drugs, guns, prostitution and violence, explained Jeff Wise, a freelance reporter who broke the Belize murder story for Gizmodo, a popular tech blog. "He will tell you he moved to Belize for the good life, for the country, to rescue the Belizean people from poverty," Wise told FoxNews.com. In reality, McAfee became embroiled in bath salts – a dangerous drug known for its psychedelic drug - and the quest for the ultimate high, said Wise, who visited McAfee in the Belize twice, once in 2010 and again in April.
"It really scared the hell out of me," Wise said. He wasn't alone. A woman who went to visit McAfee to co-develop an herbal medicine ended up running from the country in terror, "fleeing for her life," Wise said.
New tech lets PCs communicate with sound waves
McAfee's descent apparently began in 2008, after the death of a colleague. He had been involved in a new sport involving low-flying vehicles, Wise said. Following that incident, McAfee's life changed around, Wise said. Although a one-time drug user, the computer expert had cleaned up his act.
"Mcafee had been a hard-core drug addict in his 30s and 40s. He had a heart attack right around the time he sold his company for $100 million," Wise told FoxNews.com. He moved to Belize and apparently pursued several lines of business, from creating a new form of herbal medicine to helping save the country from poverty. He also became deeply involved with the bath salts, Wise said.
"Around the time his herbal drug plan collapsed, he started to get really heavily into this kind of synthetic, hallucinogenic hyper-aphrodisiac," Wise told FoxNews.com. "Everyone was scared of McAfee. He was walking around the beach carrying a gun."
Faull's wife, Vicki, told CNET that she didn't know many details about her husband's death and only was informed of it yesterday morning. "I just know that McAfee alienated a lot of people around him. Frankly, I was surprised to hear that he was still living there," she told CNET.
McAfee spokeswoman Kim Eichorn told FoxNews.com the company doesn't comment on former employees, and that McAfee is no longer associated with the company that bears his name.