Ancient Aztec temple and ball court uncovered in Mexico City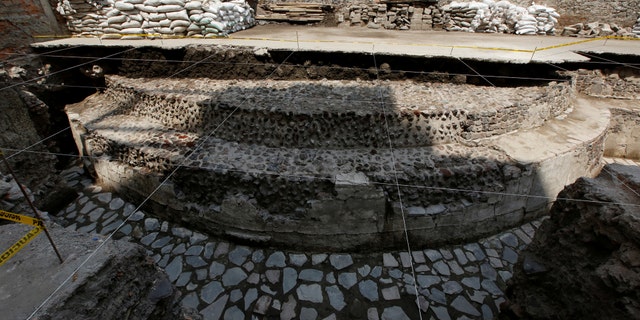 NEWYou can now listen to Fox News articles!
Archaeologists have uncovered the remnants of a Aztec temple and ceremonial ball court in the heart of Mexico City, according to media reports.
According to Reuters, the discoveries were made on a side street behind a Roman Catholic cathedral off the Zocalo plaza. Included in the discovery was the foundation of a circular temple, which was dedicated to the Aztecian wind god Ehecatl, as well as a ball court, which confirmed the existenced of Spanhish conquerors.
EXPERTS DISCOVER CHRISTOPHER COLUMBUS' ANCHOR AT CARIBBEAN SHIPWRECK SITE
"Due to finds like these, we can show actual locations, the positioning and dimensions of each one of the structures first described in the chronicles," said Diego Prieto, head of Mexico's main anthropology and history institute told Reuters.
In addition, there were human remains found, as archaeologists uncovered 32 severed male neck vertebrae. Archaeologist Raul Barrer said that the remains came from victims "who were sacrificed or decapitated."
The temple was built between 1486 and 1502, when Aztec Emperor Ahuizotl, the predecessor of Moctezuma, ruled the ancient civilization.
Once the excavation is completed, a museum will be built on the site.