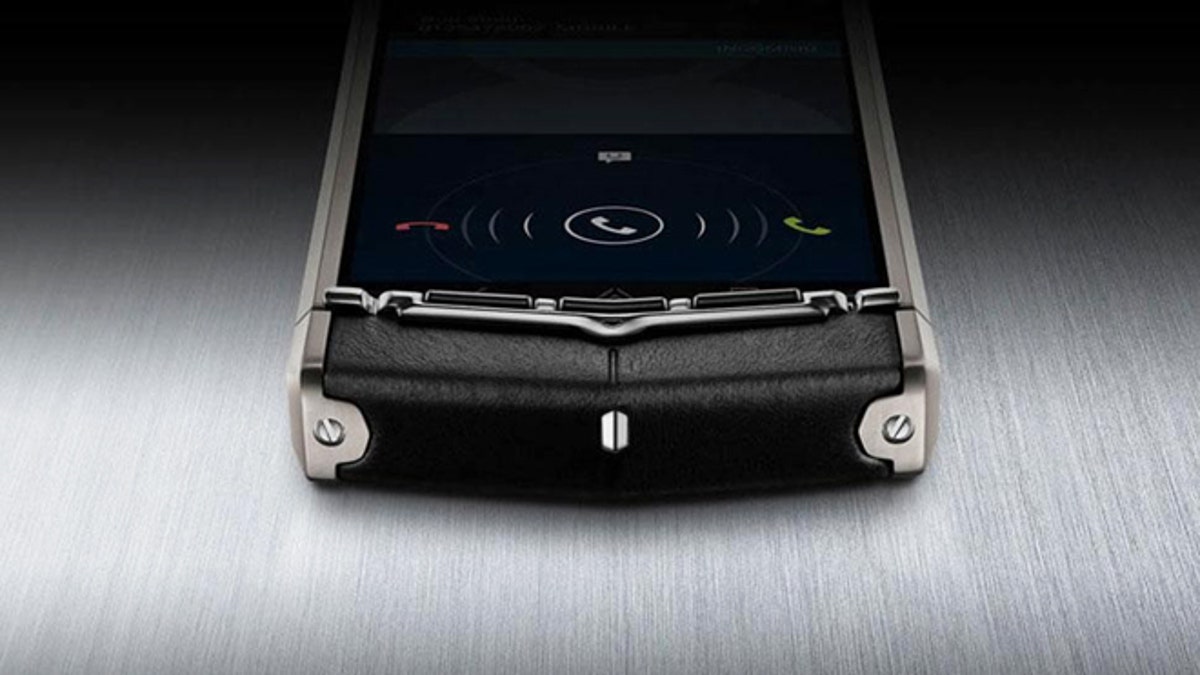 I may be the only person on the Web who defended the Vertu TI when it was announced.
Much like a luxury sports car or wristwatch, I thought there could be merit to Vertu's new $11,000 Android phone. And after briefly using the phone and touring the Vertu factory, I remained optimistic. But there was one thing I had yet to know: What is it really like to carry around and use an $11,000 smartphone? Would people stare? Would women flock to me like I'm wearing Axe body spray? Would showing other men my Vertu be like that business card scene from American Psycho?
I wanted to know. No, I needed to know.
Luckily, Vertu decided to help me out. With a little persuading, the company decided to lend me one of its prized phones for a few days.
It wasn't a matter of if, but how. How cool, suave, and sophisticated would the TI make me look? All this was going through my mind as I headed toward Vertu's boutique store on New Bond Street in London. If you haven't strolled down this road before, it's the definition of luxury. Walking down it, you pass names like Breitling, Tiffany, Montblanc, Zegna, D&G, the world famous Sotheby's auction house, and many other jewelry stores with security personnel guarding their entrances. If you're shopping here, you've got a wallet lined with diamonds. Normally, I would be the guy gazing longingly through windows, but today, I was a customer.
As I entered Vertu's boutique, I noticed how small it was by New Bond Street standards. After standing around for a moment I was ushered downstairs, seated in a comfortable leather couch, and handed a "Titanium Black Leather" Vertu TI. It was "mine," and boy, did it feel good.
[sidebar]
The metal was cool to the touch, the leather tactile covering felt premium, and its heft gave the impression of indestructibility. Putting it down on the glass table in front of me resulted in a pleasing clunk, but it was only there for a few moments. Like all new toys, it was just begging to be played with. The features were explained to me as I logged in to my Google account right in the shop, much like I would have done at any cell phone retailer. But then I got a call from Vertu's Concierge. It was time to adopt my chosen persona of a rich, successful business man taking his parents on holiday (all true, except for the rich, successful part).
Like OnStar for the rich and famous, the Concierge is a 24/7 personal assistant ready to serve your every whim. The service is included with your Vertu phone and available at the press of a dedicated button. My personal concierge and I had a 10 minute chat about where I lived, where I traveled to, what I liked, and if there was anything the Concierge could do to help me out.
As much as the reckless, rich 1980s businessman inside of me wanted to ask where the best place to buy a kilo of blow and bury a hooker was, instead, I asked for a list of restaurants and fun events close to where I was headed. I then hung up and got back to my busy day. Now I was living the high life. I had a very pleasant and accommodating personal assistant all of my own. I left the store feeling sufficiently special.
Sadly, none of the expensive cars parked on Bond Street were mine, so I was off to the subway with a $11,000 smartphone in my hand. And then an intense fear struck me. What the hell was I doing? I was holding an $11,000 object in my pocket. The only possessions I own that cost more than the TI have keys, locks, and alarms to ensure they remain mine. But one swift punch in the face from some thief on a bike could easily liberate the TI from my grip. With a paranoid look on my face, I pushed my phone deep into my pocket and held it there, likely drawing more attention to myself as I hid it from the now dangerous crowd of potential subway bandits swarming around me.
I got my nerve back after I got on the train, and decided to download some of my apps and flash the phone about to see if anyone noticed that I was now worth $11,000 more than an ordinary man. It was nearing rush hour and the train car was a sea of Galaxy models, iPhones, the odd BlackBerry, and even an LG Optimus Vu. Not one person gave my new phone a second look! Though few people ventured a gaze away from their precious phone screens at all. My first hour with the Vertu TI was dull. I could have been holding any other phone; no one cared. Despite my lofty fantasies, no bandits could smell the dollars in my pocket and my coolness remained depressingly steady.
Things didn't improve when I showed the phone to my mother, asking her if it was something she'd like to own. She said no, and her decision was not based on price or specs. She disliked the TI's masculine style. This was a shock. It made me think of all those issues of GQ where we're told one of the first things women notice about a man is his shoes. Was the Vertu TI like a pair of Nike Air Max 90s? After all, they're expensive, flashy and worn to make a statement, but that statement is often "I'm probably a douche."
My quest to finally attain total coolness by owning a Vertu TI had taken a serious hit, but I wasn't about to give up. The world was going to recognize my ritzy new phone and me. The next day I was off to a barbecue, where almost no-one knew me. This was important, because anyone who knows me is already aware that I'm not cool and certainly not rich.
"I get it. I can see the attraction," said my new best friend as he fondled my Vertu. Hearing these words was a huge relief. Finally, someone kind of liked what could have been my $11,000 investment. If I had actually laid down that amount of money to get my Vertu, I'd have probably given him a big hug.
Within 15 minutes of showing the phone to the guy, it caused enough of a furor that almost all the male guests were talking about the TI and marveling at … the price. I tried not to make it an issue, but it inevitably becomes the focal point of any discussion. Before saying how much it cost, I would ask for a guess. Most knew it would be more expensive than the phone in their own pocket, but no-one guessed more than $1,500. This was no good.
It was like they thought my new $500,000 Pagani Zonda cost the same as a $280,000 Ferrari 458 Italia. Ludicrous! I didn't want my Vertu mistaken for a mere Ferrari.
Only one person at the barbecue had heard of Vertu before, and was distinctly unimpressed. His first line was "my phone's specs are better." And, like my mother, the women at the party couldn't have cared less. This was no Axe commercial.


I thought about calling up the concierge to heat things up, but there was a problem. Say I wanted to show off and have Morgan Freeman and a dozen Emperor Penguins delivered to the party. After all, nothing says "I'm rich" like performing your own March of the Penguins re-enactment. The problem would come when the penguins arrived, (and they almost certainly would, as I have it on good authority a very similar request has already been fulfilled). There would be a big, fat bill tied around one of their necks, which I'd have to pay. I may have had the Vertu phone, but I didn't have the bank account to back it up, and as 12 Emperor Penguins were unlikely to come cheap, I decided to spare my concierge from ringing up all the local zoos.
Instead, I tried one of the Vertu's party tricks. "Oh," I said nonchalantly, "The TI has a sapphire crystal screen, and it can't be scratched." Someone took the bait and asked me to prove it, which I did with my car keys. After some furious scratching at the glass elicited absolutely no damage (I knew it wouldn't!), the audience was impressed. Not one of them took up my offer to try scuff up their phone screens.
However, while I was scratching away at my phone's $11,000 screen, I had a sudden realization: the Vertu would never make me cool. It couldn't, because it's not cool itself. My, admittedly crowd-pleasing, demo made me remember the TV show Top Gear, and the rules surrounding its "Cool Wall." For the uninitiated, the rule is: if you have to explain what makes a car special – and it matters not whether the vehicle is the best, fastest, prettiest or worst in the world – it just is not cool. I constantly found myself defending the TI bringing up its titanium shell and sapphire screen, describing the concierge service, or revealing the signature of the person who handmade the device to justify why I would possess such a ridiculously priced phone. It all made for great conversation, but I definitely didn't end the night looking like James Bond.
What the Vertu TI did though, was standout. It provoked discussion, was often the center of attention, and everyone had an opinion about it. The one guy who could "see the attraction" and liked the phone said that if he had a fortune, the Vertu TI would make sense. After all, every time you would put it down on the table at, presumably, some high class club, it wouldn't be just another iPhone or Galaxy S4. It's the smartphone equivalent of a golfer turning up with a set of $1000 Nike Pro VR Blade irons in his bag and a handicap of 116. It's all about the look.
If the Vertu TI didn't succeed in making me cooler, what did it do? Like the best extravagances – whether it's a spa weekend, a Rolex, or a supercar – it made me feel special. It has a presence, whether it's in your pocket or in your hand, and feels like a piece of precision engineering. It weighs about the same as a Nokia Lumia 920, so you always know it's there, and as an actual phone it performs faultlessly. Of particular note was the speaker system, which was infinitely more melodic and natural sounding than you expect from a phone.
The concierge service was great, and they sent me two extensive and detailed lists of restaurants and events (but no Emperor Penguins), plus a follow-up call to check if I want them to make a reservation or book tickets. As tech fans, we tend to overlook this feature, but having now used it, it's a compelling reason to select a Vertu phone. Siri and Google Now feel like cheap knockoffs when compared to a real human being helping you out. The only let down was the phone's battery life: it needed charging twice a day.
At the end of my time with the TI – after the motorcycle courier took it from me and rode off into the distance with it safely packed away in his bag – I sort of missed it. It hadn't made me cool, far from it actually, but the TI had something about it, and as with certain cars, watches, or jewelry, I think a strong bond would have formed over time. That's something I've never experienced with a piece of consumer electronics ever before.
You know, if the Vertu TI's asking price was pocket change to me, as I wish it was, and I was dictating the text of this article to a personal assistant, things might be different. Maybe I'd be relaxing in the back of my Maybach right now telling the driver to head for New Bond Street.