Air Force unveils initial B-21 long range bomber design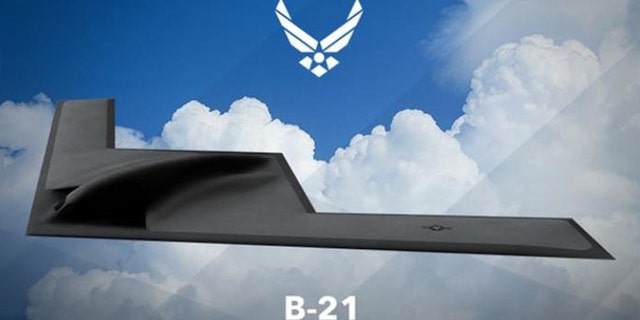 The U.S. Air Force has unveiled the first concept image of its futuristic B-21 long range bomber, which will be built by Northrop Grumman.
Air Force Secretary Deborah Lee James revealed the artist's rendering at the Air Force Association's Air Warfare Symposium in Orlando, Fla., Friday. There are no existing prototypes of the aircraft, so the artist's rendering is based on its initial design concept.
Known as the Long Range Strike Bomber (LRS-B) until now, the designation B-21 recognizes the aircraft as the military's first bomber of the 21st century, according to the Air Force.
Related: 11 amazing A-10 Warthog images
James said the B-21 will let the Air Force launch from the continental U.S. and deliver airstrikes on any location in the world. The Air Force Secretary also acknowledged the B-21's resemblance to the current B-2 stealth bomber, which is also made by Northrop Grumman. "The B-21 has been designed from the beginning based on a set of requirements that allows the use of existing and mature technology," she said.
The B-21 program recently entered the Engineering and Manufacturing Development phase, with the Air Force planning to introduce the aircraft in mid-2020s.
Related: 11 stunning F-22 fighter jet images
James also announced that the Air Force will be taking suggestions from Airmen to help decide the name of the bomber.
"This aircraft represents the future for our Airmen, and [their] voice is important to this process," James said. "The Airman who submits the selected name will help me announce it at the [Air Force Association] conference this fall."
A planning document recently published by the Air Force pushed back the deadline for retiring the venerable but versatile A-10 Thunderbolt II, when it would be replaced by F-35 Joint Strike Fighters. Known as the "Warthog," the A-10 was initially built for destroying Soviet tanks and was first designated for retirement in 2011.