Acer Launches Aspire S5, World's Thinnest Ultrabook Costs $1,399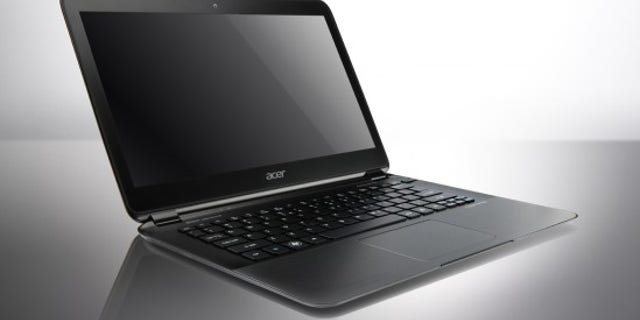 Is it the thinnest Ultrabook? Acer seems to think so. The company's new Aspire S5, which Acer touts as the world's thinnest, measures 0.53 inches at its thickest point and weighs 2.65 pounds. (Overall, it's 12.8 x 8.95 x 0.44-0.59 inches). This system has a 13.3-inch display with a humdrum resolution of 1366 x 768, but inside, it boasts pretty good specs. A third-generation Intel Core i7-3517U processor, 4GB of RAM, Intel HD Graphics 4000, and a 256GB SSD. Th $1,399.
Both the S5 and the S3, which is also being updated, will have two USB 3.0 ports, HDMI, and a headphone/mic jack, but the S5 will also have a Thunderbolt port, and come with an HDMI-to-VGA adapter. How does it cram all this in? By a motorized panel on the bottom of the notebook that opens up at the press of a button. It looks pretty cool in person (check out our hands-on video of the S5 in action), but the jury's still out on its practicality.
The Aspire S3-391 is essentially a refresh of last year's model with a new Champagne color and a lower starting price of $648. For that, though, you get a second-generation 1.4-GHz Intel Core i3-2377M processor, 4GB of RAM, Intel HD Graphics 3000, and a 320GB, 5,400-rpm hard drive and a 20GB SSD cache, similar to the first version of the Aspire S3. As before, this notebook measures 12.6 x 8.5 x 0.51-0.68 inches.
The S5 has a 3-cell, 2310 mAh Lithium-Ion battery that it says will last up to 6.5 hours; the S3 has a 3,280 mAh battery that will last up to 5.5 hours.