4 must-have tech gifts this holiday season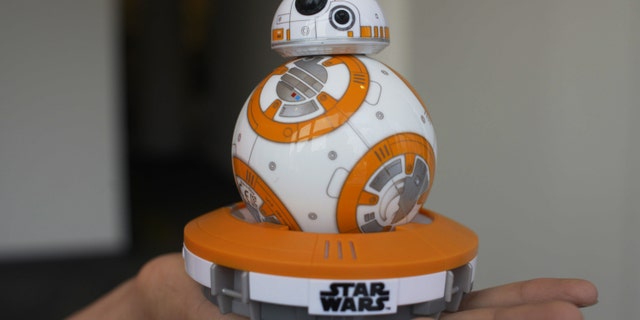 Once again, this year's hot gifts are tech gadgets. These include robotic toys that tie into a blockbuster movie, a smart doll, virtual reality, tablets and a powerful, portable speaker to listen to music, books and make hands-free phone calls. Let's take a look at what makes them so desirable and how to get a deal.
1. GoPro's HERO4
For the outdoor-enthusiast, a GoPro makes the perfect gift. But not just any GoPro. The new GoPro HERO4 is the first-ever to have a built-in touch screen. That makes it really easy to capture footage and play it back to friends and family. Just tap, then swipe. It's that simple!
Of course, adding the new touch screen feature doesn't mean other features were sacrificed. The HERO4 still comes with 1080p60 and 720p120 video, and 12MP photos at 30 frames per second. It's also waterproof, and has built-in Wi-Fi and Bluetooth functions, which easily connect to the GoPro App, Smart Remote. It's available on Amazon for $399.99.
2. Star Wars' BB-8
The hottest movie this holiday season, hands down, is going to be "Star Wars: The Force Awakens." The Disney movie from director J. J. Abrams comes out Dec. 18. The online ticket site Fandango reports that "The Force Awakens" crushed its previous record for first-day pre-sales by selling 8 times more tickets than "The Hunger Games."
"Star Wars" invented the movie-toy market back in the 1970s, and has sold billions of dollars worth of merchandise since then. This year, it's all about the "Star Wars" rolling droid, BB-8.
BB-8 toys are selling like crazy, notably Sphero's app-controlled BB-8.
The fun of BB-8 is that it's a cute roly-poly droid that you control with your voice (it uses Bluetooth). It listens to you, and learns to adapt its behavior to your commands. It can move around on its own, or you can guide it with an Android or iPhone app.
All of which just boils down to one thing. The app-controlled BB-8 is really fun for kids, and adults. Do you want to see BB-8 in action? Check out this "Star Wars" video of the movie version of BB-8.
For "Star Wars" fans on your shopping list, the Sphero BB-8 App-Enabled Droid, and other BB-8 toys are available on Amazon, starting at $149.95. (If it's sold out, order it anyway. Amazon will deliver when it's back in stock.) You can also find BB-8 in many stores and other online shopping sites.
3. RIF6 Cube pocket size home cinema
For movie lovers on the go, give the RIF6 Cube. It's a tiny projector with a big attitude. Connect it to your tablet or smartphone and prop it up to turn almost any setting into your very own theater.
Use it to project movies, TV shows, video games, photo albums and more. The cube takes any image from your smartphone or tablet's screen and projects it to a 120" display on the wall or ceiling. Plus, it uses long-lasting LED lighting to ensure the image is crystal clear. It's available on Amazon starting at $278.
4. LittleBits Gizmos & Gadgets Kit
Surprise younger kids with the Gizmos & Gadgets Kit from LittleBits. The kit includes 15 electronic building blocks that can be combined to build 12 different projects. All of the motors, wheels, lights, switches and buzzers snap together easily. This means your kids won't need to program, wire or solder any of the parts together to create things like an automatic bubble blowing machine or remote control race car.
Gizmos & Gadgets is designed to inspire the next generation of innovators, builders and engineers, and is perfect for both boys and girls. The kit also helps kids develop skills in science, math, technology and art, which will help prepare them for future careers. Buy it on Amazon for $198.02.
One final tip: Analysts are warning shoppers to avoid the mad rush at discount stores, saying they'll lure you in with a couple of low-priced items, but jack up prices on everything else. Instead, they're suggesting you head out early and be sure compare prices online.
On the Kim Komando Show, the nation's largest weekend radio talk show, Kim takes calls and dispenses advice on today's digital lifestyle, from smartphones and tablets to online privacy and data hacks. For her daily tips, free newsletters and more, visit her website at Komando.com. Kim also posts breaking tech news 24/7 at News.Komando.com.