3 computer speaker systems that will make you fall in love with music again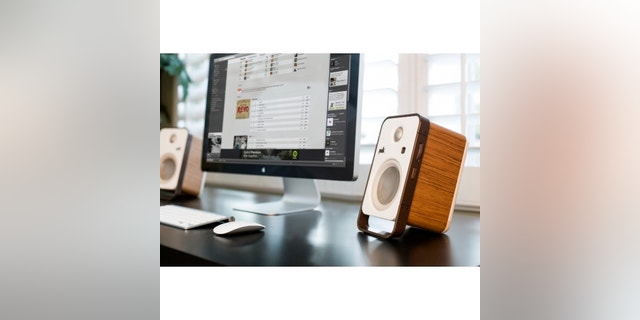 In the race to deliver personalized streaming music channels, one thing has often been neglected: good quality sound. Fortunately, producing high fidelity stereo sound is in renaissance. Here are three desktop speaker systems designed to work with your computer or other digital source and make you fall in love with your favorite music all over again.
To test these speakers I used high-resolution audio tracks: music that was sampled at a rate exceeding that of a compact disc. When possible, I also used an audiophile outboard digital-to-analog converter, the Audioengine D3 ($189). Each pair of speakers was subjected to a variety of rock, pop, jazz and classical music.
Polk Hampden speakers ($400)
Back in the days of massive hi-fi stereo systems, Polk was associated with floorstanding speakers that were efficient and boisterous. The company's Hampden speakers are a mellower desktop pair with some retro design touches that will appeal to iPhone addicts and baby boomers alike.
The speakers have two drivers each, a 1-inch domed tweeter and a 4.5-inch "mid-woofer." You connect to your PC with a USB cable, which is preferable, since most computers' digital-to-analog converters are less than ideal. Music can also be streamed to these speakers via Bluetooth or an auxiliary analog input. The speakers have a built-in stand that raises the front off the desktop, giving a bass reflex downward firing port some space and better lower-end bass notes.
The Polk Hampdens proved comfortable with a variety of music. They're precise enough to pick out various layered elements on Robert Fripp recordings, even uncovering buried spoken word tracks in the mix. Conversely, they gave jazz and pop tracks a warmth that will appeal to a wide spectrum of listeners.
Polk has also included some convenient controls and options. There's a rotary volume dial on the right speaker – reminiscent of '50s-era NordMende console stereos – and a power button that does double duty for pairing Bluetooth music sources.
Definitive Technology Incline ($399)
The Incline is the first pair of desktop speakers from Definitive, a prominent name in home theater sound systems.
The speakers present an elegant, angled back black grill that's understated and iconic. Inside, the speakers employ what the company calls a bipolar design – the sound comes from the front and back of the speakers. There's a 3/4-inch dome tweeter, a 4-inch mid-woofer and a passive radiator up front and a full-range driver in back.
The result is an airy, open sound that doesn't come on too strong in the high end. Vocals sound natural, not harsh. Lower bass notes are clean and crisp and don't become thumpy at higher volumes. The effect often gives music a live feel, such as on Miles Davis' "A Tribute to Jack Johnson." His horn is crystal clean, while John McLaughlin's guitar drives the music forward.
Like the Polk speakers, Inclines connect through USB, allowing them to perform a cleaner digital-to-analog conversion.
As is the case with the other speakers here, there's no headphone jack, though Definitive provides the option of using an optical, USB or analog mini jack input.
JBL 3 Series LSR305 ($398)
JBL has a long history of rattling the windows of recording studios and FM disk jockey booths. The company wanted to bring that professional impression (and volume levels) to the desktop with the 3 Series LSR305, and it has unequivocally succeeded.
The 3 Series speakers use a 5-inch woofer and a unique tweeter design that's part of what JBL calls its image control waveguide. Its high frequency driver looks like a cross between a domed and horn tweeter, with the horn portion subjected to some unusual undulations to expand the sound. It presents a wider soundstage on which individual instruments stand out more clearly than on conventional speakers.
The effect can be stunning, spreading the vocals and harmonies out in a horizontal plane in front of you. It delivers a sonic precision that does wonders with terrifically over-produced recordings from the likes of Steely Dan. Sitting in front of these speakers, you'll feel like you're at the mixing board during the recording. Scintillating keyboards, tight bass drum kicks and cleanly enunciated backup vocals are all brought to the fore by the unique tweeter and taut woofer. On high-resolution audio tracks, the 3 Series can pick out every detail, bringing out the background clip-clop sound effects on the Beach Boys' "God Only Knows," the nearly buried banjo on "I Know There's an Answer" and the water bottle percussion in "Caroline, No."
But as uncompromising on sound quality as they are, the 3 Series speakers don't offer many conveniences. The power switches are on the back of the speakers and they require professional-grade cables to connect the inputs (XLR or TRS) to typical mini jack outputs on a computer or outboard adapter like the Audioengine D3. (Fortunately, the cables cost less than $10.)
All three speaker systems come without a subwoofer. Thankfully, you don't need one for any of them. Hiding a subwoofer under a desk is a hassle I'm happy to do without.
The only downside to these models is that they may be too good; they reveal the shortcomings of compressed MP3 tracks. So if you're listening to free online streaming music, you may soon find yourself switching to better quality CD and high resolution recordings. And that's a good thing.