10 must-have smartphone apps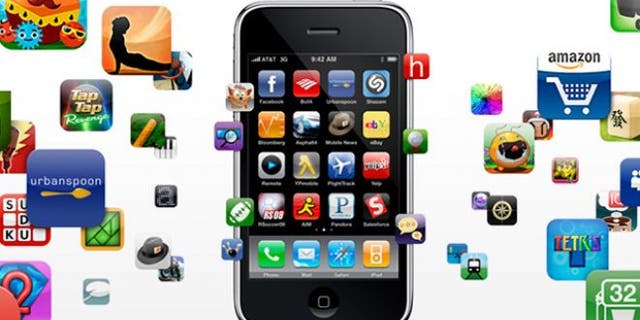 NEWYou can now listen to Fox News articles!
Did you take the plunge on your first smartphone recently? Congratulations! You're holding a lot of power and possibilities in your fingertips.
Of course, that can be a little overwhelming, too. There are well over 700,000 apps in both the Apple App Store and Google Play.
Take a deep breath! You don't need to dive in all at once. Here's your starter kit. These 10 apps work with the iPhone and Android smartphones. They won't cost you a thing, but you'll use them every day.
As you're getting to know your new phone, give them a download. You'll be very glad you did. And if you're a seasoned smartphone user but haven't tried these apps, what are you waiting for?
Chrome - One of the most overlooked but vital apps you'll want to download is a good browser, and Google Chrome is one of the best! Your iPhone didn't come with it out of the box, and inexplicably, your Android phone probably didn't either!
This mobile browser is fast, secure and customizable. You can sync it with your desktop Chrome to import all your bookmarks, favorites and passwords. It also has incognito mode for private browsing! You'll be doing a lot of browsing with your new smartphone so you might as well do it right.
Google Maps - The days of being stranded in an unfamiliar part of town asking for directions are over. Google Maps is your go-to tool for all things geographic.
You can find driving directions, walking directions, public transit maps and more. Or just search for nearby points of interest! Maps collaborates with your phone's built-in GPS sensors to pinpoint your location.
Facebook - With 1 billion users, Facebook could be called the official social network of humanity, and it's available as an app for smartphones.
You'll be able to see your newsfeed, upload photos and videos, and post updates wherever you go! Everything you love about Facebook is available in the mobile app and streamlined for the palm of your hand.
YouTube - Who doesn't love watching fun and amazing videos online? Your smartphone can do that with both hands tied behind its back - if it had hands. All of YouTube's 2 billion videos can be seen on YouTube's official smartphone app. You can even use this app to record, upload, edit and share videos right from your mobile device!
Onavo Extend - All that YouTube watching is going eat up a big chunk of your monthly cellular data plan. Your best bet is to use Wi-Fi when you can, but when you can't there's Onavo Extend.
This free app automatically compresses the data you send and receive to get up to five times more data out of your plan. It also monitors usage and gives you reports on which apps are hogging your precious data.
Kindle - You don't need a Kindle e-reader to read Amazon e-books. Your smartphone can run Amazon's Kindle app. Now you can read your electronic library on your mobile device.
Download free books or purchase them from right inside the app. You can highlight and make notes and you'll never lose your place even when switching between devices. That's because all your e-books are synced to your Amazon account.
Skype - Wait a second, why would you need an app for making phone calls on your phone? Doesn't it do that already? Well, sort of.
Skype lets you make video calls, which your phone may not be equipped to do out of the box. Plus, you can make video or voice calls for free to other Skype users around the world, over either cellular or Wi-Fi. You can even text for free using Skype instant message.
Carbonite Mobile - Your mobile phone is going to fill up with precious photos and videos very quickly. Unfortunately, your phone is susceptible to theft, hackers and accidental damage.
Make sure your precious data is safe! Carbonite Mobile automatically backs up your photos and videos to its secure servers for free.
Plus, on Android smartphones, Carbonite Mobile can track a lost or stolen smartphone and wipe your sensitive data remotely.
Full disclosure: Carbonite is one of my advertisers. But I'm also a satisfied, long-time customer.
Angry Birds Star Wars - Let's be honest: One of the real reasons you wanted a smartphone was the games! The Angry Birds series is the most popular of them all!
The latest twist on this mobile classic is as fun and addicting as ever. And with dozens of levels and expansions, it will be a while before you get bored!
Flashlight LED HD - Did you know your smartphone can also be used for creative and unconventional purposes? For instance, there are apps that allow you to control the camera's flash or screen brightness to turn your gadget into a makeshift flashlight!
Flashlight LED HD is one such app, and it's a trustworthy one - other flashlight apps have been known to steal your data. This app is bright and works well for finding your way in the dark, but be wary! It can drain your battery fast.
Copyright 2013, WestStar Multimedia Entertainment. All rights reserved.
Kim Komando hosts the nation's largest talk radio show about consumer electronics, computers and the Internet. To get the podcast, watch the show or find the station nearest you, visit: http://www.komando.com/listen. To subscribe to Kim's free email newsletters, sign-up at: http://www.komando.com/newsletters