Zelaya Urges Hondurans to Boycott Presidential Vote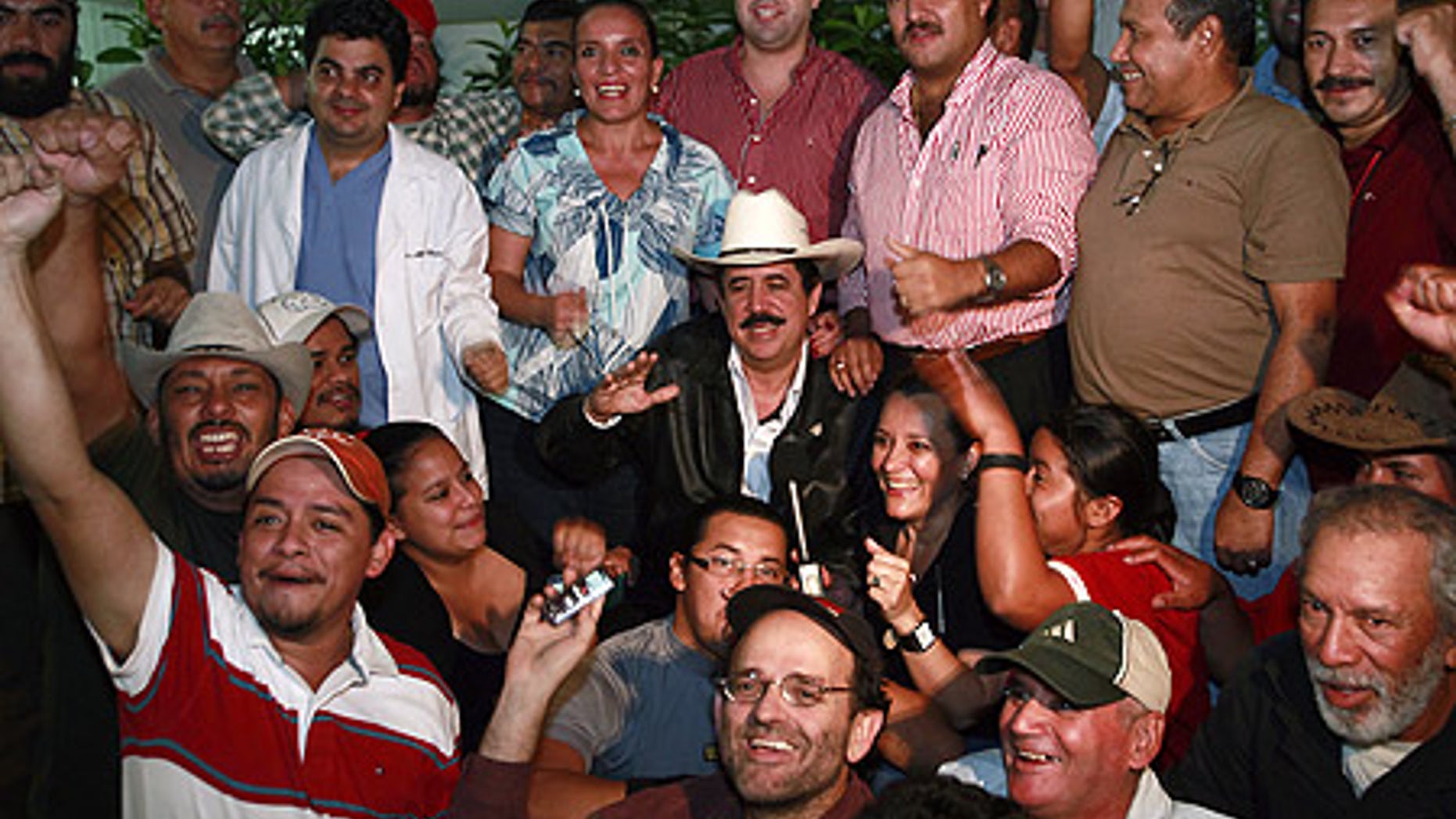 TEGUCIGALPA, Honduras – Hondurans choose a new president Sunday whose first challenge will be defending his legitimacy to the world and his people, and ending a debilitating, five-month-long crisis caused by Central America's first coup in more than 20 years.
Porfirio Lobo and Elvin Santos, two prosperous businessmen from the political old-guard, are the front-runners in an election where campaign promises have been overshadowed by the debate over whether Hondurans should cast ballots at all in a vote largely shunned by international monitors.
Manuel Zelaya, the left-leaning president ousted in a June 28 coup, is urging Hondurans to boycott the vote, hoping overwhelming abstention will discredit the election and persuade the international community not to recognize the next government.
The interim government of Roberto Micheletti hopes the election is Honduras' ticket out of months of isolation and foreign aid cuts that have deepened poverty in this banana-exporting nation and turned it into a pariah state.
The dispute has presented the Obama administration with its first major policy test in Latin America and divided Western Hemisphere countries, which united to condemn Zelaya's overthrow but failed to restore him despite months of arm-twisting.
The United States, which called for Zelaya's reinstatement and suspended development aid and anti-drug trafficking cooperation with the coup-installed government, now argues Hondurans have the right to choose a new president in elections that were scheduled well before the coup, with the candidates chosen in primaries last year.
Leftist-led Latin American countries including Brazil and Venezuela say they will refuse to recognize the vote. But it is Washington's support that matters most in Honduras, which sends more than 60 percent of its exports to the United States, from bananas to Fruit-of-the-Loom underwear.
Zelaya's supporters accuse Washington of backtracking on its support for the deposed leader.
"The best thing for this country is not to vote to show the world, the United States, which stabbed us in the back and betrayed us," said Edwin Espinal, whose 24-year-old wife, Wendy, died of from asthma complications a day after soldiers hurled tear gas to disperse her and other protesters demanding Zelaya's return.
But many other Hondurans simply want to go the polls and end a crisis that has eroded an economy that had already been lurching toward recession. Since the coup, tourists have disappeared from Mayan ruins and rain forests, multilateral lending agencies have blocked the country's access to credit and even shoe-shiners complain of dwindling business as nervous Hondurans save their money.
"Who cares if other countries accept what we decide at the polls?" said Juan Jose Alvarado, a 45-year-old attorney checking where he should vote with election workers sitting under a tent set up outside Tegucigalpa's elegant, peach cathedral. "The elections have to be legitimate because it's what we are deciding."
Zelaya supporters say free campaigning has been impossible during months of strife, which saw the jailing of pro-Zelaya protesters and the occasional shutdown of anti-government radio and television stations.
Human rights group say soldiers have raided homes and detained people for publicly urging Hondurans not to vote. The military says it is searching for illegal weapons and trying to prevent unrest. Homemade bombs explode nearly every day, including one that went off Saturday morning in front of a pro-government radio station. The explosives have caused little damage.
Lobo and Santos are promising to encourage private investment to create jobs while increasing social benefits in a country where 70 percent of its 7 million people are poor and about 1.5 million get by on $1 a day or less.
But Lobo, a rancher from the opposition National Party who lost to Zelaya in 2005 elections, is the easy front-runner, with double-digit lead in recent polls.
Lobo has blamed the political crisis on divisions within Santos' Liberal Party, which turned against Zelaya over his deepening alliance with Venezuelan President Hugo Chavez and attempts to rewrite the Honduran constitution.
Zelaya had argued he wanted to shake up a political system dominated by two traditional parties with little ideological difference and controlled by a few wealthy families. Opponents said his real intention was to extend his time in power by lifting a ban on presidential re-election, as Chavez did in Venezuela.
If elected, Lobo promises he will include Zelaya in national reconciliation talks and has suggested the deposed leader may be allowed to leave his refuge at the Brazilian Embassy without fear of arrest.
Zelaya faces abuse of power charges for ignoring a Supreme Court order to cancel a referendum on changing the constitution. Under a U.S.-brokered deal, Congress is scheduled to vote Wednesday on whether he should return to power and finish his constitutional term, which ends Jan. 27.
Zelaya, however, has already declared the pact a failure, saying lawmakers violated the spirit of the agreement waiting until after the election to decide his future.
U.S. diplomats still hope the feuding sides will return to the negotiating table before Zelaya's term runs out.