Universal Nightmare: Hawaii's Failed Universal Health Care Experiment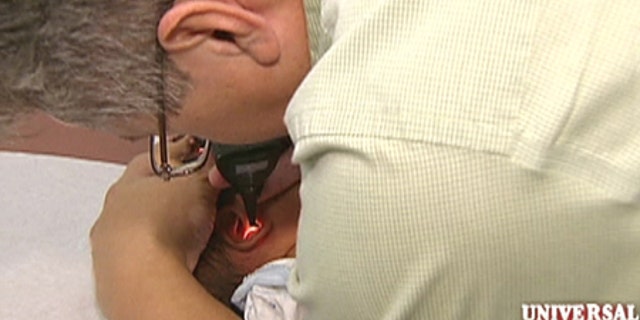 This is a rush transcript from "Hannity," July 23, 2009. This copy may not be in its final form and may be updated.
SEAN HANNITY, HOST: Welcome back to "Universal Nightmare." Hawaii was the 50th state admitted to the union, but the first to implement a universal health- care scheme. Now, it did not go as lawmakers in the Aloha State had originally planned, and Griff Jenkins, he tells us the story why.
(BEGIN VIDEOTAPE)
GRIFF JENKINS, FOX NEWS CORRESPONDENT: Welcome to Hawaii, home to surfing and the aloha spirit and the childhood home of President Barack Obama. It's also home to a failed experiment in universal health care, an experiment whose lessons seem lost on its most famous son.
PRESIDENT BARACK OBAMA: We have finally decided it's time to give every American quality health care at an affordable cost.
JENKINS (voice-over): Critics of President Obama's plan for universal coverage for all Americans worry that while the goal of universal health care might be noble, the government may not be able to pay for it.
• Video: Watch the 'Hannity' investigation
OBAMA: We will have some up front costs. Anywhere from 1 trillion to $2 trillion, so what I've proposed is that we cap the itemized deductions that the top 2 or 3 percent get, people making over $250,000 a year. With that additional money we would have paid for all of the health care that I'm proposing.
JENKINS: But the president may not be able to make good on that pledge. Although he has vowed to examine other attempts at universal health care like the United Kingdom and the Canadian system.
OBAMA: A lot of those countries employ a different system than we do. Not all of them, by the way, use a socialized medicine. Almost all of them have what would be considered a single payer system in which the government essentially operates a Medicare for all.
JENKINS: But note, he has failed to mention Hawaii's now-defunct program to insure all children.
(on camera) Celebrating its 50th year of statehood, Hawaii became the first in the nation to attempt universal health care. On June 30, 2007, Governor Linda Lingle signed legislation into effect called Keiki Care.
(voice-over) The word "keiki" means child in the Hawaii native tongue, and the Keiki Care program gave free insurnace to children whose families could not afford it on their own. Those covered had no monthly premium and had access to doctor visits for just $7.
The program partnered the state of Hawaii with the state's largest private insurance provider, HMSA.
BARBARA LUKSCH, HAWAII COVERING KIDS: It had public-private partnership. We had a health insurance plan, HMSA, that was putting up 50 percent of the cost. And the state was putting up 50 percent, so there is a match between the public and private entities.
JENKINS: The plan targeted Hawaiian residents who were the, quote, gap children: kids ineligible for state programs who had not had health care for six consecutive months.
JENNIFER DISMAN, HMSA SPOKESPERSON: The original estimates for Keiki Care were 3,500 children, and the hope, of course, was to enroll all of those children. And the budgetary monies that were included in the statute covered 3,500 children.
JENKINS: But the governor's office soon found out that the plan was being abused.
GOV. LINDA LINGLE, R-HAWAII: What the legislators did was they created a state insurance program that allowed parents who already were paying for their children's health insurance to drop their private coverage and to come take advantage of the state coverage.
And what that meant was that taxpayers were subsidizing parents for health insurance that they were previously paying for. It just didn't make sense; it couldn't be sustained.
JENKINS: Governor Lingle cut funding for the plan after just seven months, because the state budget could not handle the strain of more families jumping from their private insurance to the free government health care.
Most affected were the smaller private insurers, left high and dry when families switched to the government plan. A plan that just happened to be cosponsored by the largest Hawaiian insurance company. Critics call it the crowd-out effect. But HMSA says it didn't happen.
LINGLE: As far as HMSA saw, there was no crowd-out.
JENKINS: When the government made the decision to cancel the program, the Democrat-run state legislature was baffled.
STATE SENATOR DAVID IGE, D-HAWAII: We were shocked. Everybody agreed that the Keiki Care program was working as we expected it to work. It was a very targeted program. It was targeted for those who are not able to qualify for Medicaid and yet are not able to afford health insurance costs.
JENKINS: But Governor Lingle argues that the statistics were on her side.
(on camera) According to the Department of Human Services, 85 percent of those enrolled in Keiki Care previously had insurance.
(voice-over) Conservative radio show host Rick Hamada has the governor on his show every week, often discussing the health care controversy.
RICK HAMADA, RADIO TALK SHOW HOST: The primary failure was the fact that there were so many loopholes that individuals were able to take advantage of the state system, individuals who up until that point provided health care for their own children paid for out of their own pocket. They now found a way to have the state taxpayers pay that responsibility.
JENKINS: The Obama administration has vowed that their plan will have has massive oversight, but with the pressure the president is putting on the House and Senate to push through landmark health care reform, there is the potential for loopholes and abuse like in Hawaii.
Stan Slom is truly a minority in the Hawaiian state senate, one of only two Republicans up against 23 Democrats. To him, the experiment failed.
STATE SENATOR STAN SLOM, R-HAWAII: It's not doing what it's supposed to do. It's not taking care of those gap children. It's not taking care of the children that cannot, through no fault of their own and their parents, pay for the insurance. It's allowing other people to get a free ride at taxpayer expense.
JENKINS: So as the president and the Democratic-led Congress rush in an unprecedented fashion towards universal health care for all Americans.
OBAMA: The costs of fixing our problems are great. The costs of inaction, of not doing anything, are even greater.
JENKINS: They may want to take a closer look at how that worked in the president's birth state of Hawaii.
LINGLE: I think it should be a cautionary tale to anyone that there can be unintended consequences of these plans, and when you think you're doing something that's a good idea and you have good intentions, that's often not enough.
(END VIDEOTAPE)
Watch "Hannity" weeknights at 9 p.m. ET!
Content and Programming Copyright 2009 FOX News Network, LLC. ALL RIGHTS RESERVED. Transcription Copyright 2009 CQ Transcriptions, LLC, which takes sole responsibility for the accuracy of the transcription. ALL RIGHTS RESERVED. No license is granted to the user of this material except for the user's personal or internal use and, in such case, only one copy may be printed, nor shall user use any material for commercial purposes or in any fashion that may infringe upon FOX News Network, LLC'S and CQ Transcriptions, LLC's copyrights or other proprietary rights or interests in the material. This is not a legal transcript for purposes of litigation.