Top Execs Take Pay Cuts, Buyouts Offered at Ford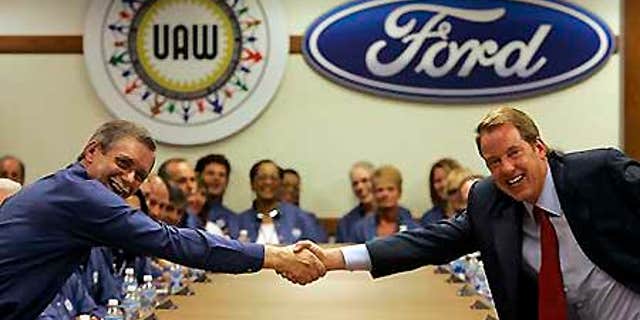 DETROIT – Hourly workers at Ford Motor Co. will get yet another round of buyout and early retirement offers, and the company's top two executives will take 30 percent pay cuts as Ford tries to find a way out of the worst auto sales slump in 26 years.
Chief Executive Alan Mulally and Executive Chairman Bill Ford Jr. will see the salary reductions this year and next, according to a memo obtained by The Associated Press.
In addition, local union leaders were told Tuesday that the company will make buyout or early retirement offers to all 42,000 U.S. hourly workers. The offers are part of a series of contract concessions in a tentative agreement reached between the United Auto Workers and the company, according to two union officials briefed on the deal.
Top UAW leaders explained the concessions to plant-level officials from across the country at a meeting in Detroit Tuesday afternoon. The union officials didn't want to be identified because the deal has not been explained to the membership.
Other concessions include suspension of cost-of-living pay raises, lump-sum performance bonuses and end-of-the-year bonuses in the remaining three years of the union's contract with Ford, the officials said.
The union also agreed to take as equity 50 percent of the payments that Ford is required to make into a union-run trust fund that will take over retiree health care expenses starting next year. The company owes the fund roughly $13.2 billion on a $23.7 billion liability.
One of the union officials said Ford will guarantee a certain level of payments during the first three years of the trust even if the stock value drops. He said the union was able to preserve the workers' base pay.
The Ford deal likely will be the template for similar concessions at Chrysler LLC and General Motors Corp., although the union reached a deal with Ford first. Chrysler and GM must meet concession targets as part of the federal loans that are keeping them afloat. The two automakers have received $17.4 billion so far and have asked for a total of $39 billion in loans.
Ford and Mulally said in the memo that executive pay cuts are part of the company's effort to stay afloat without government aid and remain competitive with GM and Chrysler.
In addition to the Ford and Mulally pay cuts, Ford will eliminate 2009 performance bonuses for salaried employees and senior executives, which would have been paid in 2010. Ford previously cut 2008 bonuses and merit pay increases.
The board of directors will not receive cash compensation this year, the memo said. Bill Ford Jr.'s compensation is already being set aside and will not be paid until the entire company returns to profitability.
Ford and the UAW would not comment on the labor deals, but the UAW said its national council of plant-level officials voted unanimously to recommend the agreement to the membership.
Members nationwide now must vote on the deal, with voting to be finished by March 9, the union said.
Other concessions include a provision that overtime is paid only after a 40-hour week. Previously workers got time-and-a-half wages if they worked more than eight hours per day. The new provision allows the company to be more flexible with scheduling, including four straight 10-hour days, one of the officials said.
The union also agreed to elminate the Monday after Easter as a holiday, according to the officials.
The latest round of buyout and early retirement offers aren't as lucrative as those made in the past, but they're better than those offered earlier this year by GM and Chrysler. They come despite Ford's statements last year it didn't expect to make the offers companywide again.
Retirement-eligible skilled trade workers will get up to $40,000 to leave the company, while retirement-eligible production workers would get $20,000. The company will offer $50,000 in buyouts for those not eligible to retire with at least one year of seniority, the officials said. There also is an option to leave the company and get benefits and payments for education.
In 2005, Bill Ford Jr. announced that he would forego salaries and bonuses until the company achieved full-year profitability. Ford will be paid for 2008 and beyond retroactively when the company's fortunes improve.
Meanwhile, Mulally's total package was valued at $22.8 million in 2007, including $2 million in salary and a $4 million bonus. Ford gave Mulally stock and options awards it valued at $12.3 million on March 5, 2007, and March 30, 2007, the dates they were granted.
Mulally also received $1.4 million in perks. Ford's executive perks include personal use of: company phone cards and cell phones, car and driver service, season tickets to athletic events, club memberships and fuel and car washes for evaluation vehicles loaned to executives.
Mulally's perks also included $752,203 for his personal use of the company's jet, as well as personal use of the jet by his wife, children and guests "to ease the burden of Mr. Mulally moving to Southeast Michigan and away from his family in Seattle, Washington," according to the company's proxy, filed with the Securities and Exchange Commission.
The company since has stated its intent to sell its corporate jets.
Ford's compensation committee determined that Mulally partially met his performance goals for the year and mostly met goals for operational effectiveness and strategic direction.
The company has not yet filed its proxy statement for 2008.