Tony the Tiger Will Remain at Louisiana Truck Stop Home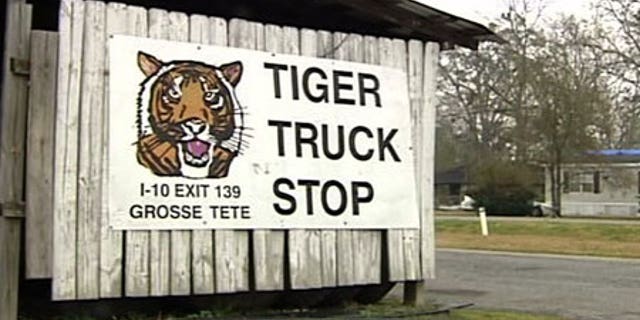 A Louisiana truck stop owner has won the fight to keep his exotic Siberian-Bengal tiger named Tony as a roadside attraction, the Iberville Parish Council decided Tuesday.
The council voted 11-1 to allow Tiger Truck Stop owner Michael Sandlin, to keep Tony — a decision that directly opposes parish ordinances restricting private ownership of exotic and dangerous animals.
Sandlin now qualifies for a permit from the Department of Wildlife and Fisheries that will enable him to legally keep the 550-pound tiger — that he has raised since it was a cub — at his truck stop for good.
• Click here for photos of Tony the Tiger.
Iberville Parish President J. Mitchell Ourso Jr. said that he is prepared to veto the decision if Sandlin does not comply with the conditions necessary to ensure the safety of the public and the welfare of the tiger.
But Councilman Salaris Butler told Ourso that the council has the power to override such a veto.
Councilman Edwin "Ed" Reeves Jr. cast the single dissenting vote, claiming that the tiger deserves a better environment than the one he has been given at the truck stop.
Sandlin told the council the tiger has been more than just a boon to business, and is also a great joy to both his family and his customers. He said he has always treated Tony — and his previous tigers — well, meeting and exceeding federal requirements.
Animal rights activists, who have fought for years to get the tiger moved to a sanctuary, said they were disappointed but would not give up.
Activist Sky Williamson first launched a campaign against Sandlin's truck stop in 2005, when she saw an advertisement for "Live Tigers" off Interstate 10. She recalls driving to the truck stop and finding Tony in a concrete cage off of the parking lot.
"I could not believe what I was seeing," Williamson said.
"It's animal cruelty on display," she said. "This is not an acceptable situation."
Williamson, who said she has received death threats since taking up Tony's cause, described the animal's living situation as inhumane. "Tony's in a cage, continuously inhaling diesel fumes, sloshing around in his own waste... It's sickening."
Several animal welfare advocates have teamed up with Big Cat Rescue of Tampa, Fla., to offer Tony a home in a sanctuary, but Sandlin says the advocates just want to "steal" his tiger, adding that they have never offered to help raise money to improve Tony's habitat.
The parish ordinance, which was enacted in 1993, prohibits an individual from keeping any "wild, exotic, vicious animal or reptile for display or for exhibition purposes."
The parish rule went unnoticed until Sandlin applied for a state permit last year. The permit requires him to comply with all local ordinances and regulations.
David Nance, Big Cat Rescue's attorney, warned the parish government that it is making itself vulnerable to a lawsuit by upholding the truck stop's stand on keeping the tiger on display.
Nance said the parish is ultimately responsible for any harm Tony might cause if he escapes.
"We've never had any incidents, no escapes, no injuries," either to visitors or to the animals, Sandlin said. Instead, Sandlin claims that it's the animal rights advocates who are guilty of animal cruelty. He claims he has found them crowding Tony's cage and flashing lights in his face in an attempt to snap a photo of the tiger in distress.
Sandlin says he is fighting overzealous activists who are spreading what he calls "propaganda" and infringing on his individual liberties.
"Yes, there need to be laws that protect the animal and the public," he said. "We are not against that; what we are against are legislators who cave in to these animal rights activists and take the rights away from individuals."
The Parish Council's action to exempt Sandlin from its exotic animals ordinance is a critical step in the battle over the tiger's fate.
Councilman Mitchel J. Oubre said he observed about 100 visitors to Tony's habitat in about 45 minutes. Councilman Matt Jewell added that Sandlin employs 40 to 70 workers at the truck stop who might lose their jobs if customers stopped visiting the truck stop to see Tony.
Oubre said the truck stop's habitat conditions are almost perfect, but Nance told council members they "wouldn't want their worst hunting dog to be living like that."
He said Sandlin has been written up 16 times by the U.S. Department of Agriculture for violating regulations.
Sandlin countered that these were small infractions and the USDA would have taken Tony away if he had been treating him poorly.
The Tiger Truck Stop has had five tigers on display since it opened in 1988.
"Our tigers before Tony, and now Tony, are what have made this truck stop famous," he said. Tony, born in 2000, is the last.
Sandlin was forced to turn over two other tigers in 2003.
"He's a pet," Sandlin says. "And at the truck stop, Tony's with the only family he has ever known."
The Associated Press contributed to this report.