The Week in Games: Feb. 2, 2009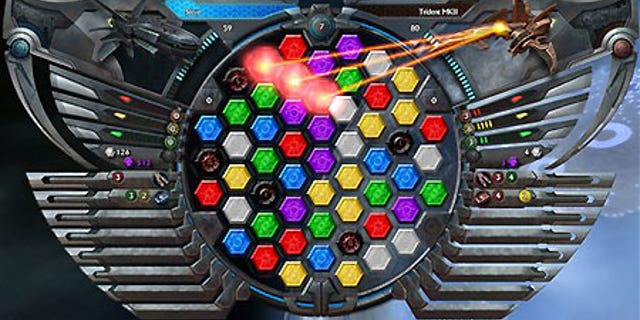 Real news from the virtual world:
— VISION QUEST: One of the most addictive creations in the last few years has been a humble little confection called "Puzzle Quest: Challenge of the Warlords."
The mesmerizing puzzle/role-playing mash-up from Australia-based Infinite Interactive was a surprise smash, leaving fans begging for more.
The wait is almost over. The sequel, "Puzzle Quest: Galactrix," is being published by D3 later this month for the Nintendo DS, Windows PCs and Xbox 360.
Besides switching genres from fantasy to science fiction, "Galactrix" offers some fresh twists on the familiar mechanic of matching colors.
"Sequels are a tough thing," said "Puzzle Quest" lead designer Steve Fawkner. "People want more of the same, but different."
• Click here to visit FOXNews.com's Video Gaming Center.
He started by shifting the setting to outer space, which led to the inspiration that changes the fundamental gameplay. Pieces are affected by gravity, so they fall toward the center of the puzzle grid rather than the bottom.
That subtle change makes the sequel "a little bit more hardcore," Fawkner said, requiring players to think in multiple directions.
"I watched my mother learn to play it," he said, "and I could see the light bulb going off in her head."
Fawkner says that after "Galactrix" ships, he's going to dig into "Fallout 3" and "Fable II."
— MARIO'S BLUES: The video-game industry has been battered by the economy, and Nintendo, whose Wii and DS have dominated the current generation of game hardware, isn't immune.
Nintendo slashed its profit forecast for the year ending in March by one-third. That led to a slide in Nintendo stock and questions about whether Wii sales have peaked.
The question for gamers: When is Nintendo going to shift its focus toward producing more Wii software?
The company's U.S. release calendar for the first half of 2009, led by its "Punch-Out!!" remake, is awfully thin, and many of those once-elusive Wii consoles are starting to gather dust.
— WII ABIDES: Oddly enough, it could fall to Sega to keep hardcore Wii players happy.
Once a competitor for Nintendo, Sega is releasing three of early 2009's most anticipated Wii titles: the zombie-survival game "House of the Dead: Overkill," the gory brawler "MadWorld" and the sci-fi shooter "The Conduit."
And Electronic Arts, whose "Boom Blox" was one of the Wii's unheralded delights last year, has announced a sequel: "Boom Blox Bash Party."
So while Nintendophiles are waiting for news of the next "Legend of Zelda" games, third-party publishers could be keeping their Wiis humming.
— NEW IN STORES: Ubisoft's deadly ninjas sneak onto the Wii in "Tenchu: Shadow Assassins." ... Atlus serves up another freaky role-playing game "My World, My Way" (for the DS).