'The Office' Star Jenna Fischer Tells the Naked Turth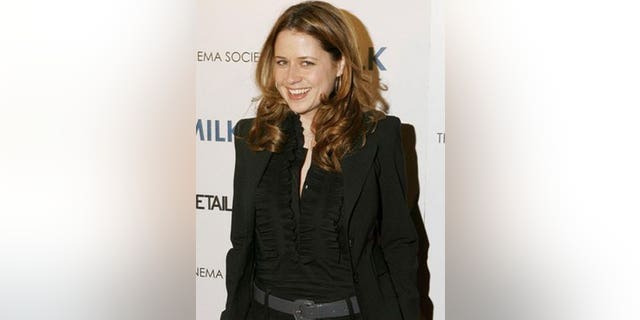 LOS ANGELES – Jenna Fischer Would Rather Be Naked On A Movie Set Then At Home | Nasty New Year: Paris Pelted With Sand Down Under, Brandon Davis Rejected From Her Party | Shhh… Stars Reveal Their "secret" Holiday Destinations
Jenna Fischer Would Rather Be Naked On A Movie Set Then At Home
"The Office" star Jenna Fischer donned skimpy lingerie in the hilarious "Walk Hard: The Dewey Cox Story" early in 2008. But while most starlets are scared of flashing the flesh in front of dozens on a film set, Fischer actually thought this was way better then doing it at home.
"In your house you don't have a team of people lighting you perfectly. They can light your cellulite so you see it or don't see it; it's the most amazing thing. They can put makeup on your legs, you try on hundreds of outfits until you find the one that looks the most perfect on you," Fischer told Tarts. "It really has nothing to do with whether you're in shape or not. They can do pretty amazing things with any body type."
So while "The Office" hottie was okay taking it off for the lights and camera, she was a little shocked by the experience leading up to it.
"The producers made me get my lady business waxed so that it didn't come out in my costume," Fischer said. "So they sent me to a waxing place and the woman's got hot wax and she's ripping off everything. Just at that moment when I had my leg up in the air and she was applying the wax she said 'my husband and I love you and your show.' It really was the wrong moment to bring that up because I felt so vulnerable."
Nasty New Year: Paris Pelted With Sand Down Under, Brandon Davis Rejected From Her Party
Paris Hilton was paid very big bucks to head to Sydney for NYE hosting duties at the Bongo Virus bash and while the Australian media went crazy over the party princess, it seems some locals weren't as impressed.
After spending her New Year's Eve at the world-famous Bondi Beach, Hilton was forced to take cover in a nearby convenience store and wait for her car when a couple of local young men took the liberty of teasing and throwing handfuls of sand at the hotel heiress even despite her heavy security. But the boys didn't get away with the immature attack - another beachgoer then gave one of the sand-throwers a hefty blow to the head, knocking him out.
Paris quickly recovered from the drama and was the belle of the Bongo Virus Ball on Wednesday evening, dancing on the tabletop with her MTV BFF winner Brittany Flickinger and hanging out with sis Nicky and her beau Dave Katzenberg, pro surfer Koby Abberton and his actress girlfriend Tahyna Tozzi as well as chart-toppers The Veronicas. But one person Paris's peeps had formally banned from the bash was her former flame, oil heir Brandon Davis. We're told Davis repeatedly tried to get inside and after several rejections security guards had him escorted away from the premises.
But Miss Hilton wasn't the only heiress to boost the bank balance this New Years Eve. Her ex Benji Madden did some spinning at Sin City's Body English at the Hardrock Hotel & Casino while Pink rocked in the New Year with a performance at Carey Hart's Wasted Space. Film-turned-reality star Denise Richards filmed the season two premiere of "It's Complicated" at Sin City's Prive alongside Lance Bass. Usher and his wife Tameka Foster had their first night out together since the birth of their son a few weeks ago at uber-posh The Bank, while another set of new parents Pete Wentz and Ashlee Simpson rang in 2009 across the strip at PURE.
The Kardashian sisters did their thing at LAX and "The Hills" duo Heidi Montag and Spencer Pratt partied on in typically cheesy style at Christian Audigier The Nightclub. Even Olympic swimming sensation Michael Phelps made sure to make the most of his new-found fame with an NYE dinner at Simon at Palms Place (alongside fellow sushi lovers Benji Madden, Brody Jenner and his "Playmate of the Year" girlfriend Jayde Nicole) before heading to the Pearl Concert Theater to see Kid Rock do the countdown.
Across the coast at Miami hotspot SkyBar at Shore, Pop Tarts spies spotted Gerard Butler, Jared Leto, Kristin Cavallari and Annalynne McCord getting down and dirty until the wee hours.
Shhh… Stars Reveal Their "Secret" Holiday Destinations
It's holiday vacation season, and that means our stars and starlets are getting ready to hop on out of Hollywood - but where are their fave places to hide and hang out? Tarts investigates.
Amy Adams: "I love London; it's a dream to spend time there."
Isla Fisher: "Italy! I just love the food and love the people. I love how diverse it is, I love that you can start and go from Venice down to Sicily and see every single town, each one is so varied and different and beautiful."
Rachel Bilson: "Rome, you can't go wrong with Italy. I have a problem traveling, I don't always like the food everywhere, but in Italy you know that you're going to love the food."
Samuel L Jackson: "Cape Town. Great beaches, beautiful golf courses, wonderful restaurants, cool people."
Hayden Christensen: "I've got a farm just north of Toronto and we just got some fresh snow there, and I've got a couple of snowmobiles there that are a lot of fun."
Rachel Weisz: "Ohhh Fiji. I hear the water is blue like in the postcards. I have never been, but it sounds so nice."
Jason Statham: "I like sandy beaches and warm seas so I think the Maldives and New Zealand."
Mandy Moore: "One of my goals in life is to climb Mount Kilimanjaro so I will be doing that one day. But I think my favorite city is probably Paris. I would love to live there one day, even for six months, speak the language, write, and be cool."
Rihanna: "My dream vacation spot is Monte Carlo. It is beautiful there. It is one of my favorite places in the world."