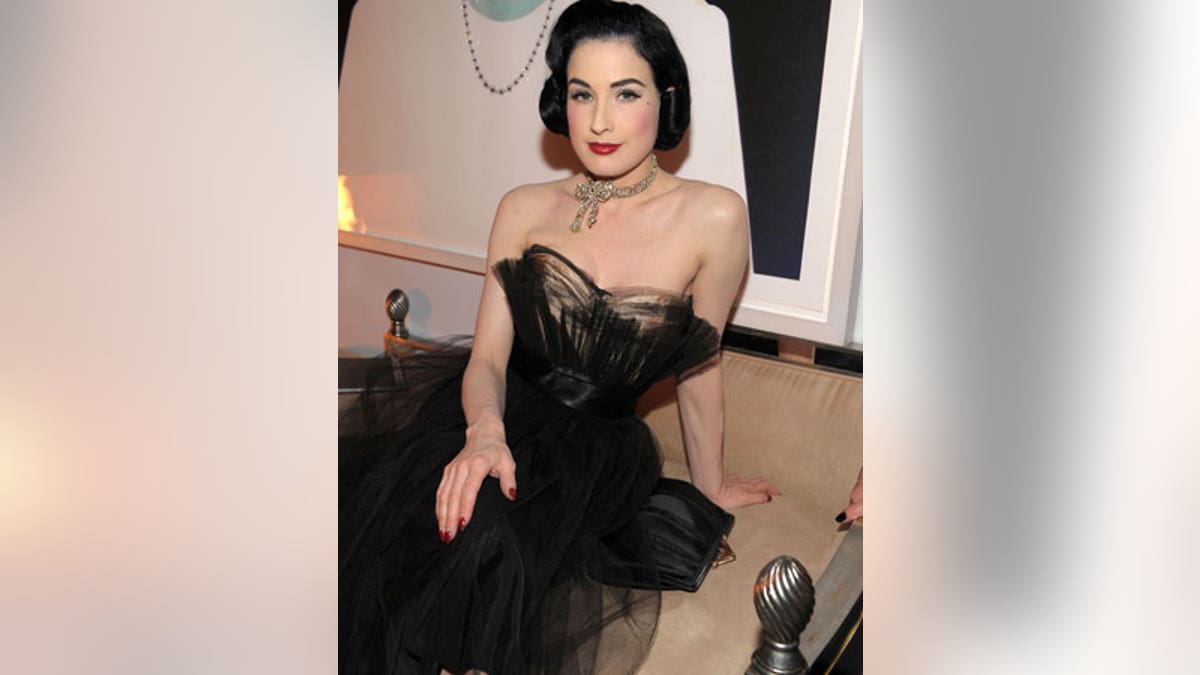 LOS ANGELES – Strip Teese: Dita Gets Down & Dirty in Martini Glass | Paris Hilton Celebrates Birthday With 'The Wrestler' | Inside New York Fashion Week: What the Models Eat, Why There Are So Many Tears & How They Deal With the Pressure
Strip Teese: Naked Dita Gets Down & Dirty in Martini Glass
There are many things Dita Von Teese is famous for: her burlesque dancing, former marriage to Marilyn Manson and of course, that waif-like waist line.
"It's all corsets, Pilates and ballet classes. I train hard," Teese told Tarts on Tuesday night at the very intimate book launch party for her pal Amanda Eliasch's "Cloak & Dagger Butterfly."
But while the Michigan-born babe oozes sex appeal and has no problem stripping for strangers, it seems she still struggles with body image issues.
PHOTOS: Hot pics of Dita von Teese.
"I'm not confident at all. I have moments of weakness like most women where I don't feel I'm at my best. That's how I started doing what I do," Teese explained. "I felt very ordinary and not very glamorous so I decided one day that I was going to have to just make my own dream world."
But when the fetish femme fatale isn't flashing her finest assets, how does she make herself feel sexy and strong?
VIDEO: Click for FOXNews.com videos about Dita von Teese.
"I do things that make me feel confident, like doing my hair, putting my red lipstick on, having my nails done and just pampering myself so I'm ready to face the world," Dita added. "I have this theory that the more you let your guard down and get lazy with your looks you will run into your ex-boyfriend or his new girlfriend. The key is taking a moment for yourself."
PHOTOS: Dita von Teese's lingerie line for Wonderbra.
Teese lived up to her typically teasing performance with two seductive strip-teases at the sultry soiree. Centered around a sparkling gold tub, the burlesque beauty sent sparks through the air as she slowly stripped down to a barely-there diamond-studded g-string with tiny stick-on studs up top.
Without so much as a flinch, Teese slipped into the bubbles and hosed herself (and the few people close by) down ...
For her second showdown, or shall we say shower down, Dita dazzled and danced around a statuesque martini glass and fanned her fans with peacock feathers before splashing seductively inside the liquid-filled glass.
Teese was the perfect fit to perform in honor of the flamboyant new book, which hosts a collection of provocative photographs and e-mails written on Eliasch's BlackBerry to or about her illicit lovers during her open marriage to sporting goods tycoon Johan Eliasch. (They divorced in 2007 and Amanda reportedly received one of the largest financial settlements to date.)
Guests (including Kristin Cavallari) dined on dark chocolate and sipped champagne amid Eliasch's private Parisian-inspired Beverly Hills residence, complete with splashes of eccentricity, good luck charms, tarot cards and signature skulls.
Cavallari certainly seems to have grown-up from her "Laguna Beach" days, and told Tarts that she's busy going into pilot season and focusing on a "real career."
"I'm definitely enjoying it, it's tough but much more interesting than reality television," she said. "They keep asking me to go on 'The Hills' and I'm like, no thanks." Ouch.
Paris Hilton Celebrates Birthday With 'The Wrestler'
While most Oscar nominees have already started hobnobbing in Hollywood ahead of this weekend's awards, Mickey Rourke has instead escaped to New York City and was spotted getting his groove on with none other than Paris Hilton on Monday night.
The hotel hottie celebrated her 28th birthday at Butter Restaurant with an intimate dinner alongside sister Nicky, Aubrey O'Day, Brandon Davis, JC Chasez, Trees, ex-boyfriend Stavros Niarchos and … Mickey Rourke?!
According to an inside source, Rourke was the one to approach Hilton's table first to give her a big birthday hug.
"They ended up sitting and talking for a long time," said our spy. "Paris was asking about the Oscars and the parties."
So with rumors already running rampant that Hilton isn't on the guest-list for the top affairs hosted by Madonna, Prince and Vanity Fair, could "The Wrestler" be her way in? Stay tuned.
Inside New York Fashion Week: What the Models Eat, Why There Are So Many Tears and How They Deal With the Pressure
The life of a runway starlet must be oh-so-glam, right? Ah, not so. Pop Tarts caught up with leading modeling agency Ford's latest crop of fresh faces as they prepared for the long and exhausting days filled with castings, runway shows, fittings, parties, previews and press dates otherwise known as New York Fashion Week.
"I try to stay energized by having a good breakfast and lots of beauty sleep. Sleep whenever and wherever you can! Save all you energy for castings and the catwalk," Nika Lauraitis told Tarts, while 17-year-old Alexina Graham said she stays sprightly by spending her nights "chilling" rather than succumbing to the social scene.
The truth is the majority of the models aren't old enough to drive a car or legally live alone, so it comes as no surprise that they have had to do lots of growing up in order to work successfully in this very-adult industry and inevitably there are plenty of pressure-induced tears throughout the week.
"Having to support myself was harder than I thought. When I moved out I realized how many things that I took for granted, like my mom's home-cooked meals, and having a dishwasher. I definitely should give my parents more kudos," Lauraitis said.
"Sometimes it's hard because there isn't that middle land between kid and adult where you can just act your age," added Elyse Saunders. "It can be easy to lose your head, but as long as you surround yourself with good people then you'll be fine."
Oh, and for the record whoever said that models were all dumb is like, totally wrong.
"I think that the level of intellect backstage is something that should be acknowledged in this instance: many girls in this industry are not only working part or full time, but doing it in between balancing high school or university educations, or simply taking a few years off in between studies," Kate Somers assured us. "If not, they're pursuing multiple other interests, such as photography, creative writing, and more. I've met some very interesting people through this industry."
And while there may be a few models out there who do have eating issues, the amount of food being consumed backstage was probably enough to feed a small country.
"Of course I do diet and exercise for the big show," Hyoni said. "But I always try to maintain my heath rhythm to get through a lot of castings for the big week."
And they don't just talk about Prada and posing — apparently.
"We eat, yes, there are smart ones, and we have more to talk about than just the wonderful world of fashion," said Saunders. "I love doing yoga. It helps me center my mind, and keeps me fit. As far as diet goes, I always drink green tea and bring snacks to castings. I just back up off the ice cream and eat more fruits and veggies."
But aside from keeping up appearances and coping with the craziness, these young ladies still have to find time to strut from Givenchy to Geometry.
"I'm coming from school, so my biggest preparation is collecting all the homework and class work I'll be missing over this time period," 16-year-old Somers said with a sigh.
Spotted or Snapped a Star? Got a Good Scoop? E-mail poptartstips@gmail.com.