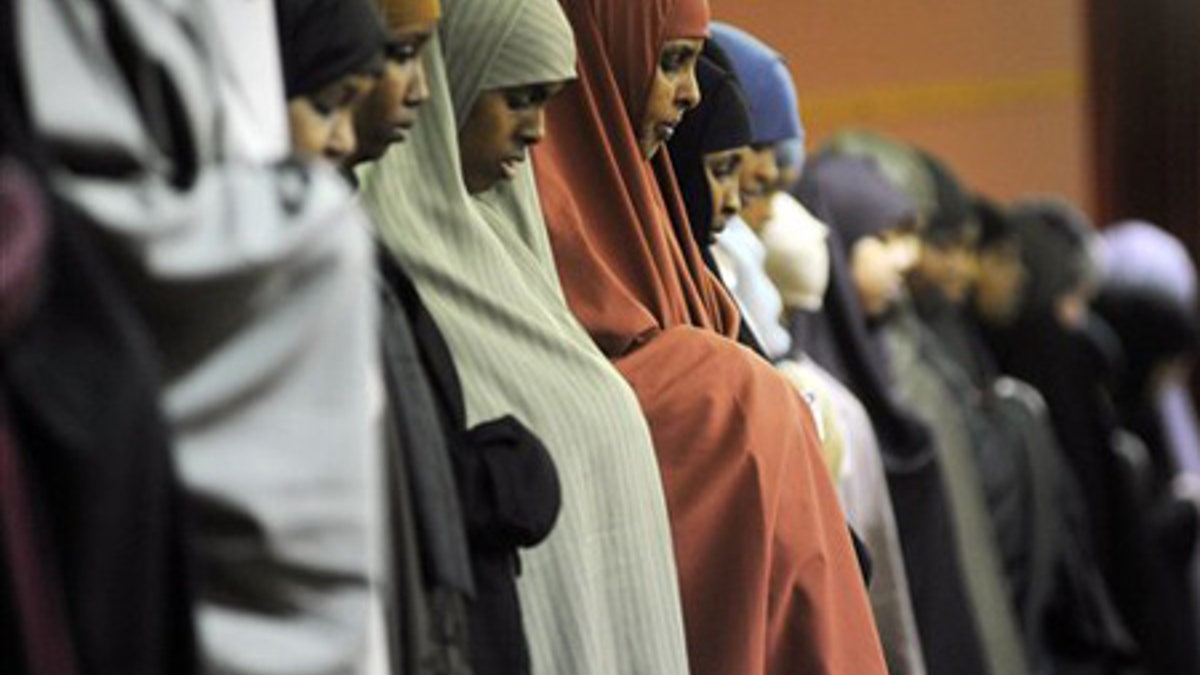 At least one of the Somali-American men who returned to the U.S. after being recruited to join an Al Qaeda-linked terrorist group was spotted at a Minneapolis mall in November. But the man hasn't been seen or heard from since and may have been arrested, a local Muslim leader told FOX News.
A source familiar with the FBI investigation into the case said "several" of the men recruited to join the Somalia-based terrorist group — known as al-Shabaab — have returned to the U.S.
"Some of the guys who were missing aren't missing anymore," the source told FOX News. "Some of them got blown up and some of them came back, and some of them are still there [in Somalia]."
The source would not say publicly if authorities know the whereabouts of the men who returned to the U.S., nor would the source say if authorities are pursuing arrests in the case. But Muslim leaders in the Minneapolis area told FOX News that they believe arrests are coming.
The FBI has been investigating at least 20 Somali-American men — most from the Minneapolis area — who have traveled to war-torn Somalia, where some of them trained and fought with al-Shabaab, according to counterterrorism officials.
In October 2008, Shirwa Ahmed — a 27-year-old college student from Minneapolis — became the first known American suicide bomber when he blew himself up in Somalia, where the moderate government has been warring with al-Shabaab since 2006. Ahmed's body was flown back to the U.S. and buried in early December.
One month later, a 22-year-old man who traveled to Somalia was spotted at a Minneapolis shopping mall, according to Omar Jamal, executive director of the Somali Justice Advocacy Center in St. Paul, Minn. Jamal would not identify the man, but said family members had confirmed that the man had returned from Somalia.
But no one has seen or heard from the man or his family in recent weeks, according to Jamal, who said the man may have been arrested or may be hiding with his family.
Counterterrorism officials said at a Senate hearing weeks ago that there is no intelligence to indicate that Somali-Americans who traveled to Somalia are planning attacks inside the U.S.
"We do not have a credible body of reporting right now to lead us to believe that these American recruits are being trained and instructed to come back to the United States for terrorist attacks," said Philip Mudd, a top-ranking official with the FBI's National Security Branch. "Yet, obviously, we remain concerned about that, and watchful for it," he said.
Minneapolis has become the hub of the FBI's investigation, but the bureau is casting a wide and growing net across the country — even in cities hundreds of miles from Minneapolis.
Testimony from counterterrorism officials and others at the Senate hearing suggested that the FBI investigation is active in Columbus and Cincinnati, Ohio, Boston, Seattle, and San Diego.
"The FBI will follow leads wherever they take us," said Rich Kolko, the chief of the FBI's National Press Office.
The FBI field office in San Diego has already interviewed "dozens" of people from the local Somali-American community, according to San Diego attorney Mahir Sherif.
Sherif said he knows at least one Somali-American who has received a subpoena to appear before a San Diego grand jury. He said the individual "consulted" with him after receiving the subpoena.
FOX News' Dan Springer contributed to this report.