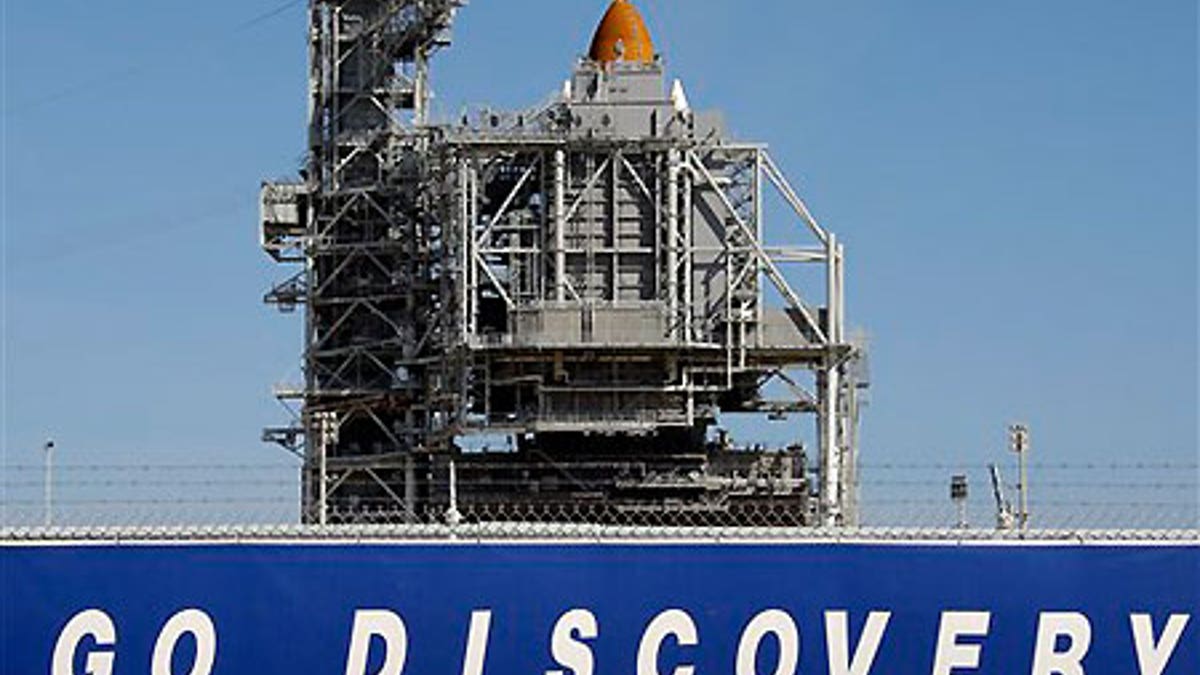 NASA's shuttle Discovery and its seven-astronaut crew will likely have to wait at least one more day to rocket into orbit after a last minute glitch prevented a Wednesday launch attempt.
A leak in the shuttle's external fuel tank kept Discovery from launching spaceward from the seaside Pad 39A here at NASA's Kennedy Space Center at 9:20 p.m. EDT (0120 March 12 GMT) as planned.
At 2:15 p.m. EDT (1815 GMT), about two hours after ground crews began filling the shuttle's massive orange external fuel tank, they discovered a leak in the gaseous hydrogen storage area in a part called the ground umbilical carrier plate.
The problem forced them to halt fueling immediately.
Weather forecasts had predicted a 90 percent chance of favorable flight conditions for Wednesday night's launch attempt.
"We're assessing the situation now," NASA spokesperson Candrea Thomas said.
• Click here to visit FOXNews.com's Space Center.
If the fuel leak issue is resolved, the shuttle and its STS-119 astronaut crew could lift off as early as Thursday evening at 8:54 p.m. EST (0054 GMT) with favorable weather expected.
Commanded by veteran shuttle flyer Lee Archambault, Discovery's seven-astronaut crew will launch toward the International Space Station carrying the outpost's final pair of U.S.-built solar wings and the last segment of its backbone-like main truss.
The 14-day mission will also ferry Japanese astronaut Koichi Wakata to the station, where he will replace NASA astronaut Sandra Magnus as a member of the orbiting lab's three-person crew.
Wakata is Japan's first long-duration astronaut and is due to return to Earth later this summer.
Set to launch spaceward aboard Discovery with Archambault and Wakata are STS-119 pilot Tony Antonelli and mission specialists Joseph Acaba, Steven Swanson, Richard Arnold II and John Phillips and Sandra Magnus.
Wakata is beginning a three-month mission to the space station, where he'll replace NASA astronaut Sandra Magnus as a flight engineer on the outpost's Expedition 18 crew.
Magnus will return to Earth aboard Discovery to complete her own four-month spaceflight.
Discovery's two-week mission will mark NASA's first shuttle flight of the year. It was initially slated to launch Feb. 12, but was delayed several times over fuel valve concerns.
If Discovery is unable to launch Thursday, a third attempt is possible on Friday.
NASA has until March 16 to launch the shuttle before standing down due to a previously scheduled Soyuz flight to ferry the new Expedition 19 crew to the space station.
Copyright © 2009 Imaginova Corp. All Rights Reserved. This material may not be published, broadcast, rewritten or redistributed.