Police Thwart Militant Bomb Attack Outside Citibank Offices in Athens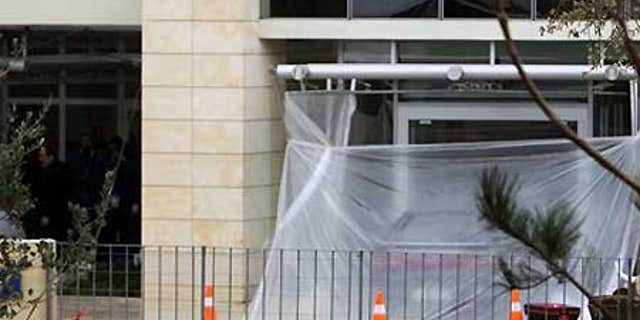 ATHENS, Greece – Greek police destroyed a powerful car bomb left outside the offices of Citibank in a northern Athens suburb early Wednesday in an escalation of left-wing militant attacks.
The bomb — 110-130 pounds of an ammonium nitrate fuel oil explosive mixture attached to a timer — was found after a guard at the bank's offices saw a car being abandoned and called police. Police said at least three people were seen leaving the car with their faces covered.
The bomb squad destroyed the device shortly before 7 a.m., police spokesman Panagiotis Stathis said.
The explosives had been packed in five 12-liter propane gas canisters attached to two mechanical clocks, batteries and detonators.
No warning call was made, authorities said. It was not immediately known what time the bomb had been set to go off.
There was no immediate claim of responsibility, but authorities suspect the device was the work of the left-wing Revolutionary Struggle, a group that first appeared in 2003 and is best known for firing a rocket-propelled grenade into the U.S. Embassy in 2007 that caused no injuries.
In past proclamations, Revolutionary Struggle has sought to portray itself as a champion of the poor and oppressed, and has espoused anti-capitalist, anti-American and anti-European Union views. In its most recent statement, it called for a widespread armed uprising against the state and said it aimed to avenge the death of a teenager killed in December by a policeman. The boy's death sparked Greece's worst riots in decades.
Wednesday's car bomb was found hours after gunmen opened fire and threw an explosive device that failed to explode in the parking lot of the private Alter television station. Nobody was hurt but the attack shows that militants may be expanding their range of targets. Previous attacks have focused mainly on police.
Ballistics tests showed the weapons used in the TV station attack were used in a similar attack against an Athens police station two weeks ago, police announced Wednesday.
That attack, which also caused no injuries, was claimed by a previously unknown group calling itself Sect of Revolutionaries, which has vowed to expand their targets to include journalists and politicians, among others. That group's statement, issued earlier this monthly lacked any clear political aims, with the group declaring: "We don't do politics, we do guerrilla warfare."
Athens has seen a spate of attacks by domestic far-left extremists in the past two months, in the wake of the December riots.
Greece has faced targeted attacks by domestic terrorist groups for decades. But authorities believed the problem had diminished after the arrest of several members of the country's deadliest group, November 17, following a botched bombing in 2002. That group killed 23 people in nearly three decades of targeted bombings and shootings.