Playboy Birthday: Aubrey O'day Swings Back To Boys And Bares Her Naked Body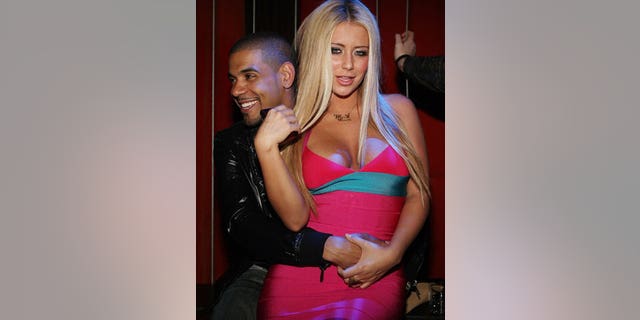 LOS ANGELES – Playboy Birthday: Aubrey O'day Swings Back To Boys And Bares Her Naked Body | Bikini Boot: Why Molly Sims Is "so Over" Sports Illustrated Cover Girls | Heidi Klum Gets Dangerous … | Pop Tarts Sightings
Playboy Birthday: Aubrey O'day Swings Back To Boys And Bares Her Naked Body
It wasn't too long ago that rumored bi-sexual Aubrey O'Day was seen batting for the other team, but as she celebrated her 25th Birthday at Sin City's JET nightclub Miss O'Day couldn't contain herself around the mobs of men. In particular, the former Danity Kane diva was seen getting herself into quite an array of compromising positions with celebrity poker player, David Williams.
The party attracted a few more males than usual as O'Day wasn't only celebrating a coming-of-age, she was also commemorating her cover on the March issue of Playboy which just hit the stands and (of course) shows off her fine little figure. O'Day was spotted throwing back shots of tequila with her mother Kandy Allen (sounds like quite the men's mag name, too) well into the wee hours.
"The shoot was so liberating, it is very classy, simple and glamorous," O'Day told Tarts "My whole family came to watch, I have a very liberal and accepting family and there is very little judgment to have ever come out of my family."
Speaking of Playboy and Vegas, it seems Hef's former girlfriends were very much enjoying their first Valentine's weekend away from their 82-year-old ex in quite some time. Pop Tarts spies spotted Holly Madison and Criss Angel getting more than just a little cozy together at LAX on Saturday night while down the Strip, Bridget Marquardt cashed in alongside her new squeeze, Nicholas Carpenter, by hosting the affairs at MGM Grand's Studio 54 with the (appropriately) named DJ KISS. Over in Hollywood, Hef and his troublesome new twins were hanging out with Brody Jenner and "Playmate of the Year" Jayde Nicole, plus an astronomical number of security guards.
Bikini Boot: Why Molly Sims Is 'So Over' Sports Illustrated Cover Girls
Molly Sims sent hearts pulsating during 2000, 2001, 2002, 2004, 2005 and 2006 when she graced the glossy pages of the "Sports Illustrated Swimsuit Edition", but since moving from model to screen starlet, it seems Miss Sims is once and for all over boobs, bikinis and beaches.
"What was weird was that I was in the middle of an interview and someone asked if I had seen Bar (Refaeli) on the new cover," Sims told Tarts while promoting her new cheerleading comedy "Fired Up". "But it was the first time in 7 or 8 years that I hadn't bugged and called my agent to find out who it would be. It just shows I'm at a different place in time - it used to be something I looked forward too, seeing all the girls and beautiful places. But this time I've moved on, left the swimsuits behind."
So how hard was it for Molly to make the move from swimsuits to the screen?
"Models are so much smarter, taller and skinnier and the brain cells are doubled. You have to really dumb yourself down to go into acting, it's hard," she said with a cheeky smile. "No - it is always a bit of a transition, definitely has its challenges."
Going back to S.I, the leggy ladies celebrated the 2009 issue with a big bang at Sin City hotspot LAX on Thursday night. Leonardo DiCaprio's cover girl girlfriend Bar Refaeli stole the spotlight at the SoBe Life Water/Sports Illustrated party, accompanied by a bevy of other bikini beauties including Brooklyn Decker, Jessica Gomes, Hilary Rhoda, Jessica Hart and Kim Cloutier, A covergirl (of a different kind) Holly Madison also made a cameo at the bash and proceeded to make out with her beau Criss Angel all night while John Legend performed.
But have the swimsuit stunners been partying just a little too hard?
"The girls all looked like bombshells of course but they also looked pretty exhausted. They had a huge party in New York, then got plane to Vegas and went straight to the event," an insider told Tarts. "The girls were drinking and partying on the plane, so by the time they arrived in Vegas they were totally drained, and weren't all that fun/energetic at the club. You could tell that all the traveling, promotion events and non-stop parties were beginning to catch up to them."
Heidi Klum Gets Dangerous …
Heidi Klum is one of the most successful supermodels in history, but it turns out that the German-born beauty didn't even know what a model was when she started out as a teen.
"When I came out of school I didn't even think that modeling was a job. I kind of just went sliding into this, I entered a contest on television and I won," Klum told Tarts while promoting her second annual campaign with Diet Coke and Heart Truth to raise awareness for women and heart disease. "I didn't really know how successful you can be in this job and what you can do or that I can be on television and have a TV show and all these things."
And we all know that professionally the VS beauty is comfortable critiquing contestants on "Project Runway", but she is actually pretty happy to do it in her personal life too.
"I'm someone, the same as my girlfriends, when they say what do you think about this, I don't always say they look fabulous. I say what I think," Heidi added. "It is the same with my husband, if he plays me something I tell him if I love it or if I think it's so-so."
But in honor of NY Fashion Week, Miss Klum is bringing out her rarely-ever-seen claws. The not-so-angelic "Angel" is starring as the Kluminator alongside sidekick Coco Rocha in a new web video series "Spiked Heel" which launched on Modelinia.com on Monday, with four webisodes posting each day until Thursday.
The supermodels-turned-superheroes (with the help of guest appearances by the fashionably devoted Michael Kors, Leighton Meester, Mel B and Christian Siriano) will work to fight off the evil Dr. Faux Pas who is plotting to destroy Fashion Week. Be warned: Klum even uses a blow-dryer as a weapon of attack …
Pop Tarts Sightings
Brandy celebrated her 30th Birthday on Wednesday evening at West Hollywood's Nobu and was joined by Sean "Puffy" Combs, Ashlee Simpson, Natasha Bedingfield, Ray-J and Lil' Kim.
Miley Cyrus and Justin Gaston couldn't keep their hands off each other while having a late-night dinner at Koi Los Angeles on Thursday. The two were joined by fellow Disney dames Demi Lovato and Selena Gomez and Justin proved himself to be quite the gentleman and picked up the bill for the young ladies.
Hillary Duff and main squeeze New York Islanders Star Mike Comrie popped into Koi New York and cuddled in a corner booth with a few friends. The two couldn't take their eyes off one another and were even dressed the same, all black from top to bottom.
90210's Annalynne McCord couldn't attend Thursday's Street Fighter IV Launch at the MOCA in LA with current paramour, Kellan Lutz but we hear Anna sent sister Angel in her place. The McCord cutie made sure that Lutz was never far from sight and would constantly interrupt any females fans from getting to close to the "Twilight" sensation.
Tony Parker, Cash Warren, Amar'e Stoudmire, Baron Davis seen hanging out together at the 944 All-Star Party at the W in Phoniex, Arizona - all without their other halves. However, T.I was at the bash spending time with his wife ahead of his year-long jail stint for illegal weapon possession, which is set to start in March.
Andre Agassi and Steffi Graff enjoyed Valentine's Day dinner at Simon at Palms Place. The athletic lovers even indulged in the Simon signature Junk Food Platter which includes "hostess" cupcakes, snowball, cookies, caramel popcorn, mini sundae, milk shake, rice krispie and froot loop treats, brownie & cotton candy.
Prince hit MyHouse in Hollywood on Friday night and was spotted sipping an apple martini at a secluded balcony table in the club while enjoying the company of a busty brunette lady friend.
Eliza Dushku, Jermaine Dupri, Donald Faison, Bill Simmons, Katy Perry and Zac Levi joined Dwyane Wade in the challenge to benefit the charity of their choice and collectively raised $170,000 on Friday at the T-Mobile myFaves® Shot of a Lifetime celebrity shoot-out event in Phoenix.
Spencer Pratt and Heidi Montag are still clinging to their fifteen minutes of fame and hosted the Valentine's Day affair at Las Vegas's PURE on Saturday, canoodling on their VIP couch until 3am.
Tom Cruise hopped into the car used in the film 'Days of Thunder' on track prior to the start of the NASCAR Sprint Cup Series Daytona 500 at Daytona International Speedway on Sunday in Daytona Beach, Florida while (ironically) Nicole Kidman's new hubby Keith Urban entertained the masses. Nic, Katie Holmes, baby Suri and Kidman/Cruise's son Connor were also in attendance.
Spotted or Snapped a Star? Got a Good Scoop? E-mail poptartstips@gmail.com.