NYC Terror Suspect Influenced by Radicals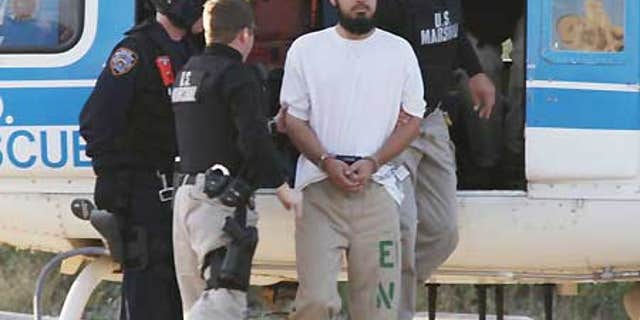 NEW YORK – If he chose to listen, Najibullah Zazi could hear the calls for violence all around him.
The Afghan immigrant accused of plotting a terror attack on New York City spent his earliest years in his wartorn homeland, a center of strife and fighting against a Soviet invasion and, after the occupiers left, clashing warlords.
When Zazi was a teenager, his family shared a Queens apartment building and worshipped with an imam linked to a former Afghan warlord later identified by the U.S. as a global terrorist.
And as a young man, Zazi traveled to a region of Pakistan known for training terrorists and visited camps where Al Qaeda teaches how to kill with horrific bombs made from household ingredients like hair dye and flour.
Along the way, Zazi was transformed from a snappily dressed young man with a taste for computer games and basketball to a bearded devotee of Islamic traditionalism — while also selling coffee from a cart at the epicenter of American capitalism, Wall Street.
Zazi's friends and relatives say he never chose to listen to others urging violence, instead working long days and spending his little free time with his family. "He was a very normal, very life-loving guy," said Naiz Khan, who befriended Zazi nearly 10 years ago when the two teenagers attended the same mosque and high school in Queens.
Federal prosecutors offer a different view. They say the 24-year-old Denver airport shuttle driver eagerly heeded the call to kill, maim and terrorize Americans.
Zazi is being held without bail after pleading not guilty to conspiring to use weapons of mass destruction. Prosecutors claim Zazi, who returned to New York to stay with his friend Kahn days before the eighth anniversary of the Sept. 11 terrorist attack, had been planning his own terror, possibly a deadly subway bombing.
"The whole family right now is stunned," said Habib Rasooli, an uncle to Zazi's father and one of the few relatives willing to talk about the case. "I could never believe in 1,000 years that something would happen to the family."
The family, from a large tribal clan with hundreds of relatives living in the U.S., left Afghanistan to live across the border in Pakistan when Zazi was 7. At 14, he, two brothers, a sister and his mother moved to Queens, where his father drove a cab. Another brother and sister were born after the family moved to the U.S.
A tall, skinny boy who could eat anything and never worry about his weight, Zazi struggled as a student at Flushing High School before dropping out. With friends who called him Najib for short, he practiced his English and adapted to life as a jeans-wearing American teen, playing basketball, pool and computer games.
"He wore very nice, expensive shirts and boots," Khan said. "He liked American life. He liked all the brand names. He never complained."
Zazi was also surrounded by his Afghan culture, living with others from his country. His family's apartment was in the same small building as that of Saifur Rahman Halimi, an imam who was a chief representative for top Afghan warlord Gulbuddin Hekmatyar. Halimi attended the same mosque as the Zazi family.
Hekmatyar, one of three main U.S. enemies in Afghanistan, was a major figure in that country's civil war and was briefly installed as prime minister. The U.S. declared Hekmatyar a global terrorist in 2003, and forces loyal to Hekmatyar openly fight American and international forces in Afghanistan.
In Queens, Halimi became a trusted voice for Hekmatyar's cause and a vocal supporter of the global jihad. A video from one of Halimi's speeches in 1992 captures his zeal for a "pure Islamic system" in Afghanistan and denunciations of Western intervention. "In the very near future, we will liberate all human beings from these devils," he said then. "They know the power of Islam.
Halimi and the Zazi family joined others who split from their Queens mosque during a leadership dispute. They also gathered at times with a close-knit group that prayed, ate and socialized together, said Mohammad Sherzad, the imam on the other side of the schism.
Halimi, 61, now imam of a Philadelphia mosque, told The Associated Press he was stunned by Zazi's arrest.
"He was not such a person," he said. "He was busy with his work." Halimi said he hasn't spoken to the Zazi family in six years.
Zazi worked a coffee cart on Wall Street, getting his license in 2004.
Mohammed Yousufzai, who operated his own cart, said he marveled at how, after five months working in the area, Zazi was running his own.
"He was a nice guy when he first came in," Yousufzai said.
Zazi began making trips back to Pakistan, his first in 2006 for an arranged marriage. His wife stayed there, and cares for their two children. Zazi began to change in appearance, Yousufzai said.
He gave up his clean-shaven look for a bushy black beard.
After a second trip to Pakistan, Yousufzai said, Zazi grew his beard longer and gave up American fashion for tunics and more modest traditional clothing. He began playing holy music in the garage he shared with other food cart vendors, and grew irritated when Yousufzai rolled in playing modern dance music, calling it "dishonest to your religion."
"People tried to avoid him," he said. "They figured out he was kind of cuckoo."
Zazi's finances changed, too, finally plunging him into bankruptcy with $51,500 in debt.
From April to June in 2008, Zazi opened six credit cards. He opened several other credit accounts in about the same period, including with Best Buy and Sony electronics, according to bankruptcy records. This was all done before he left Queens in August 2008 for Pakistan, where prosecutors say he visited Al Qaeda camps for explosives training.
Zazi told reporters before his arrest that he was not aligned with terrorists and never planned an attack. He said he went to Pakistan to see his wife and children.
Zazi returned from his latest trip on Jan. 15 and quickly picked up his life in Queens to move to Aurora, Colo., a suburb of nearly 300,000 people on the eastern edge of Denver. Like his taxi-driving father in New York, Zazi turned to driving an airport shuttle.
He passed a criminal background check and signed up with ABC Airport Shuttle. Dispatcher Tony Gonzales described Zazi as a "hardworking guy."
"No trouble, no problem whatsoever," Gonzales said. "Very quiet guy. He's always on time. When we give him a pickup, he always does it."
Zazi's aunt and uncle offered him a place to stay in Aurora. Rabia Zazi, his aunt, said her nephew had little time for anything other than work, not even an interest in finishing his high school education.
"He skipped school and he's helping his father," she said, sitting on the front porch of a building with several children and wearing a traditional veil and dress. Rabia Zazi described her nephew as a serious man, an avid soccer fan.
Seven or eight members of Zazi's extended family moved to Aurora over the past several years, including his aunt and uncle. Abdulrahman Jalili, president of the family's Queens mosque, said Zazi's father told him a month before Ramadan that he was moving to Colorado, but didn't say why.
The father, Mohammed Wali Zazi, faces a charge of lying to federal agents, accused of withholding information when he was questioned after a series of raids in Queens last month.
The emerging federal case against Zazi and others surprised Jalili, who said the FBI interviewed him recently about Zazi.
"I never saw any wrong acts," Jalili said. "He wasn't acting strangely or anything. I never suspected him of doing anything like that."
But there are unknowns, Jalili admitted, things he wouldn't see in those like Zazi who worshipped alongside him or others he wouldn't know who may have influenced Zazi.
"The government knows better than us," Jalili said. "The FBI knows better than us. They did the investigation. They know something about him. That's why they arrested him."