Mysterious Giant Spiral Dominates Norway's Sky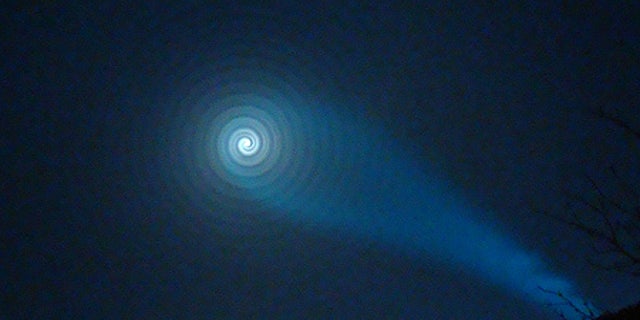 A mysterious giant spiral of light that dominated the sky over Norway on Wednesday has stunned experts — raising the possibility of an entirely new astral phenomenon.
Thousands of awe-struck Norwegians bombarded the Meteorological Institute to ask what the incredible light — which could be seen in the pre-dawn sky for hundreds of miles — could possibly be.
Theories have ranged from a misfired Russian missile, meteor fireball, never-before-seen type of northern light, black hole and even alien activity.
Witnesses across Norway all described seeing a spinning "Catherine wheel-style" spiral of white light, centered around a bright moon-like star. A blue "streaming tail" appeared to anchor the spiral to earth, before the light "exploded" into a rotating ring of white fire.
Sightings of the spiral spectacle, which lasted for two minutes, were reported as far north as Finnmark to Trondelag in the south.
Chief Scientist Erik Tandberg, at the Norwegian Space Centre, said that he too was "totally amazed" by the spiral.
He agreed with many other experts that the spiral pattern could have been caused by a missile from Russia — something the Russian military have strongly denied.
Click to see exclusive images of the sky spiral at The Sun.
VIDEO: Click to see a Russian news report on the incident (via YouTube)