Mass Graves Inevitable in Haiti, Pathologist Says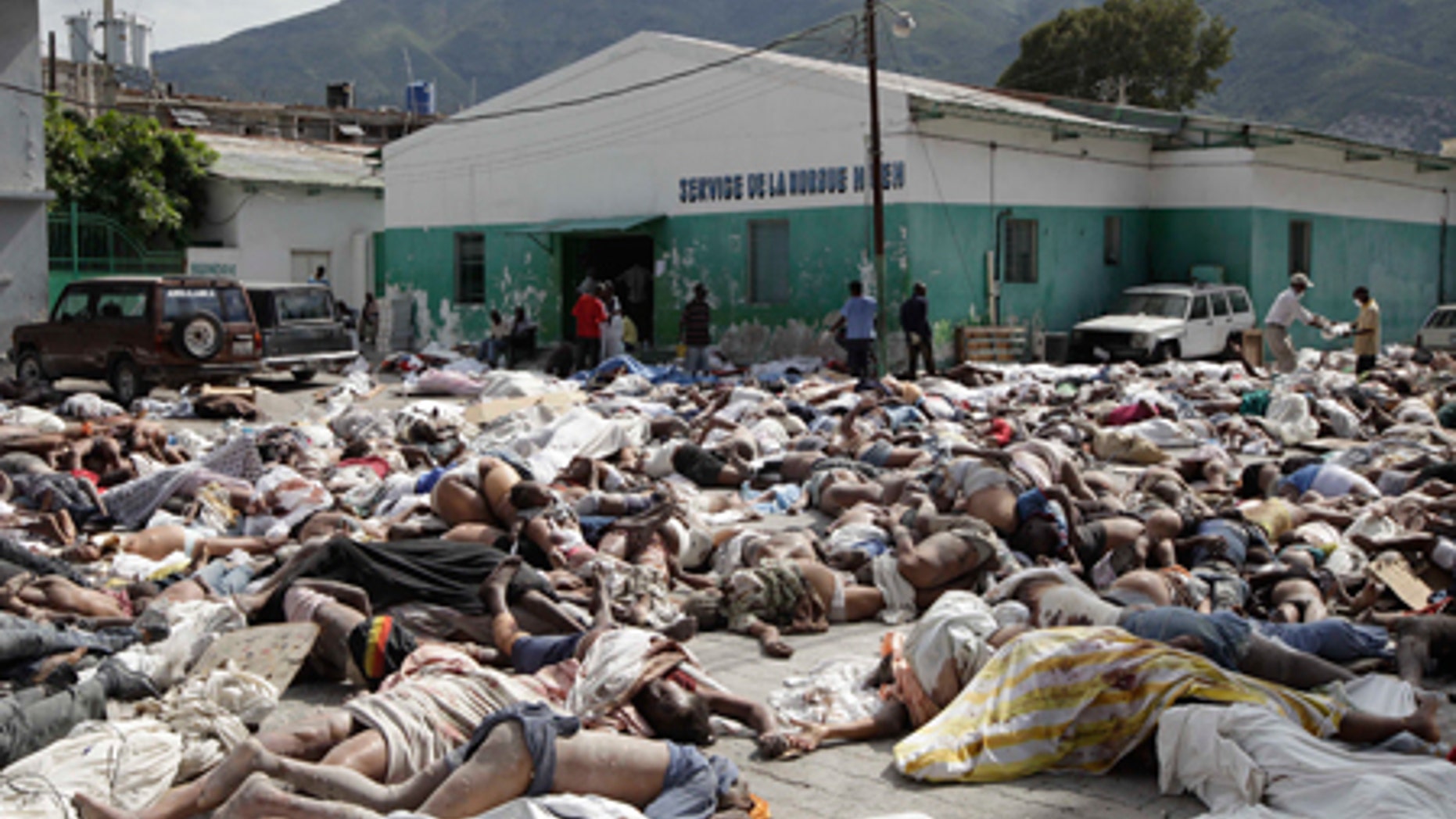 With thousands of bodies piling up in Port-au-Prince, health experts fear that the presence of decaying corpses in the hot and humid streets of Haiti's earthquake-ravaged capital could trigger an outbreak of water-borne diseases.
In order to protect the living, they say, they may have to bury the dead quickly in mass graves.
"There are masses of people who are on top of each other, so they will just be forced to make mass burials," Dr. Michael Baden, chief forensic pathologist for the New York State Police, told FoxNews.com.
"Bodies decaying in the hot sun will not only create an odor that is offensive to humans, but it will also attract small animals and insects that can spread disease, and that's where the long-term public health issues come into play."
Haitian President Rene Preval says up to 7,000 earthquake victims have already been buried in a mass grave, Reuters reported Thursday.
"We have already buried 7,000 in a mass grave," Preval told reporters at the airport while accompanying Dominican Republic President Leonel Fernandez, the first foreign head of state to visit Haiti after the devastating earthquake.
Fernandez said one of the most important things Haiti needed was help in burying its dead.
The International Red Cross estimates that 45,000 to 50,000 people were killed in Tuesday's 7.0 earthquake, but those numbers could rise significantly over the coming days and weeks.
"I think what's happening there is they're not going to be able to bury the bodies in any reasonable fashion, and unless somebody dies in the hospital they're not going to be able to identify the bodies by any means," Baden said. "You have to remember that 38 percent of 9/11 decedents have not been identified today with all the information and resources we have here in the United States."
In Haiti, a nation already struggling to provide the most basic of services to its people, the potential for death and disease in the months to come is overwhelming.
"The first wave of people coming into the hospitals — which at this point are probably big tents they've set up — will be those with blunt force injuries and trauma," Baden said. "Foreign countries have started bringing in doctors and medical supplies, but that's all for the living."
With many of the hospitals and clinics in Port-au-Prince reduced to rubble, the people suffering from broken bones and lacerations are at risk for secondary infections resulting from delays in medical treatment.
Because of the health crisis that existed in Haiti prior to Tuesday's quake, many citizens are lacking basic vaccinations against infectious diseases that have long been eradicated in the United States. Most of the country is without public sewage systems, making the potential for ingesting contaminated drinking water a constant threat.
"The second wave of people coming into the hospitals will be people sick with diarrhea and dehydration caused by water-borne illnesses like cholera and dysentery from contaminated water," Baden said.
As the death count rises, many officials say this is only the beginning of what's sure to prove the most devastating natural disaster in the region in more than two centuries.
"Because of the extreme poverty facing this nation, they don't have the infrastructure to bring in enough food or water for survivors, which often leads to riots, looting and general civil unrest," Baden said.
Reuters contributed to this article.