Mardi Gras Partiers Celebrate Final Hours in New Orleans Before Lent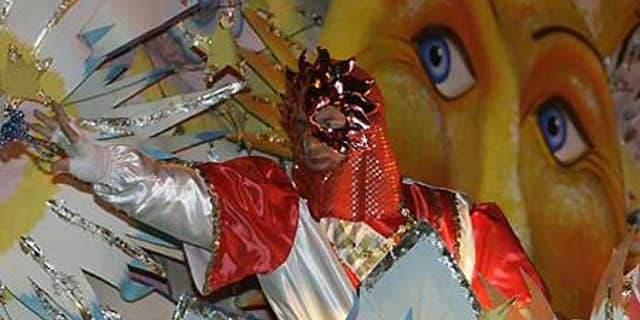 NEW ORLEANS – Mardi Gras — New Orleans' pre-Lenten celebration that ranges from family picnics along parade routes to X-rated flesh fests on Bourbon Street — went into its final hours Tuesday with high spirits and glitzy parades.
Jim Belushi and his Sacred Hearts band ushered in Mardi Gras, dancing and singing past midnight with "Hard to Handle," "Soul Man" and about a dozen other songs.
"I love New Orleans!" Belushi shouted to a crowd of hundreds gathered at the Morial Convention Center for the Krewe of Orpheus ball, a swanky party after the organization's Monday night parade.
Click here for photos.
The crowd danced as Belushi and company entertained — at times pulling people from the crowd on stage to sing and dance. At one point, Belushi lifted his shirt and tapped his not-so-flat stomach to the beat of the music.
The performance began after all 30-plus floats and marching bands made it through the Convention Center ballroom where onlookers waited to catch a glimpse of the roughly dozen or so TV stars present and to catch some beads and trinkets.
Besides Belushi, comedian Joan Rivers, AMC "Mad Men" star Bryan Batt, former American Idol contestant turned country music star Josh Gracin and the cast of Comedy Central's "Reno 911" rode in Orpheus.
The weather was expected to be mild Tuesday for the final day of revelry. Temperatures were expected to be in the 70s and the skies sunny, and parades were set to kick off at 8 a.m. with the Zulu krewe, the traditional black parade, followed by Rex, the king of Carnival, and hundreds of truck floats.
Big crowds over the weekend and nearly full hotels bode well for a busy Mardi Gras. Visitors bureau spokeswoman Mary Beth Romig said officials were cautiously optimistic because of the slumping national economy.
While there have been no official estimates on visitors yet, huge crowds have gathered downtown and along parade routes leading up to Tuesday, a state holiday.
Although there was a shooting after Friday's parades, most events had been peaceful, said New Orleans police spokesman Bob Young.
"Everyone seems to be enjoying themselves and not making trouble for anyone else," Young said.
During the day Monday, many people already were in costume on the banks of the Mississippi River for the annual Lundi Gras celebration featuring music, food booths and a cool, sunny day. New Orleans musicians Charmaine Neville, Kermit Ruffins and the Rebirth Brass Band performed.
"I just keep calling my friends at work and telling them what they're missing," said Bud Weaver, 31, of Philadelphia. "It's 40 degrees colder there and none of them had beer for breakfast."
Eric Leilengay, a beer distributor for the bars on Bourbon Street, said he's kept busy.
"We've delivered more beer the last couple of weeks than we ever have," Leilengay said. "The bigger bars along here, they're getting 100, 200 cases at a time."
Mardi Gras officially ends at midnight Wednesday. Police, followed by street sweepers, move down Bourbon Street announcing the event is officially over and Lent has begun.
In heavily Catholic New Orleans, many of the revelers will be in church Wednesday to have ashes daubed on their foreheads as they begin 40 days of prayer, penitence and self-denial leading up to Easter.