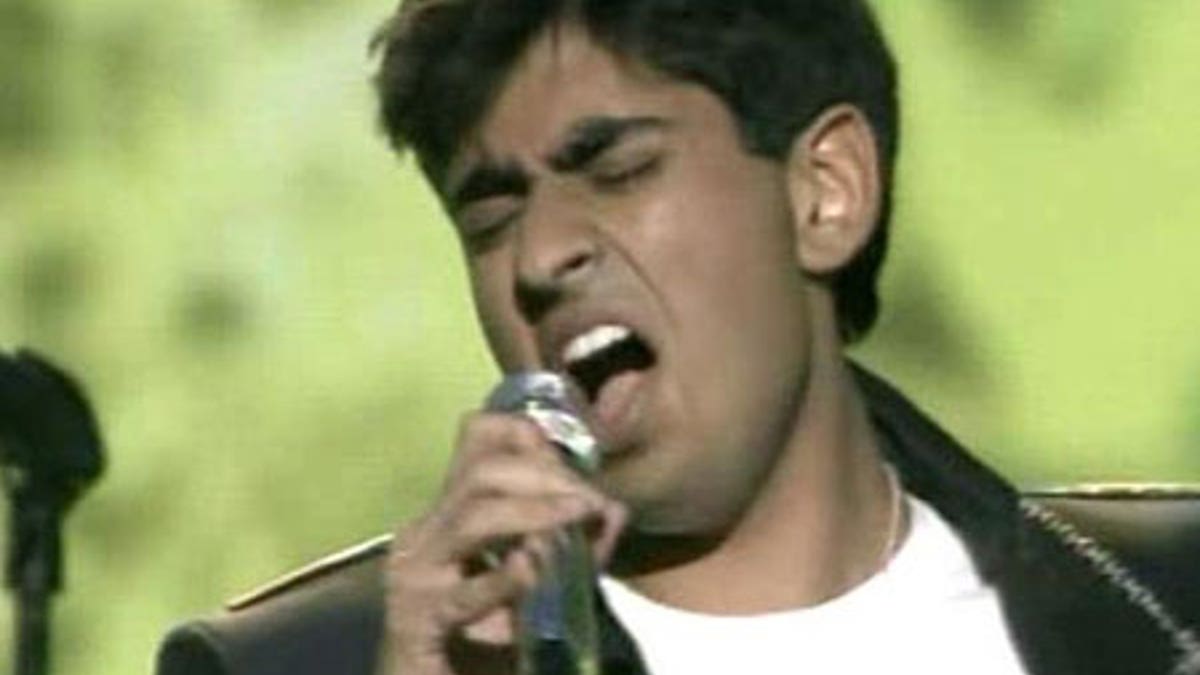 The Top 9 sang top downloads tonight on "American Idol," which basically meant they could pick any song they wanted.
Anoop Desai decided to kick things off with "Caught Up" by Usher, and where should we start, the lame moves, the creepy snarl, or the chain he had wrapped around his 80s jacket? Did he forget that the Michael Jackson theme was three weeks ago?
Fashion aside, if you can't dance you should never sing an Usher song, and the only discernable move Anoop broke out was to brush the dirt of his shoulder … which he should never do again … ever … even if there really is dirt on your shoulder, Anoop.
VIDEO: Click here for the latest episode of 'Idol Chatter.'
The only thing less appropriate than Anoop's performance was his obnoxious reaction to the judges' comments. Interrupting a judge to throw in a "not really," like a 5-year-old, is not OK. Giving a matter-of-fact speech about how the judges just don't get that you want to be an "R&B artist" is moronic, and hopefully career ending.
Megan Corkery was much more gracious when receiving her criticism, but boy did she get plenty of it after singing "Turn Your Lights Down Low." Seemed like the judges were peeved they couldn't turn the TV down low like the rest of us.
Though, I actually didn't want to for once. The whole time the judges were making 'Vote for Megan (Joy)' puffy paint posters, I was never a fan. But last night I actually liked her for once. Figures that's when they'd become haters.
Another one I differed with the judges on was Scott MacIntyre. Is this guy ever going to do something different? Randy, Kara, Paula — even Simon — made such a big deal about him stripping "Just the Way You Are" down to just the piano, but it's a Billy Joel song – he didn't have very far to go. Nor it is like he's been rocking out until now. This was just another song by him that practically put me to sleep; he should have just sung "Lullabye."
The only thing different about Scott this week was his crazy bouffant blowout, which I can only assume was a result of some kind of hair dryer malfunction. Adam Lambert was also a victim.
But back to Scott, his whole song was all about not changing to try and please someone. I say, forget that, Scott. You should "go changing to try and please me," because I am BORED.
I didn't have that problem with Allison's Iraheta though, and not just because of her rocking performance. She may have been singing No Doubt but she looked more like Sharon Osbourne meets Bride of Chucky. And her dress might as well have been contestant number 10 because it actually got more comments than she did.
Maybe Allison should take it all as a compliment, though. Usually the judges talk about how "beautiful" someone looks because there's nothing else good to say. At least this time it seems like they picked on her outfit because there wasn't much bad to say about her vocals.
And the same can be said for Danny Gokey and Adam Lambert.
Still the best of the performer of the night was, without a doubt, Kris Allen.
The artist formerly known as "Kris Who?" finally broke out of his shell with a memorable performance that put everyone else, even my precious Danny, to shame. Unlike most contestants trying to put 'their own spin on things' Kris avoided ruining a good song and actually managed to create a version of "Ain't No Sunshine" anyone would be happy to cruise to.
So whether it will be enough to make him a top contender remains to be seen, but it could definitely be enough to make him a top download.