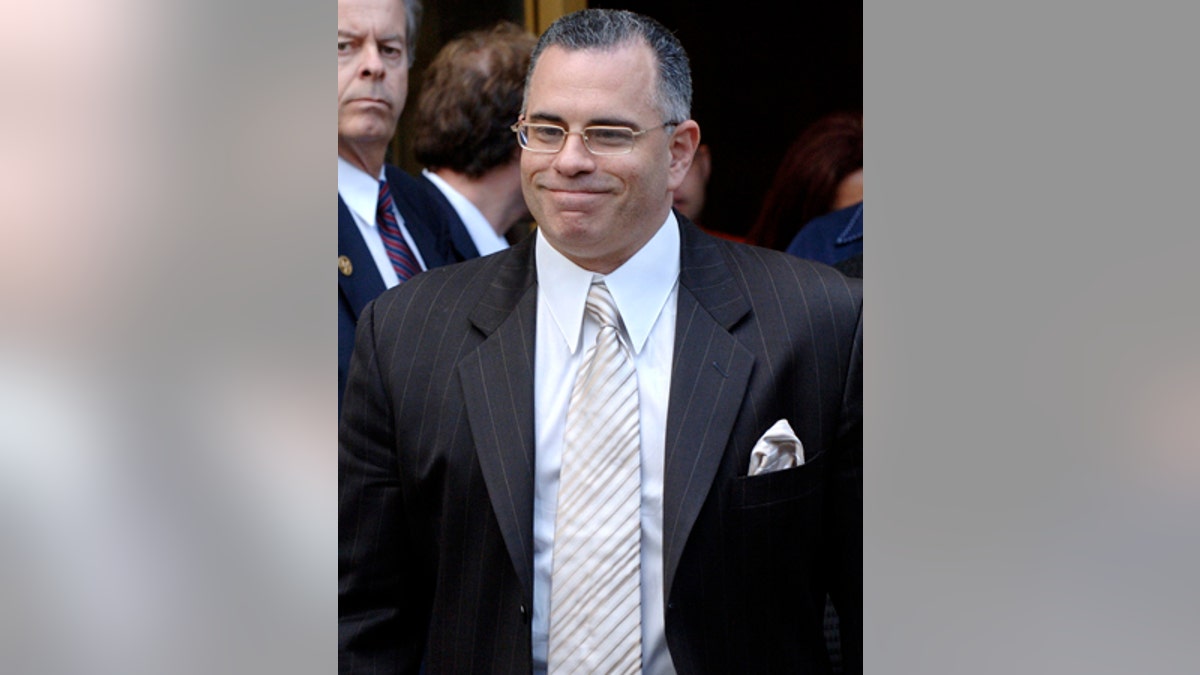 "I can't do this. This is your life. This is not my life."
Those words could determine if John Gotti, Jr. goes home a free man.
A jury is deliberating the fate of the 45-year-old son of America's most famous mob boss, the late John Gotti, former head of the Gambino crime family. Gotti Jr. is charged with murder and racketeering, but the deliberations could hinge on one simple claim: that he quit the Mafia in 1999, after pleading guilty to racketeering charges and serving six years in prison.
Junior, as he is known, spoke those words during a prison visit with his ailing father in the Marion, Ill., federal prison. Gotti defense lawyer Charles Carnesi used the tape to argue his client had become disillusioned with what he calls "the life," and came to feel that "it's not worth it for me and not worth it for my kids." Carnesi said "he'd rather be a father than a gangster."
But federal prosecutors call the claim that Gotti quit a sham.
"This defendant has lived the Mafia life since the early 1980s. He has made millions, and he has never, never quit that life," declared Gotti prosecutor, Jay Trezevant, an assistant U.S. attorney in Tampa. "It just makes no sense. This defendant embraced the treachery and violence of mob life from the very beginning."
Click here for a video report.
Prosecutors listed 14 acts they claim show that Gotti continued illegal activities through 2008. The defense disputes those claims.
The claim that he had quit has repeatedly worked in Gotti's favor. This is the fourth trial in just the last four years in which the feds have targeted Gotti. All three previous trials ended in a hung jury, with at least some jurors clearly buying his argument that you can, in fact, quit the mob.
But can you?
"I consider myself an example of that," former Columbo crime family Capo Michael Franzese told Fox News. "You can quit the mob, I've done it."
Like Junior Gotti, the 58-year-old Franzese was born to mob royalty. His father, John "Sonny" Franzese, "a kingpin of the Columbo crime family," as Michael's Web site, MichaelFranzese.com, puts it, is now 92 years old, has served roughly three decades behind bars and even faces a new racketeering trial next year.
"My dad, he's an old warhorse. I think my dad's legend is very important to him," Franzese said. "He's so conditioned to be what he is I don't think he could ever be any other way."
That turned out not to be the son's way.
Michael became a born-again Christian, motivational speaker, producer and author. His latest book, "I'll Make You An Offer You Can't Refuse," applies what he learned in the mob to the business world — legally. After serving 10 years in prison for a lucrative gasoline tax scheme, Franzese says he soured on the underworld – as perhaps Junior has.
"I would believe him. It's the right thing to do, It's the sane thing to do today. You've got to be crazy to stay in the life," said Franzese.
"Like me, John wasn't destined for this life and neither was I. I was going to school to become a doctor. I question my own self at times. I did this for my dad. At one point I wanted him to be proud of me, and I think John shares a similar feeling like that. So we got into it for one reason and realized what it was all about, and maybe had second thoughts."
The father's lure is echoed in the latest book from Gotti's sister, Victoria Gotti. In "This Family of Mine," she says that back in 1999, when John made his plea deal, her brother told her: "I'm not Daddy. He's the last of his kind. It's not who I am." She wrote that "I was so relieved John was getting out. ... I knew his heart wasn't really in it, either. It was all about impressing our father."
Prosecutors argued during trial that the "I quit" defense was devised by Junior in jail, while he awaited trial in 2004. But defense lawyers maintained he wanted out at least five years earlier. A 1999 profile in The New York Times Magazine of Gotti entitled "The Godfather, Jr.," stated that family and friends left the impression "Gotti is a homebody who loves his family and would like nothing more than to be left alone with his friends, his legitimate business interests, and his four children."
Carnesi even raised the reported death threats by current Gambino members against his client, as proof that Gotti's claim is genuine. The government said news of the threats, detailed in FBI reports, was passed along by none other than Franzese's father, "Sonny," to a confidential informant in 2006.
"They were very upset with John Gotti's behavior and said there's no such thing as quitting the mob," Carnesi told the court.
That stance was echoed by prosecution witnesses during trial.
"There is no quitting the mob," testified former Bonanno family Capo Dominick Cicale. Cicale, who admitted he never met Gotti, is serving a life sentence for murder and is cooperating with the government. He testified that the only way out of the Mafia is either doing what he did, or death.
"There is no retirement plan," he said. "We're not like Microsoft."
Despite that claim, there have been notable examples of well-known mobsters quitting "the life."
Joseph Bonanno, a founder of the modern American Mafia, retired from his own Bonanno family in the 1960s and moved his family permanently to Arizona, along with his son, Salvatore "Bill" Bonanno. His decision was said to have been influenced by internal turmoil in his family and disagreements with "The Commission," the ruling body of Mafia leaders.
A 1964 wiretap caught Sam DeCavelcante, head of the small New Jersey crime family that bore his name – and a possible model for The Sopranos — talking about the effort of other bosses to entice Bonanno to retire.
"For months I've been trying to make him retire. ...I pleaded with him Saturday night, 'Please Joe,'" said DeCavelcante.
Bonanno eventually did step down. In his book, "A Man of Honor," he described what he called "my removal to Arizona" and admitted "I retired while I was still on top, with life and limb, with my wife and children and with my worldly goods."
In 2006, Bill Bonanno told Fox News he believed Gotti, Jr. had also stepped aside. "I sympathize with the kid," he said, saying he understood firsthand the tug of following his father. Just two years later, in 2008, Bill Bonnano died of a sudden heart attack.
"Once you are in, you never get out alive — only when you are dead," former FBI agent Joe Pistone said he was told by mobsters he befriended after infiltrating the Bonanno family in the 1970s.
Pistone, best known for the "Donnie Brasco" moniker that he adopted while undercover, has since gone on to a successful career as an author and Mafia expert, and even teamed up with Bill Bonanno to co-author a mafia novel, "The Good Guys." Pistone also wrote "The Way of the Wiseguy," a book about Mafia philosophy, and "Donnie Brasco: Unfinished Business."
Some suggest the rule against calling it quits may simply be going the way of other formerly unshakable mob tenets. It once seemed completely inconceivable, for example, that a Mafia boss would flip and testify for the U.S. government. But two such bosses have: Ralph Natale of Philadelphia and Joe Massino, the former chief of New York's Bonanno family.
Others have also said they walked away.
"Mob Capo: I'm Retired," was the headline of an article nine years ago in Ganglandnews.com, the weekly chronicle of organized crime by the noted veteran mob reporter Jerry Capeci.
Capeci wrote about Salvatore Avellino, identified as a reputed Capo in the Luchese crime family, who testified that he successfully "retired" in 1994.
"I was retired. I am still retired. I have no intentions of ever coming out of retirement," he said in court testimony in 2000.
"In the organized crime life, are you permitted to retire by the rules of an organized crime family?" asked Assistant U.S. Attorney Paul Weinstein.
"Why not?" Avellino shot back. "I say yes."
Others maintain it's also possible to be fired from the mob – and survive.
Aniello Dellacroce, once in line to take over the Gambino family, was heard on a 1985 wiretap describing the expulsion of a Gambino soldier.
"We threw him out of the family," Dellacroce explained. "We threw him out. Out."
"You threw him out?" asks a cohort on the wiretap, incredulously.
"Out," answered Dellacroce. "He don't belong in the family no more. … Any friend of ours in the street, that's it, you tell them, this guy is out. Remember, he's not a friend of ours no more."
Meanwhile, Junior Gotti, who maintains he has been out for a decade, awaits his fate, as the jury deliberates just blocks from the Little Italy neighborhood that was a headquarters for his father. And there's at least some chance it will work out.
"When I made that decision (to retire) I didn't know how it would work out," said Franzese "Here I am. I'm still here."