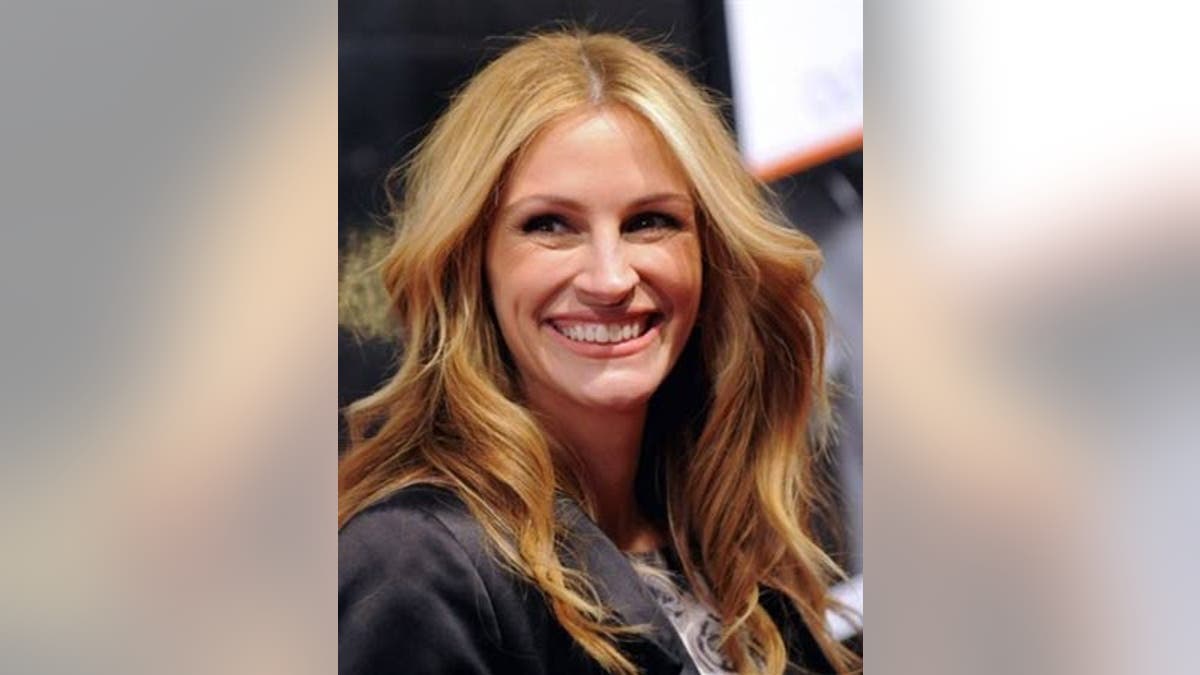 Julia Beaten by Bromance, Cage | Tom Cruise Career Waffles | Jets, Sharks, Stars and a Hit | Extras
Julia Beaten by Bromance, Cage
Julia Roberts' return to the big screen has been met with a lot of…indifference.
"Duplicity," Roberts' comeback film, finished third on Friday night after Nicolas Cage in "Knowing" and Paul Rudd's bromance film, "I Love You, Man."
"Duplicity" took in $4.7 million on Friday, and should bring in between $12-$13 million for the weekend.
That's not a particularly good showing for a thriller with big stars—Roberts and Clive Owen—not to mention solid Oscar level supporting actors in Paul Giamatti and Tom Wilkinson.
Roberts has always been touted as the number 1 female movie star in the world. But her last really important film was "Erin Brockovich" in 2000. That was nine years ago, which in Hollywood terms is a lifetime.
Since then, her output has been spotty to minimal. Her films include Mona Lisa Smile in 2003, and Charlie Wilson's War in 2006. Neither of them was a hit, and Roberts –even with cameos in the "Ocean's" movies—has mostly missed almost a decade of moviemaking. Her peak years were from 1996 to 2000, starting with "My Best Friend's Wedding," "Notting Hill," "Runaway Bride," and culminating with "Brokovich."
"Duplicity," directed by Tony Gilroy, may fare better overseas where its non linear plot may not matter so much to non English speaking audiences. In the meantime, Universal Pictures won't have to worry too much: they've got plenty of potential hits lined up for 2009 including Sasha Baron Cohen's "Bruno."
So what is Tom Cruise going to follow up "Valkyrie" with?
Cruise's last actual hit movie was released in June 2006 — that was "Mission: Impossible 3," and although it was very well made by director J.J. Abrams, it was not the monster that its predecessors had been.
Since then, Cruise has appeared in the dreadful box office loser, "Lions for Lambs," and made his popular cameo appearance as an offensive movie producer in "Tropic Thunder."
"Valkyrie," which kicked up a storm of controversy, made a little over $83 million domestically during its run. It wasn't a flop, but for Cruise it was below his average $100 million take and well below the Mission: Impossible movies, almost by half.
The film has taken in a little more than $100 million in the rest of the world, with its biggest successes in Germany, Italy, the United Kingdom, and China, where it made over $7 million.
In Germany, where "Valkyrie" was supposed to rehabilitate Cruise's image and ingratiate his frowned upon Scientology, the movie made a middling $10 million. It opened and closed fast, already off the charts. By contrast, "The Reader" is number 1 and has made more money. "Twilight" did $20 million there. "Benjamin Button" has done almost $19 million. "Australia" has taken in $15.5.
Also, "Valkyrie" — which probably cost more like $150 million total when all the bookkeeping is done — brought the end of Cruise's producing partnership with Paula Wagner and threw his deal with MGM to make movies at their United Artists into question.
Now it's mid March, and Cruise has no movies in the can for 2009 or even 2010. If he doesn't start something soon, he could miss the summer 2010 release schedule.
There have been problems. Cruise was replaced in the movie he was supposed to make, "Edwin Salt," by Angelina Jolie. The script was rewritten for a female protagonist.
Now comes word from insiders that Cruise's potential replacement for that project, The 28th Amendment, may be falling apart. Just two weeks ago rumors surfaced that Cruise might join Denzel Washington in the thriller, with extremely tall German director Florian Henckel von Donnersmarck — who won the 2007 Best Foreign Film for his extraordinary The Lives of Others — running the show.
Florian is now said to be looking at other actors besides Cruise. These things can always be worked out, but even the original announcement of this was odd. Von Dommersmarck is German, for one thing, and certainly has opinions about the questionable "Valkyrie." Also, the star of his "Lives of Others," Sebastian Koch, starred in an earlier and better German made film called "Operation: Valkyrie."
Also, FYI, von Dommersmarck is about a foot taller than Cruise.
Still, Cruise has a bunch of titles listed as "in development," including the film version of Robert Ludlum's "The Matarese Circle" and Paul Haggis's "An Ordinary Spy." On a positive note, Katie Holmes's manager, the very savvy John Carrabino, recently told me: "People are lined up around the block to do business with Tom."
The revival of "West Side Story" last night at the Palace Theatre brought out the big guns: Lauren Bacall, Kathleen Turner, Spike and Tonya Lee with their kids, Christie Brinkley with son Jack, Diane Sawyer and Mike Nichols, Phil Donahue and Marlo Thomas, Elaine May and Stanley Donen, plus the musical's original Maria, Carol Lawrence, and Harvey Weinstein with designer wife Georgina Chapman.
The new Maria, sensational 21 year old Argentinian opera singer Josefina Scaglione, wore one of Chapman's Marchesa gowns to the massive opening night party at Chelsea Piers. Also spotted were Vanessa Williams, Lili Taylor, Bobby Cannavale, Sarah Paulson, Keith Carradine, and Patrick Wilson.
The Palace was buzzing, to say the least, like it was an old time Broadway opening night. As I've said before, the traffic and chaos outside only add to the excitement. The idea of turning the streets outside the Palace into a pedestrian mall is anti-everything about Times Square. But I digress.
"West Side Story" is probably the best ever all around Broadway musical. This revival, directed lovingly by its 91-year old-author, Arthur Laurents, is just magnificent. All of the cast, starting with Matt Cavenaugh and Ms. Scaglione, are revelations.
There are surprises and updates. Some — about 3 percent — of the show is in Spanish. Laurents has staged "I Feel Pretty" that way, and there are some short conversations in Spanish among the Puerto Rican characters. This only livens up the 52 year old show and makes it more relevant. I think when this news reaches Hispanic audiences, "West Side Story" will develop a whole new enthusiastic following.
And while all the voices are terrific, and the Sondheim-Bernstein songs like "Somewhere" and "Maria" and "Tonight" are gorgeous, "West Side Story" is about the dancing. Jerome Robbins' original choreography is brilliantly and breathtakingly recreated. The work transcends the word "dance — "Dancing with the Stars" like Velveeta compared to this. You have to see it to believe it for its grace and showmanship.
We really have "West Side Story" and "Guys and Dolls" back on Broadway at the same time, and "South Pacific" up at Lincoln Center. It's like a dream come true.
Larry Mark and Bill Condon had such a big success producing this year's Academy Awards show. But they will not likely repeat for next year. So far no one's asked them, and they're each busy with other projects. Whoever gets it — even Gil Cates — I hope they retain some of this pair's work like the acting nominees being introduced by former winners…
…Yes, that was Debra Lee Furness, aka Mrs. Hugh Jackman, at the big Valentino screening and dinner on Tuesday night at the Oak Room. She brought her mum, visiting from Australia. The party, sponsored by Gilt Groupe and Quintessentially, is still being talked about. Valentino is all over New York right now. He was even at "West Side Story"…
…Smile Train, a cool charity that helps correct children's cleft palates, celebrated its 10th anniversary on Tuesday night at Jazz at Lincoln Center. Colin Powell, Candice Bergen, Jane Kaczmarek, and Chris Meloni were among the guests…
…I don't know if those Smile Train guests realized it, but Jazz at Lincoln Center's stunning stage and Central Park South backdrop are featured in NBC's weird "Kings" series. They use it as their council room or Congress. But really, it's clearly the same room where I've seen performances by Sting, Paul Simon, Cat Stevens, and countless others…
…Another "Kings" backdrop is the Apthorp apartments on Upper Broadway. Really, someone should do a "Kings" map. Maybe they should have called it "Queens" instead and used landmarks in that borough. Yikes!...
… Talk at Elaine's: remembering the engagement party for Natasha Richardson and first hubby Robert Fox circa December 1990. "They signed their prenup here," Elaine Kaufman recalled, pointing to a back table. She recalled Natasha as a "terrific girl, beautiful" and sends her condolences to Liam Neeson and the Redgraves…