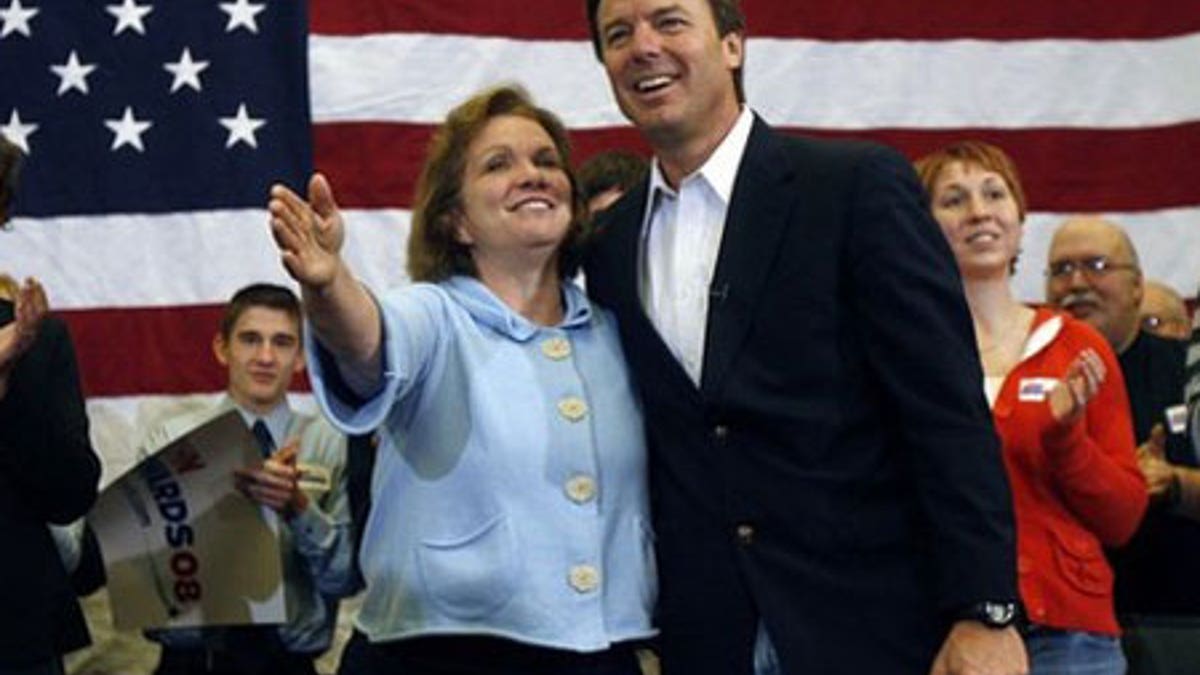 John Edwards' Wife: New Book Will Address Affair | Nora Ephron Wears It Well; One Life, One Death; Sightings; Grammy Promos; Gary Collins
John Edwards' Wife: New Book Will Address Affair
You'd think after the chaos last year surrounding former Senator John Edwards' personal life, his wife, Elizabeth, would not be looking for more publicity — or inviting questions.
But on May 12th, Broadway Books, a division of Random House, is releasing a new short memoir by Elizabeth called "Resilience," a follow up to her best selling "Saving Graces."
Edwards insiders are wondering if "Resilience" will be a tell-all, tell-some, tell-none, or an exercise in denial. The Broadway Books catalog says Edwards has written "an unsentimental and ultimately inspirational meditation on the gifts we can find among life's biggest challenges."
The publication of "Resilience" may not prove so inspirational to one reader, however: Rielle Hunter, the woman who gave birth last year to a baby girl whom many speculate was fathered by Edwards. Hunter has privately told friends that the child is Edwards'. Sources say the resemblance is as good as a paternity test.
So far, Hunter and Edwards have not come to any agreement about the baby's paternity or finances — absolutely some of "life's biggest challenges."
The usually private Elizabeth Edwards, I am told, is definitely including her take on the relationship in her new book. Her publicist says she will be addressing John's "affair and how she experienced it."
Indeed, how Elizabeth "experienced" may be just as the public did: Edwards suddenly exited the race for the Democratic presidential nomination on January 30, 2008. In early August, after much pressure and a sting by the National Enquirer, he admitted the affair. What he didn't say: the end of his campaign came exactly one month before Hunter gave birth to baby Frances Quinn.
What followed Edwards' August confession turned out to be a supermarket tabloid soap opera. As just about everyone knows, Edwards visited Hunter at least twice last year in Los Angeles at the Beverly Hilton Hotel so he could see her new daughter — a child, by the way, which he has still not acknowledged as his own.
The first visit, as I reported last August, was in June 2008. That's when a source who knew Edwards ran into him in the hotel's underground parking lot late at night. The source didn't know it then, but when Edwards took the elevator that bypassed the lobby to a guest room, he was visiting Hunter and baby Frances Quinn.
The second visit, however, reported first by the National Enquirer, was caught on film in July. It led to a partial confession on ABC with Bob Woodruff.
Soon after that, the private arrangements between Edwards and Hunter more or less fell apart. Fred Baron, an Edwards associate, had been funding Hunter's stay at a rented Santa Barbara home. But Baron died suddenly and tragically in late October after a short bout with cancer. This left Hunter in the lurch. The lease on her house ran out in December. Since then, she's been relying on the kindness of friends, sources say, and hoping that Edwards would do the right thing.
So far, that hasn't happened. Hunter has forged on ahead as a single mom, refusing to sell her story or sue Edwards for paternity. The baby's birth certificate still lists no father.
Meanwhile, Elizabeth Edwards has proceeded with the new book. Her publicist says "Resilience" is embargoed until its publication date and that he can't discuss the specifics of its content. But it's unlikely that Elizabeth, suffering from incurable cancer, will concede baby Frances Quinn's paternity, or that the child is a half sibling to her own. That would raise a lot of questions about why the baby has gone without a father or financial resources since its birth last June.
But, as one insider exclaimed yesterday: "What is Elizabeth thinking?" Certainly the minute she does any publicity for "Resilience," the first questions will be about Rielle Hunter and her baby daughter. And don't think for a minute that Hunter is going to allow herself to be portrayed as a groupie, sycophant or gold digger. Far from it. I'm told that if "Resilience" minimizes her at all, Hunter will not shy away from showing her own "resilience." She's said to be a smart, educated, articulate woman—not at all how she's been portrayed so far in the supermarket tabloids.
Nora Ephron Wears It Well; One Life, One Death; Sightings; Grammy Promos; Gary Collins
Ephronistas — those are the people who love Nora Ephron's writing — turned out in force last night to see her new work in progress, called "Love, Loss, and What I Wore." The staged reading featured Joy Behar and Marian Seldes among the five actresses who performed in front of Marlo Thomas, Allen and Deborah Grubman, Ephron's sisters Delia (also her co-author) and Amy; Columbia Pictures's Gigi Semone, Peggy Siegal, and other illustrious guests. "LLWIW" still has six more Monday sessions at the Daryl Roth Theater on East 15th St., and I'm told the rotating casts will soon include the likes of Christine Baranski. It's all for charity, too. And if you're wondering what the director of "Sleepless in Seattle" and "You've Got Mail" is doing moviewise, she's got "Julie and Julia" starring Meryl Streep and Amy Adams — about Julia Child — coming this summer...
…It's good news and sad news at ABC soap "One Live to Live": director Larry Carpenter won the Directors Guild award for an episode of the show, which is the most improved of the remaining daytime dramas. Sadly, longtime actor Clint Ritchie passed away yesterday at age 70. He was a fan favorite all through the 80s and 90s…
… Michael's on West 55th St. was rocking for a Monday lunchtime: producer Jane Rosenthal with mega director/producer Irwin Winkler, Glamour mag's Cindy Leive at another table, producer Bobby Friedman (no relation) at another, Belinda Luscombe from Time magazine with dynamo producer Frida Torresblanco ("Pan's Labyrinth"), writer Jill Brooke came with a good report from a backer's audition for the musical version of "The First Wives Club," perennial David Patrick Columbia held court, and so on. And that was just for a Monday!...
…I love the promos for the Grammys. Here's one by Stevie Wonder and another by Radiohead's Thom Yorke. Cool!...
…What the heck has happened to Gary Collins? Reports from Santa Barbara that he was arrested again for DUI — this is his third, they say. Still married to former Miss America Mary Ann Mobley, Collins was the all time clean cut celebrity, host of "Hour Magazine" in the 1980s. What's the story here? This should be a wake up call to all those non celebs from reality shows, game shows, etc who appear in US Weekly and think they're stars. Even if you had a big career, sustaining it without scandal is a tough road. Gary, please, pull it together. I'm almost afraid to ask what John Davidson is doing these days!