Greek Guards Face Negligence Charges in Daring Helicopter Jailbreak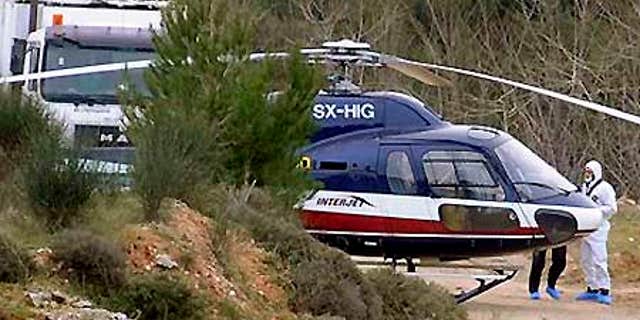 ATHENS, Greece – Four prison guards and a pilot appeared in court Tuesday to face misdemeanor negligence charges that they failed to stop the daring helicopter escape of two convicts from an Athens prison.
The Justice Ministry has suspended eight prison guards over Sunday's spectacular jailbreak, which embarrassed Greece's government and prompted a prison policy overhaul.
A manhunt has yielded no trace of the fugitives — bank robber Vassilis Paleokostas and convicted murderer Alket Rizaj, an Albanian immigrant.
Both were whisked out of the Korydallos prison in western Athens in a helicopter rented and then hijacked at gunpoint by their accomplices. The pair staged an almost identical escape from the same prison in 2006.
Authorities believe prison employees may have been bribed to assist the escape. Paleokostas, 42, has been charged with kidnapping a prominent industrialist last year while on the run after his first helicopter escape, and police believe the fugitive managed to stash away much of the multi-million-euro ransom paid.
The trial of the guards and pilot was delayed for several hours as the court first had to deliver rulings on several other pending cases. When it got under way, defense lawyers called for the charges to be dropped on technical grounds.
Justice Minister Nikos Dendias has ordered an examination of the bank accounts of all guards in the section where Paleokostas and Rizaj were held.
A Cabinet meeting on the escape Monday decided on legislation forcing anyone buying prepaid cards for mobile phones to provide identification, after authorities said the convicts may have coordinated with their accomplices from inside prison using untraceable pay-as-you-go cell phones.
Transport and Telecommunications Minister Evripides Stylianides will meet mobile phone company officials later Tuesday to discuss the proposed measure.
Government spokesman Evangelos Antonaros rejected criticism that the new law would restrict democratic rights. "Only those who are planning or who have committed illegal acts should worry," he said.
The escape was an embarrassment at a difficult time for Prime Minister Costas Karamanlis' government, which holds a tenuous one-seat majority in parliament and has been battered by financial scandals and public discontent over surging crime figures.
The fatal police shooting of a teenager in December sparked the country's worst rioting in decades, and prompted a surge in attacks on police, media and symbols of authority by left-wing militants and small anarchist groups. Police have been criticized for failing to contain the violence.
A poll published late Monday gave the main opposition Socialists a 4.2 percentage-point lead over the governing conservatives.
Paleokostas was serving prison sentences of more that 25 years for a 1995 kidnapping, several robberies and arms possession.
Rizaj, 34, was serving a life term for murder. He has also been charged with carrying out two contract killings while on the run after the June 2006 helicopter escape. He was recaptured that September.