Freeing France From Hitler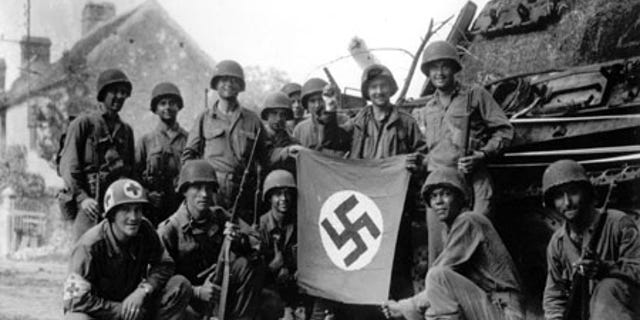 Monday, June 15 at 3 a.m. ET
Hosted by Oliver North
June 6, 1944 was only the beginning of the epic struggle to free France from the grip of Adolf Hitler. By the end of D-Day, the Allies had gained a fragile foothold on the merciless dictator's Fortress Europe, but it would take two million soldiers and 80 days of bitter and bloody fighting to liberate Paris.
Young and often inexperienced troops painstakingly slugged through Normandy's treacherous hedgerow terrain, fighting inch by inch to liberate towns and villages along the way. During the breakout of the so-called "bocage" country, 111 Americans lost their lives in a friendly bombing incident. And on August 6, 700 men of the 30th Infantry Division were stranded atop Hill 314 in Mortain during Operation Luttich, Hitler's first counterattack against the Allies.
In this captivating episode of "War Stories with Oliver North," come along as we return to Mortain and Hill 314 with Angel Garcia who fought there as a staff sergeant. You'll meet Medal of Honor recipient John Hawk who single-handedly prevented 500 Germans from escaping the Allied noose at Chambois. And you'll also hear from Helene Deschamps, the beautiful French Resistance agent who risked her own life to save the lives of her countrymen.
This is the little-known and often-overlooked story of the brave men and women who fought from the beaches of Normandy to the sidewalks of Paris to free France from Hitler.
Staff for this episode:
Executive producer: Pamela K. Browne
Produced and written by: Cyd Upson and Ayse Wieting
Editor: Josh Parker
Designer: Yong Kim