FOX News Poll: 46 Percent Would Vote To Confirm Sotomayor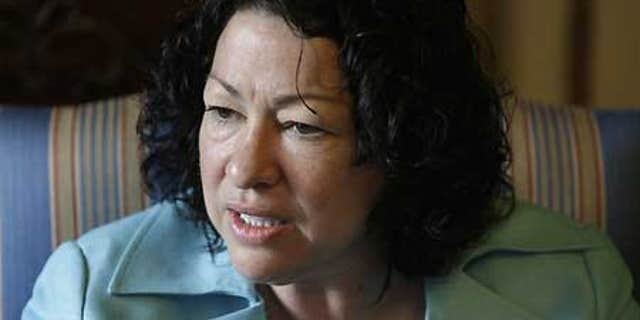 NEWYou can now listen to Fox News articles!
Just under half of Americans say they would vote to confirm President Barack Obama's nominee Sonia Sotomayor to the U.S. Supreme Court.
A FOX News poll released Friday finds 46 percent of voters nationwide say they would confirm Sotomayor and 32 percent would oppose her confirmation. About one in five — 22 percent — are unsure.
Obama nominated Sotomayor to take the seat of retiring Justice David Souter. Senate confirmation hearings are set to begin July 13.
The results on Sotomayor's nomination are almost identical to results from polling conducted soon after President Bush nominated Samuel Alito to serve on the high court. At that time, 46 percent said they would vote to confirm Alito, while 29 percent said no and 25 percent were unsure (Nov. 8-9, 2005).
Click here to see the full poll results.
Not surprisingly, Democrats (69 percent) are much more likely than Republicans (19 percent) to support Sotomayor. Among independents, 46 percent would confirm and 33 percent would not.
Men (45 percent) and women (47 percent) are about equally likely to say they would vote to confirm her.
Opinion Dynamics Corp. conducted the national telephone poll of 900 registered voters for FOX News from June 9 to June 10. The poll has a 3-point error margin.
A majority of Americans — 58 percent — say they disagree with the controversial comments Sotomayor has made about female Hispanic judges making better decisions than white male judges.
While men and women generally disagree with Sotomayor's remarks, women (36 percent) are somewhat more likely than men (28 percent) to agree with her.
A 47 percent plurality of Democrats agrees with Sotomayor's "wise Latina" comment, while most Republicans (77 percent) and independents (61 percent) disagree.
Even so, most people (67 percent) do not think the remarks should disqualify Sotomayor from serving on the court, including majorities of Democrats (83 percent), Republicans (51 percent) and independents (66 percent).
Overall, seven of 10 Americans (71 percent) — think judges should "only interpret the law" and not take into account their own personal views and experiences. A much smaller number (26 percent) think judges should take their own personal views and experiences into account when interpreting the law.
What motivated Obama to choose Sotomayor? Fifty-eight percent of Americans say political support from Hispanic voters was extremely or very important to the Obama's decision to pick her.
Slightly fewer — 54 percent — say legal qualifications were extremely or very important to the president's decision, and the same number (54 percent) think political support from women voters was.
Other reasons receive similar levels of importance, including Sotomayor's Hispanic background (53 percent extremely or very important), her liberal views (52 percent) and her gender (48 percent).
America's Favorite JusticeThe poll asked people to name the current Supreme Court justice they most agree with or admire. The top sitting justices were Clarence Thomas (11 percent), Ruth Bader Ginsburg (9 percent) and John Roberts (8 percent). Antonin Scalia (5 percent) and Anthony Kennedy (3 percent) also receive mentions by a handful of admiring Americans, with the remaining members of the court each being picked by just 1 percent.
Even though people were asked about current members of the court, Sandra Day O'Connor, who stepped down from the court in January 2006, is still a favorite and matched Thomas at 11 percent.
Half of Americans (50 percent) are unable to name a justice they agree with or admire.