Flag-Draped Casey Anthony Doll for Sale on eBay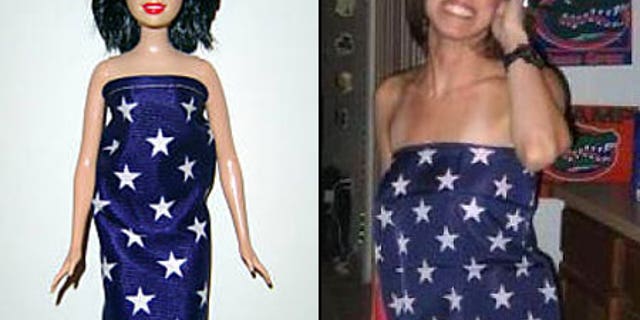 A Casey Anthony doll clad in an American flag dress like one the accused child-killer wore to a costume party has found its way onto the electronic auction block.
An eBay seller in Quincy, Mass., is offering the doll — which also comes with sunglasses, the Examiner in Orlando reported.
Anthony, 22, was pictured wearing Old Glory shortly after her daughter Caylee's disappearance over the summer. The young single mother is in jail on first-degree murder charges in the 2-year-old girl's death.
The auction ended Monday night without any bids.
This is not the first time a Casey Anthony doll wound up on eBay. Last month, a New Orleans-based artist was selling a set on the online auction site, according to the Examiner.
In a separate incident, a Caylee Anthony doll was pulled the day it was to go on sale on an independent Web site.
Caylee disappeared in mid-June but wasn't reported missing until a month later.
Her remains were found in December in a wooded lot about a half-mile from her family's home. The medical examiner ruled her death a homicide.
Last week, police released documents showing that evidence found on or near the little girl's remains were a match to items at the home she lived in with her mother and grandparents.
Casey has insisted that she had nothing to do with her little girl's disappearance and death, saying she last saw her when she left her with a baby sitter.
Police say she made the story up and the sitter doesn't exist.
Click here for more on this story from the Examiner.
Click here for the eBay auction site.