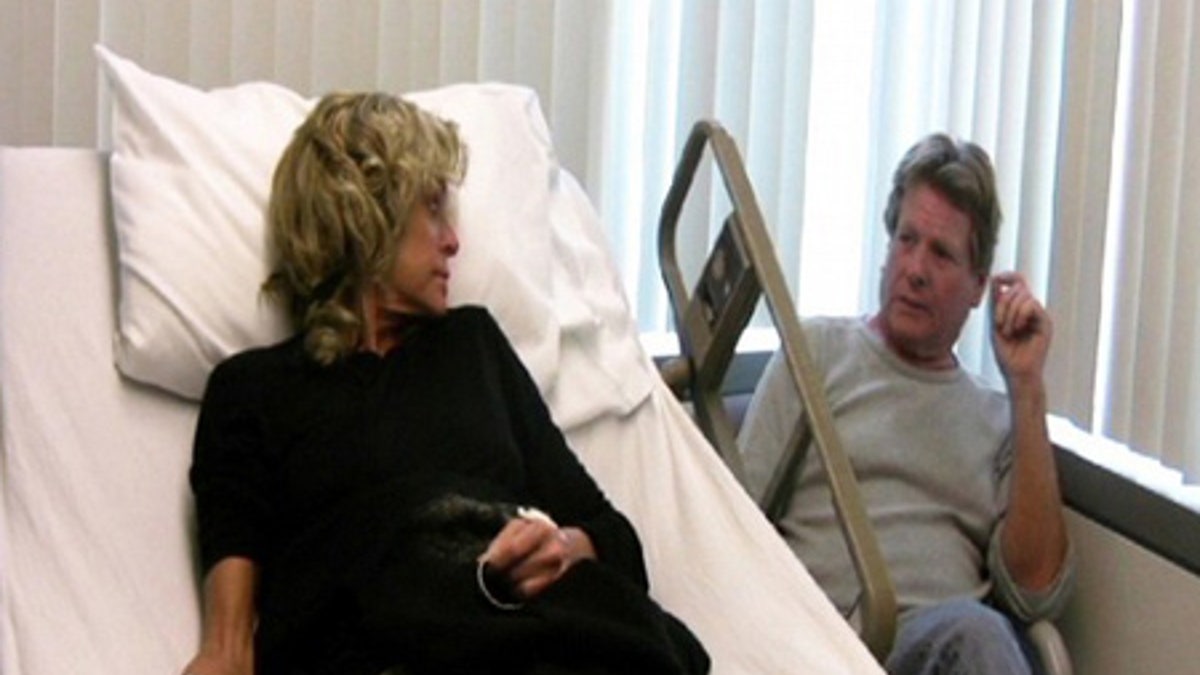 LOS ANGELES – Farrah's Fight: Cancer-Stricken Farrah Fawcett Still 'Stable' | Bar Rafaelli Reveals Guiltiest Pleasure, Laughs Off Leo 'Break Up' Rumors | Fired From Topless Show? Mel B Fires Back | Woody Allen's New Film Mocks Catholics
Farrah's Fight: Cancer-Stricken Farrah Fawcett Still 'Stable'
Farrah Fawcett is certainly a true fighter. Over a month ago the former "Charlie's Angel" starlet stopped receiving treatment for anal cancer (which was initially diagnosed in 2006) and we're told her condition remains stable.
"Ms. Fawcett's condition has not changed," a rep for Fawcett's longtime companion Ryan O'Neal told Tarts this week. "She is stable and remains under treatment by her doctor."
PHOTOS: Click here for photos of Farrah Fawcett.
Despite all that she has been and still going through, we're told Fawcett and her close friends and family are remaining optimistic and praying for a miracle.
"I'd like her to come to and come back, that's what I'd like," O'Neal recently told us.
Bar Rafaeli Reveals Guiltiest Pleasure, Laughs Off Leo "break Up" Rumors
She's the swimsuit supermodel of the moment, having graced the cover of this year's annual "Sports Illustrated Swimsuit Edition", but Bar Rafaeli has an interesting approach to getting a bangin' bikini body.
"Eat," she advised. "Skinny girls in bikinis [are] not nice. My guiltiest pleasure is French fries." (We even spotted the famished starlet run for the mini sliders after receiving her award and proudly announce that she has no desire to drop any pounds).
And as for all those rumors that Rafaeli and her longtime lover Leonardo DiCaprio have called it quits at least for the time being, the Israeli stunner was staying mum.
"You are allowed to ask me about Leo, but I won't answer," she said with a laugh, adding that she was going to her homeland of Israel the following day but wouldn't confirm whether or not any "friends" would be joining her.
Rafaeli was also overheard backstage chatting to actor Emilie Hirsch and reminding him that they had met once before "though her boyfriend Leo." She apparently also mentioned that he would have attended the event with her but had tickets to the Lakers playoffs. So are they or aren't they? The question remains.
In any case, the 24-year-old model was much happier to talk about the woman whose footsteps she aspires to follow.
"I like Heidi Klum. I like how she juggles between being a parent, a model and TV presenter and doing everything," Rafaeli added. "But you can see how amazing of a family person she is I think that's admirable."
Fired From Topless Show? Mel B Fires Back
Reports have been running rampant that "Peep Show" starlet Mel B. was dissed by producers and dropped from the topless Las Vegas show, but it turns out that that couldn't be further from the truth.
"It has always been our plan to feature rotating celebrities in Peepshow to keep the spirit of the show fresh and new. That said, we love Mel and she is terrific in the role as 'Peep Diva.' We discussed with Mel the possibility of an extension and perhaps she will return to the show some day, however, we simply could not make the show and Mel's schedules align at this time," Scott Zeiger, Co-CEO of BASE Entertainment told Tarts in a statement.
According to an inside source, the former Spice Girl is already discussing the possibility of returning to Sin City to pick up her role again in the Fall but in the meantime, she will be replaced by "Wicked" star Shoshana Bean.
"The lighting makes you think you've seen a lot more than you have. But maybe you did see it," Brown recently teased to Tarts. "It depends on where you're sitting in the theater on how much you see …"
Woody Allen's New Film Mocks Catholics
Over the years Woody Allen has made it clear he pretty much hates people — and his new film "Whatever Works" does nothing to change that conception.
The dark comedy which stars Larry David takes a shot at all people from all works of life, but it's the film takes particular aim at devout Catholic parents that hail from Mississippi and come to New York to find their runaway daughter Melody, played by Evan Rachel Wood.
To give you a taste … picture lunatic-like praying on the doorstep, admiring a cardboard cutouts of George W. Bush and Donald Trump before finding one's true self — and true sexuality.
"Woody and I share a deep disdain for humanity," David told Tarts at the premiere earlier this week.