EXCLUSIVE: Sarah Larson Done With George Clooney, Giving Private Yoga Lessons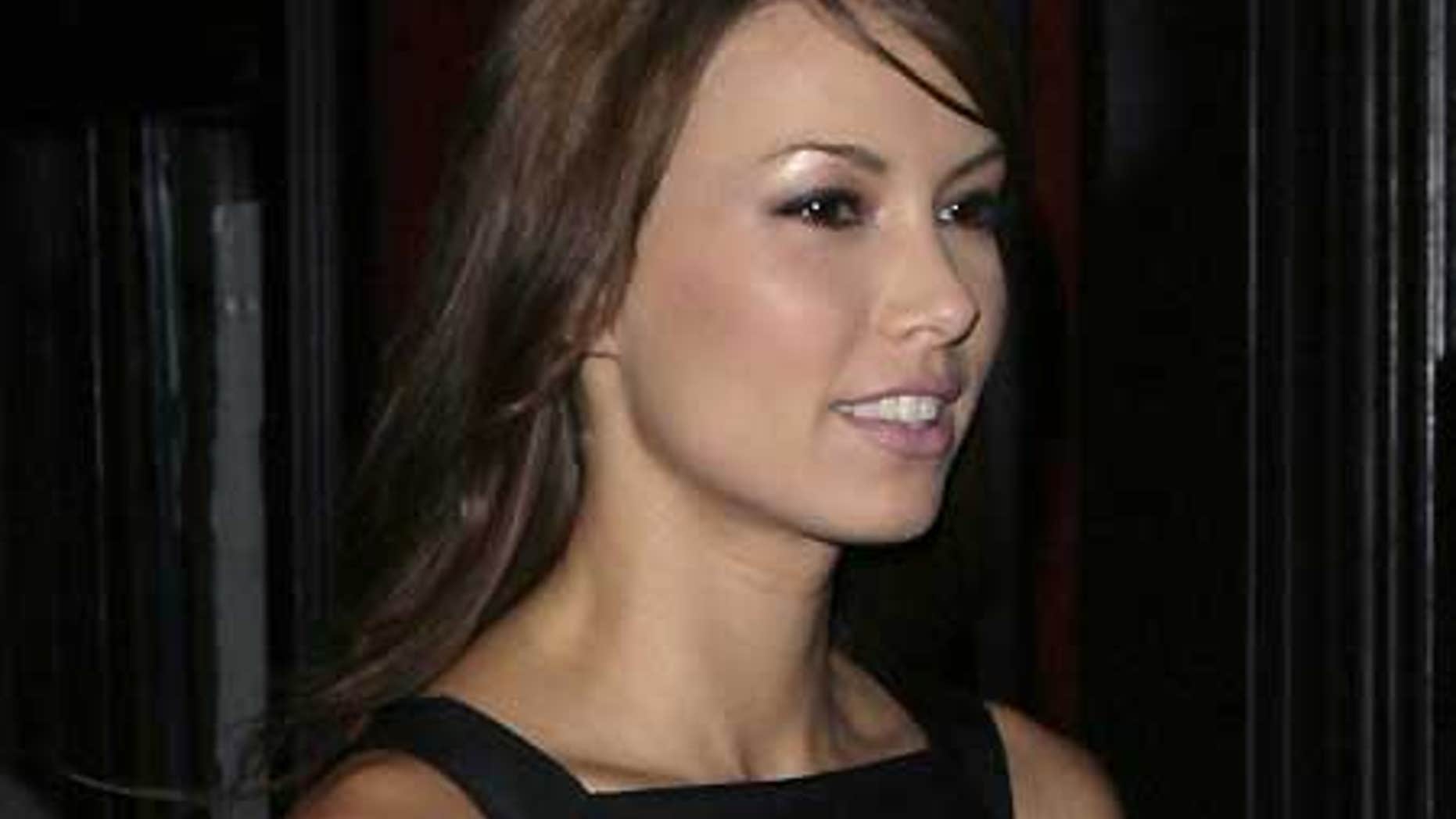 Sarah Larson Stays Flexible | Joe Francis Slams Brody Jenner After Club Brawl | It's Official: Khloe Kardashian Dating L.a. Laker Lamar Odom | Nicole Richie, Lindsay Lohan and Robert Downey Jr. Farewell DJ Am
Sara Larson Stays Flexible
Former Las Vegas cocktail waitress Sarah Larson became a household name in 2007 when she struck up a serious love affair with George Clooney, only to find herself a notch in Clooney's belt a year later.
But despite rumors earlier this year that Larson may have her own Vegas-based reality show in the works, it seems she has opted for a more spiritually satisfying lifestyle and is earning her keep as a private yoga instructor in Los Angeles.
"I do yoga pretty much every day. I am a certified yoga instructor, so I actually teach yoga," Larson told Tarts at the recent REALITY CARES' SIZZLES Charity Benefit in Los Angeles. Nor surprisingly, the stunner says "all of a sudden" guys have started calling out of nowhere for private classes, and she's now in talks to design her own yoga-inspired clothing line.
Meanwhile Clooney has apparently found himself a Larson clone, the thin, beautiful Italian brunette Elisabeta Canalis with whom he has been spotted canoodling quite a lot of late.
However, Larson too has found herself a new love (she said we wouldn't know him) and says she doesn't give a hoot about her ex's romantic relations. "Dating has its challenges and either two people connect or they don't," she told Tarts. "There's a lot of other factors that are involved as to whether it will be a long term relationship or not, but everything for me right now is new," Larson added, her expression suddenly becoming stone cold. "I'm not in touch with George at all. I don't have any regrets."
Joe Francis Slams Brody Jenner And Jayde Nicole
Joe Francis and Brody Jenner were embroiled in a club fight at Hollywood hotspot Guys last Thursday in which Jenner claims Francis beat his girlfriend. The fisticuffs ended with Jenner being tasered, and authorities are investigating the situation.
Pop Tarts caught up with the "Girls Gone Wild" creator to get his side of the story.
"I am the victim of a crime and I have bigger fish to fry. I'm dealing with some idiot, some club rat in Hollywood, and this is ridiculous because I'm a million times above this," Francis told Pop Tarts. "All that I'm saying is that I'm 100 percent confident that I will come out completely clean on this, and we have been in contact with the police ... and I'm fine. I've got scratches and bruises but there is no excuse for something like this. It was an unprovoked attack by two losers."
This isn't the first time Jenner and Francis have butted heads. Earlier this year, the two had another heated exchange at club MyHouse.
"It was another unprovoked attack. It was so interesting because in that attack, Jayde punches Abbey Wilson, her new best friend, who was the girl by her side that she went to rescue, who was my girlfriend at the time," Francis said. "I don't know who Jayde is, I've never talked to that girl. I'm so above these people."
He does, however, seem to have heard a thing or two about Brody Jenner's, um, Jenner Jr.
"Take a highlighter, put your fingers around that, and take half of it," Francis said, mentioning two former "Laguna Beach" stars who could vouch for his assertion.
Taking a higher road for a moment, Francis said he's more concerned about the flames ravaging his town.
"It's just so stupid. LA is about to burn to down and people give a crap about this? I'm concerned about people's houses and these fires," he added. "If you watch these fires coming over the hills, that's where my concern is. Not Brody on 'The Hills,' the kid is a loose cannon."
Reps for Jenner and Nicole did not respond to repeated requests for comment.
It's Official: Khloe Kardashian Dating L.a. Laker Lamar Odom
Rumors of a romance between Khloe Kardashian and Los Angeles Laker Lamar Odom have been doing the rounds for a couple of the weeks as the two have been spotted in the same place at the same time quite a few times of late. while neither will 'fess up to being an item, a source very close to Odom confirmed to Pop Tarts that they are very much a couple.
"Its been going on for quite a few weeks now," said our insider. "Lamar really likes Khloe, he thinks she is really smart and sweet and business savvy. The image that the show and media portrays of her isn't accurate."
Nicole Richie, Lindsay Lohan and Robert Downey Jr. Farewell DJ AM
The life of Adam Goldstein was given a final send-off by close friends and family at Hollywood's Palladium on Thursday evening, the very venue that he spun at for its opening last October not long after his tragic Lear jet crash. As expected, the event (which was staged by Hollywood nightlife king Brent Bolthouse) attracted a slew of celebs including Lindsay Lohan and Samantha Ronson, Rebecca Gayheart and Eric Dane, Robert Downey Jr., Nicky Hilton, Jon Favreau, Tom Arnold, John Mayer and his former fiancé, the heavily pregnant Nicole Richie.
In respect to Goldstein's long battle with addiction, the almost three-hour memorial resembled that of a 12-step meeting (he reportedly attended several AA meetings per week) and all attendees were asked to honor the tradition of anonymity and all cell phones, cameras and blackberries were consequently prohibited.
In true DJ AM style, the event was simple (no food or adult beverages) and reflected that of a chilled Hollywood night out as some of the many hundreds of guests were dolled up in their finest black attire while others opted for a more casual look of jeans and a shirt.
"It was beautiful, a mixture of laughter and tears," one attendee told Tarts, adding that around 50 people (including girlfriend Haley Wood) spoke, sharing stories and tributes.
"There was lots of music and movement," said another Goldstein pal. "The universal message was that he was the best friend the best partner the best boyfriend the best son anyone could ever be and the lives that he touched was extraordinary. He was always there day or night for the people that he loved. And he loved."
Goldstein's family also reached asked that in lieu of flowers, fans and friends instead make donations to the Los Angeles-based "Friendly House," a charity that supports women recovering from alcohol and substance abuse, and was obviously very close to Goldstein's heart.
Meanwhile another slew of stars (including Miko Brando, Macaulay Culkin, Corey Feldman, Berry Gordy, Quincy Jones, Mila Kunis, Thomas Mesereau, Kenny Ortega, Suzanne de Passe, Lisa Marie Presley, Teddy Riley, Elizabeth Taylor and Chris Tucker) were there as Michael Jackson was finally laid to rest at 9:43 pm PST in The Great Mausoleum at Glendale Forest Lawn Memorial Park.
The outdoor service, attended by 200 close friends and family members, was adorned with six large bouquets of white lilies and white roses, along with green topiaries. The pallbearers were Michael's five brothers: Jackie, Tito, Jermaine, Marlon and Randy Jackson. At the beginning of the ceremony, Michael's children placed a crown on their father's coffin to signify the final resting place of the King of Pop. 
The opening prayer was delivered by Pastor Lucius Smith, who also read from Ecclesiastes 3:7. Gladys Knight sang the gospel hymn "His Eye Is on the Sparrow," accompanied by Greg Phillinganes. Songwriter Clifton Davis sang The Jackson 5 song "Never Can Say Goodbye," which he wrote for the group and several speakers came to the podium spontaneously to celebrate Michael's life and share their special memories.