Documents Allege Anna Nicole's Doctors Committed 'Pharmaceutical Suicide'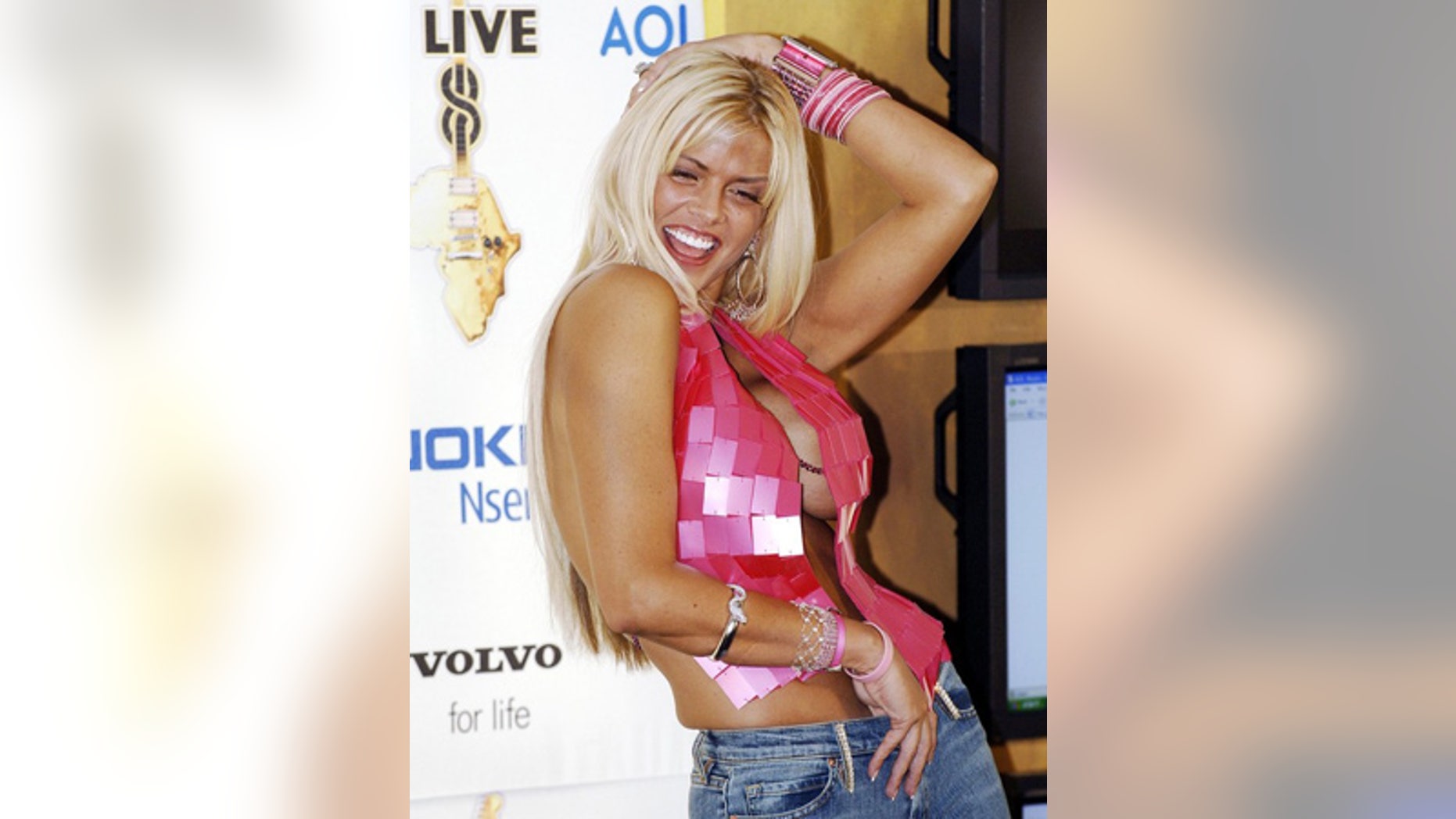 Shocking Unsealed Documents Allege Anna Nicole's Doctors Committed 'Pharmaceutical Suicide' and Engaged in Sexual Relations With the Starlet | Hayden Panettiere and Kevin Connolly? Leighton Meister's Late Night Meeting? | Pop Tarts Scene & Herd
Shocking Unsealed Documents Allege Anna Nicole's Doctors Committed 'Pharmaceutical Suicide' and Engaged in Sexual Relations With the Starlet 
Four doctors. Nine aliases. And at least 44 different medications including methadone, two types of sedatives, muscle relaxants and "hospital heroin" painkillers led to the "acute combined drug intoxication" that killed Anna Nicole Smith on February 8, 2007.
Recently unsealed affidavits and search warrants written by state officials and obtained by FOXNews.com claim that Smith's psychiatrist and next-door neighbor Dr. Khristine Eroshevich and internist Dr. Sandeep Kapoor requested such "alarming" amounts and combinations of drugs that five months before Smith's death one of the several pharmacists they dealt with, Ira Freeman , refused to fill the prescriptions and considered the requests "pharmaceutical suicide."
Freeman was so "bothered" by Kapoor and Eroshevich's prescriptions that she consulted with Dr. Thompson , the Director of the Drug and Poison Control Center for his professional opinion, according the documents.
Click here to read the first half of a copy of the unsealed documents
Click here to read the second half of a copy of the unsealed documents.
"Freeman read him the list over the phone and from what he recalled the dosages were 'outrageously high'," the documents claimed. "Dr. Thompson stated they might work for a drug addict under supervised care, or with a dying cancer patient in a hospital, or 'if you were going to kill someone'."
On September 11, 2006 Eroshevich visited another Burbank pharmacist, Steve Mazlin , and requested the sleep-aid Choral Hydrate for her famous client, according to the documents. However Mazlin told the doctor that he would not recommend such a potent drug "unless you want your picture on the front page of the National Enquirer."
Special agent Danny F. Santiago concludes in the documents that Eroshevich committed violations of California Health and Safety Code, obtaining a controlled substance by fraud, deceit, misrepresentation or false statement (she allegedly wrote prescriptions using fake names), a felony, and two violations of California Penal Code Burglary, also a felony.
The documents also indicate that the dosages of the controlled substances prescribed to Smith were not only "outside the duty of care" (and were at times more than double the normal amounts) but several of the substances given to her while pregnant were associated with such birth defects as congenital malformations, lower birth weight, neonatal dependence and miscarriage.
The newly unsealed papers also list Smith's lawyer and companion Howard K. Stern as one of the many aliases who obtained drugs for the late Playboy model. According to the documents, Smith's nannies told investigators that "many prescription bottles in the residence would be given to Smith by Howard K. Stern and Dr. Eroshevich" and that the two would "crush pills, heat them to turn them into liquid and inject Smith" who then would appear to be drunk, "often falling in the house and sleeping for two or three days at a time."
Stern allegedly received prescriptions from Eroshevich from December 4, 2006 to January 26, 2007 but after Smith's passing there were no further prescriptions under his name.
The documents also allege that Dr. Kapoor constituted "unprofessional conduct" by possibly having sexual contact with Smith and that his "excessive prescribing of controlled substances" was for "other than a legitimate medical purpose." However an attorney for Kapoor has since denied this claim and said the doctor is in fact "openly gay." The papers also cite photos of the late glamour model and Eroshevich embracing in a bathtub without clothes two months before she died, suggesting their relationship also violated professional codes of conduct.
In March of this year, Stern and the two doctors pleaded not guilty to Los Angeles prosecutors charge that they conspired to provide Smith with controlled substances. A preliminary hearing is set for October 5 and all three face five years in prison if convicted.
Hayden Panettiere and Kevin Connolly? Leighton Meister's Late Night Meeting?
Earlier this year Hayden Panettiere parted ways with her "Heroes" co-star Milo Ventimiglia, but has the 20-year-old moved on to 35-year-old Kevin Connolly ?
According to insiders at the HBO Post Emmy bash on Sunday evening, the two did not leave each other's side and "flirted outrageously" all night long.
"At one point he had his arm around the back of her chair and they were speaking really softly to one another," said an eyewitness.
A rep for Panettiere did not respond for comment.
Also at the HBO bash were our favorite "Gossip Girls" Leighton Meester and Blake Lively, although we're told the two pretty much stayed well away from one another and didn't exchange any words. On the note of Meester and "Entourage" however, could this be another new couple alert?
Meester is still currently linked to beau Sebastian Stan, however, the starlet had plans to check into West Hollywood's London Hotel in the wee hours on Sunday morning under the alias Violet Reed with "Entourage" agent Joshua LeBar.
"They aren't a couple, they are just friends and working on a project together," a Meester pal said, while LeBar's manager said they are production partners but doesn't know if they are dating.
A rep for the actress did not respond for comment.
Blake Lively taking a pause for a cause last Thursday while shooting an upcoming scene for "Gossip Girl" at NYC's Edison Ballroom as she posed with several girls from Make a Wish Foundation. The wishful girls were expecting a photo op with Chace Crawford and Ed Westwick but until their call time, Blake, coifed in bathrobe and Uggs, would have to suffice.
Kourtney Kardashian showing off her bountiful baby belly while picking up freebies (including Breyers ice cream to curb the cravings!) with her man Scott Disick at the Kari Feinstein Emmy Awards Style Lounge at Zune House in L.A. on Thursday. Upstairs Jennifer Love Hewitt got a T-Mobile myTouch and went on about how beau Jaime Kennedy was an avid texter...
Ana Ortiz, Mark Indelicato and Tony Plana of ABC's Ugly Betty playing Hasbro games at Toys"R"Us Times Square in New York last Thursday to help kick off Hasbro's first-ever National Family Game Night.
"Gossip Girl" boys Chace Crawford and Penn Badgley partying alongside Brooke Shields and Becki Newton at the Renaissance New York Hotel 57 opening on Thursday night.
Several stars donating personal items to their charity of choice at the Madison & Mulholland Pre-Emmy lounge at The London Hotel last Thursday and Friday. Olivia Wilde chose National Association for Mental Illness, Bill Maher went for PETA, The Bachelorette's DeAnna Pappas donated to Kate's Club while producer Alana Stewart's natural choice was The Farrah Fawcett Foundation and 24's Cherry Jones picked St. Judes Children's Hospital.
Camilla Belle stopping by the ECO EMMYS Lounge in Hancock Park on Friday to support FREE THE SLAVES which is a charity organization aimed at ending slavery.
Twilight star Edi Gathegi and his girlfriend indulging in all natural Charles' Chocolates while hanging out at a private residence in the Hollywood Hills on Friday.
Kobe Bryant beating pal Carmelo Anthony at the Versus Sport Tournament at new Hollywood sports lounge Capitol City on Friday night while the likes of Penny Marshall, Tristan Wilds, and Dr. Dre watched the tournament.
Janet Jackson hanging out with Missy Elliott in a corner booth while Adam Brody and Chace Crawford mingled with the girls at the NYC exclusive hotspot the Griffin last Friday.
Jessica Alba having drinks with friends at Geisha House in Hollywood on Friday evening.
Sophie Monk talking about how her backside really isn't that great in a bikini while hanging out alongside the likes of Bill Maher, Adam Levine, Alyssa Milano and Shannon Elizabeth at the Night Vision Entertainment/Family Guy party at Hollywood music venue Avalon on Friday night.
Leonardo DiCaprio drinking Grey Goose and chilling in the VIP room upstairs of new Bolthouse club Playhouse Hollywood on Friday.
Tina Fey taking a minute to give back to her choice of charity, Autism Speaks, through CardsDirect's philanthropic campaign after picking up swag from BVLGARI and Brahmin bags at the HBO Luxury Lounge at the Four Seasons Beverly Hills on Saturday.
Amy Poehler (with husband Will Arnett) and Tina's current co-star on 30 Rock, Jane Krakowski comparing their outfits at 42 Below Vodka's SNL/30 Rock Pre-Emmy bash at the Sunset Tower. Also in attendance were "Mad Men" Emmy nominees Jon Hamm, John Slattery and Elisabeth Moss, SNL alums Andy Samberg, Kristen Wiig, Chris Parnell and Fred Arisen .
On again lovers Nick Lachey and actress Vanessa Minnillo dining at N9NE Steakhouse inside Palms Casino Resort Saturday night where they shared an appetizer as Lachey rubbed his girl's back. The two later joined Wilder Valderama for some partying at LAX. Speaking of Lachey, one lucky eBay bidder right now the chance to win a date with the pop prince (sans Minnillo!) at an L.A hotspot (complete with flights, a hotel, a Club Monaco spending spree and gift bag from MyWorkButterfly.com in the prize package), with all proceeds going to VH1's Save the Music.
Katy Perry partying with Benji Madden (hmmm, they've been out a lot together lately) and Jason Ritter at h.wood on Saturday night. Perry was spotted dancing and singing along to the music.
Floyd "Money" Mayweather hosting the party at Studio 54 Las Vegas following his victorious return to the ring after a short retirement. The undefeated fighter partied in the VIP Skybox with Sean "Diddy" Combs, Ray-J, and Tyrese Gibson .
Dr. Dre dancing and intimately cuddling his wife during Hennessy Fight Night at the 944 Lounge in LA with his wife on Saturday.
Brody Jenner and Frankie Delgado having a boys' weekend to party at Hard Rock San Diego's rooftop bar Float on Saturday night before watching the Chargers take on the Baltimore Ravens.
Karina Smirnoff stopping by the Napoleon Perdis makeup academy on Hollywood Boulevard to have her Emmy makeup done by the man himself on Sunday.
Steve Carell picking up cupcakes for his family at YUMMY's Burbank Bakeshop, just a couple of hours before the Emmy's - guess he didn't know they were being served backstage!
Laura Linney digging into Deep Fried Whoopie Pie at seafood eatery Flex Mussels on the Upper East Side with her husband and two friends on Sunday evening. She even left with a "Flexual Healing" t-shirt.
Olivia Wilde sipping Voss water after posing for photos at the HBO Emmy after party and laughing as an eager fan asked how much her gown cost on Sunday night.
Neil Patrick Harris stopping by the Entertainment Tonight Emmy Party to unwind after the Governor's Ball on Sunday. He bypassed the media out front and went straight to a cabana in the back where he held court with ET executives and enjoyed a glass of Jacobs Creek wine. 
Tiger Woods dining with a friend at Stephen Starr's Steak 954 at W Fort Lauderdale before heading off to catch a Monday night football game in Miami.
Michael Jackson 's biggest fans eager to be among the first to see Michael Jackson's THIS IS IT can guarantee themselves tickets to be among the first in Los Angeles to see the film when they line up in Nokia Plaza L.A. LIVE this Thursday beginning at 5 p.m. Fans in that line will be able to purchase tickets for the advance L.A. LIVE showings of the film, which begin the evening of October 27. ‬‪