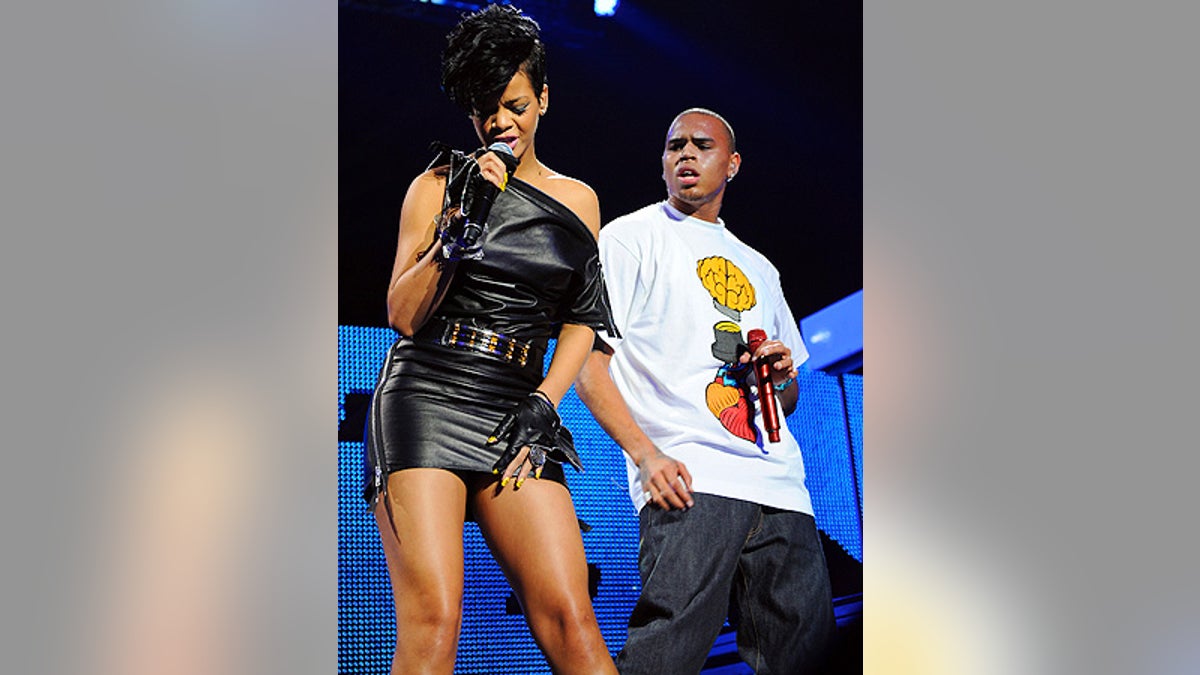 Chris Brown Hires Paris' Spin Doc | Oscars Will Be Full Of Surprises | Stevie Goes To White House | Simon & Garfunkel Surprise Reunion | Jane Fonda's Got Beethoven's 33 |
Chris Brown Hires Paris' Spin Doc
Chris Brown is 19 and clueless. You can't feel sorry for him exactly, he doesn't know anything. Still, over the weekend he apparently hired Paris Hilton's spin doctor, Mike Sitrick, to try and dig his way out of his huge mess with girlfriend Rihanna.
The Hilton-Sitrick connection makes a little sense since I told you last week that my sources insist it was Paris who inadvertently instigated the fight between Brown and Rihanna on the eve of the Grammy Awards.
If it's a coincidence it's a big one that Hilton, who texted Brown and set off the fight that left Rihanna bruised and beaten, now has recommended the flack to save Brown's neck. Sitrick had to step in and fix the mess left by Hilton's earlier press agent Elliot Mintz when she was getting sprung from jail.
Brown is so clueless he couldn't know that Sitrick is universally disliked by the press. He'll win Brown no points in public. On top of that, the statement Strick issued for Brown regarding this whole incident is pretty lame. Rihanna's name isn't mentioned once. But Brown takes the press and bloggers to task, accusing them of making things up.
But that's Sitrick's way. And it may be that Sitrick was the only flack who would take Brown's money. I know one press agency that turned him down cold. There were probably others. Flacks don't generally have consciences, but if they represent well-known women who've taken stands against domestic abuse, there's no way they can represent Chris Brown.
Rihanna certainly won't be amused when she realizes how Brown selected his new crisis counselor. But maybe that will strengthen her resolve to move on without the 19 year old dancer singer, and not take him back.
Oscars Will Be Full Of Surprises
Yes, it sure looks like Slumdog Millionaire is going to clean up at the Oscars this Sunday.
But there are still a lot of surprises to come on the show since Slumdog has no acting nominees. There are a lot of big stars coming to the show who have no idea if they'll win or lose.
The only certain acting nominee who can expect a win is the late Heath Ledger for playing the Joker in The Dark Knight. Still, you never know. Ledger has already won a number of awards including the Golden Globe. Academy voters could still pull off a shocker.
If so, the jolt could be a win for Robert Downey, Jr. in Tropic Thunder. Downey hasn't been nominated for an Oscar since the 90s, almost died, went to jail, hit rock bottom and has made a huge comeback. If Oscar voters were persuaded even slightly to reward him, you'll see a lot of people sit up straight in their seats.
The other three acting categories are full of wiggle room. In Best Actress, Meryl Streep and Kate Winslet are the front runners. Winslet seems like she has the edge for The Reader, but Streep is the current "Queen of All Acting." Her performance in Doubt is one of her best in an amazing career. But Doubt isn't nominated for Best Picture, and The Reader is, so Winslet's chances are a bit better. Her win will also be a vindication for an excellent movie that's gotten unfairly slagged by fringe press.
The other toss up is Best Actor, where Mickey Rourke and Sean Penn are considered the leaders. This column still maintains that Frank Langella gave the best performance in Frost/Nixon, but Langella is a "real" actor, not a movie star, and hasn't campaigned much. Rourke should win for persistence and odd charm. But Rourke also won the Golden Globe, and Oscar voters may feel that that was enough, and Penn deserves the honor. On the other hand, Penn already has an Oscar for Mystic River. This one is the nail biter.
For Best Supporting Actress, even this column is torn. Penelope Cruz should win for stealing Woody Allen's Vicky Cristina Barcelona. Her Maria Elena is a treat almost beyond words, and caps a march to the Oscars that includes brilliant work in both English and Spanish. Her only competitor is Viola Davis, for Doubt. Davis is a remarkable actress who should be working more in important films and getting nominated every year. In Doubt, her few minutes are riveting, but it's a small part and not nearly as wild or showy as Cruz's work. Something tells me that Viola Davis is headed to a Best Actress win in the next couple of years.
And there should be plenty more surprises at this year's Oscars thanks to director Bill Condon and producer Larry Mark. Condon did direct Dreamgirls so, hopefully, we'll some of those actors on the stage. He also wrote the Best Picture Chicago, a couple of seasons ago. Altogether he could put Richard Gere, Renee Zellweger, Catherine Zeta Jones, Queen Latifah, Jamie Foxx, Jennifer Hudson, and Eddie Murphy on the Oscar stage. And maybe some of them will sing the nominees' names!
Stevie Goes To The White House
Stevie Wonder is going to the White House next week. President Barack Obama's favorite singer is getting the prestigious Library of Congress Award. The award is usually presented at the LoC, but Stevie's going to receive at a special White House concert on Wednesday. The next night, the whole show will be broadcast on PBS.
Stevie wrote a great new single for the Obama inauguration called All About the Love Again. It's part of a wonderful CD on Hidden Beach records of all new songs written and performed for that occasion. But so far, the stifling radio monopoly in this country refuses to play it, and Stevie's nominal label, Motown, hasn't put its Universal Music Group muscle behind it. Maybe now, with this huge honor, UMG will show Stevie it's reall all about the love again!
And UMG should do that. I'm told that a long planned duets album with Stevie and Tony Bennett is now on the front burner. The pair is said to have convinced mega legend Quincy Jones to produce it. Yowza! This trio could revive the record business. Of course, the irony is that no radio station will play it! Why would they when they've got piles of unmemorable junk to clutter the airwaves?